Salma Hayek's Breakout Role You Totally Forgot About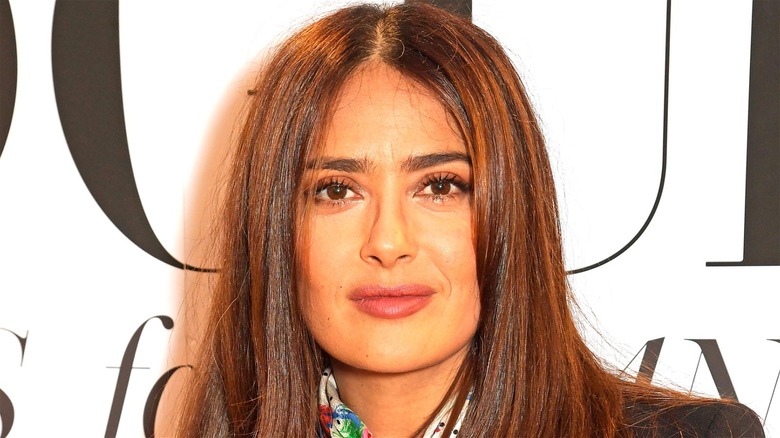 David M. Benett/Dave Benett/Getty Images
Trying to pinpoint Salma Hayek's breakout role is a difficult task, mainly because the Oscar-nominated "Frida" star career spans more years than one might think. The actress had been in showbiz for more than a decade by the time she played legendary artist Frida Kahlo in 2002. Over the years, she has paired with director Kevin Smith for his 1999 existential comedy "Dogma," reunited with "Frida" director Julie Taymor for a small role in the Beatles-themed musical odyssey "Across the Universe," secured plum roles in Adam Sandler's two "Grown Ups" comedies, and more recently, starred opposite Ryan Reynolds and Samuel L. Jackson in the adventure comedy smash "The Hitman's Bodyguard" and its sequel "The Hitman's Wife's Bodyguard" (via IMDb).
Throughout her lengthy career, Hayek maintained a deep loyalty to director Robert Rodriguez and collaborated with him numerous times. She teamed up with Rodriguez for a pair of horror thrillers — 1996's "From Dusk Till Dawn" and 1998's "The Faculty" in 1996 and 1998 — and then joined forces with the director in 2003 for the family adventure "Spy Kids 3-D: Game Over" and the crime thriller "Once Upon a Time in Mexico." Hayek's numerous collaborations with this wildly creative filmmaker make sense considering Rodriguez's second feature-length film is also the movie that introduced her to American audiences.
Salma Hayek's breakout role was in Robert Rodriguez's Desperado
Per her IMDb profile, Salma Hayek was in her early 20s when she made her debut in the Mexican telenovela soap opera "Un Nuevo Amanecer" in 1988. Following a two-season run on the series, she moved on to play the title character in another soap opera, "Teresa," in 1989. After a couple of years of spent toiling in supporting roles, the actress broke into American television in 1992 on the show "Street Justice." For the next three years, she hopped back and forth between productions in the U.S. and Mexico.
Hayek's big break finally came in 1995 when director Robert Rodriguez, fresh off the success of his smash micro-budgeted indie feature "El Mariachi," cast the rising star opposite Antonio Banderas in his hyperkinetic crime thriller "Desperado." Part of Rodriguez's "Mexico Trilogy" (via The Numbers), "Desperado" stars Banderas as El Mariachi, a gunslinging guitar player who gets caught up in a battle with a menacing drug lord in a small Mexican border town. El Mariachi also encounters Carolina (Hayek), a bookstore owner who aids the gunman in his fight. To this day, "Desperado" is a major turning point in Hayek's career, shifting her from a supporting actor into a leading star.
Next, Hayek will be seen alongside Angelina Jolie, Gemma Chan, and Richard Madden in Oscar-winning director Chloé Zhao's MCU adventure "Eternals." Hayek plays Ajak, the spiritual leader of the Eternals, an immortal race of aliens who emerge after thousands of years in hiding to protect Earth from a malevolent group of humanoids.