Here's Where You Can Watch The Addams Family 2 At Home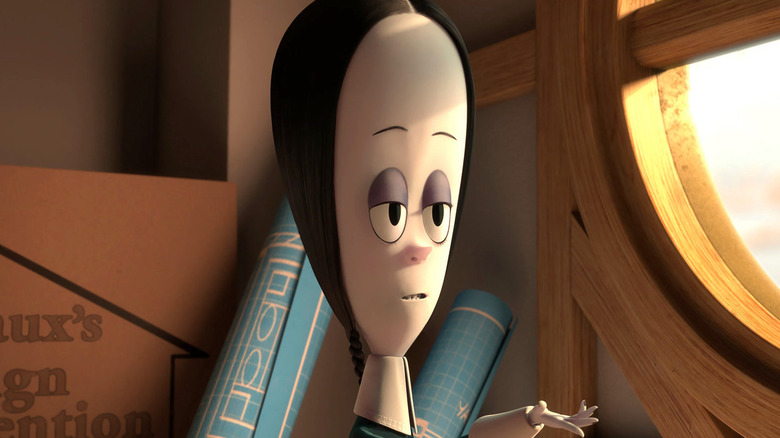 MGM
The story of the Addams family began all the way back in 1938 when cartoonist Charles Addams created the characters and plot for The New Yorker, but since then it has grown into a huge franchise. The first screen adaptation was the 1964 live-action television series, which starred Carolyn Jones as Morticia Addams and John Astin as Gomez Addams. The show ran for two seasons on ABC, and the theme song in particular has really made a mark on pop culture (via Life Magazine). The iconic family's first animated appearance was for a special episode of "The New Scooby-Doo Movies" in 1972, which then spawned the 1973 animated series on NBC (Smithsonian Magazine). Of course, there were a few more television shows and specials before the second live-action adaptation that started with "The Addams Family" in 1991, and today we have a new animated film series beginning in 2019 and taking center stage. 
In 2021, the modern rendition of the classic story is continuing with a sequel film, "The Addams Family 2," which will feature the returning cast that includes Oscar Isaac as Gomez, Charlize Theron as Morticia, Chloë Grace Moretz as Wednesday, Nick Kroll as Uncle Fester and more. The new movie has the Addams family going on a family vacation in a camper, as Morticia and Gomez don't like how fast their children are growing up. The movie promises plenty of laughs and cute moments, and it's sure to be just as successful as the previous movie. Scheduled to be released on October 1, 2021, the movie will also be available at home on the same day. Here's where you can check it out. 
The Addams Family 2 will be available on any video-on-demand service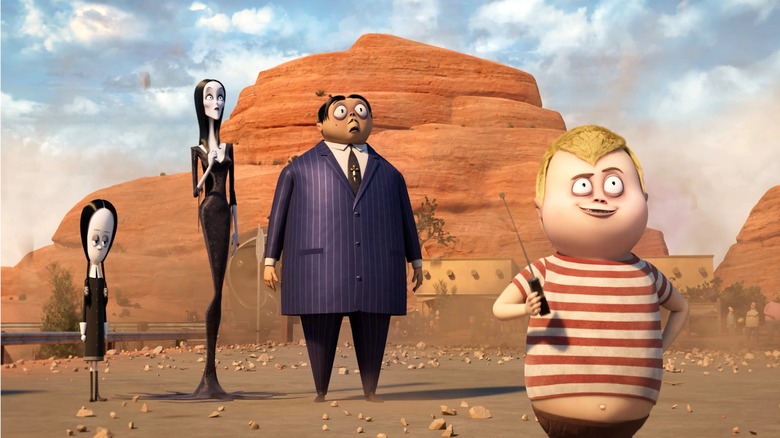 MGM
Back in August 2021, it was announced that Metro-Goldwyn-Mayer and BRON Creative, the studios behind "The Addams Family 2" would be changing the film's release to be available in theaters and for rental at home as a response to changing circumstances resulting from COVID-19, as first reported by Bloomberg. But MGM does not have its own streaming service like Disney or Warner Bros., so where will you be able to find the upcoming film? 
On October 1, 2021, you can either head out to the theaters or go to an on-demand service to watch "The Addams Family 2." Like previous films that have used this model, such as "Trolls World Tour" back at the beginning of the pandemic, the movie will likely be available on services like iTunes, Amazon Video, Google Play, YouTube, and any others that offer movies for purchase or rent, and Deadline reports pricing to be $19.99. "The Addams Family 2" will also probably have a similar rental period to "Trolls World Tour," which Cnet reported as being available for a 48-hour period after purchase, but it's unclear whether or not this is according to the system seen with Amazon and other services in which the movie is available for 30 days, with the 48-hour deadline only beginning once you start watching the movie.