This Is Where You've Seen The Cast Of The Saved By The Bell Sequel Series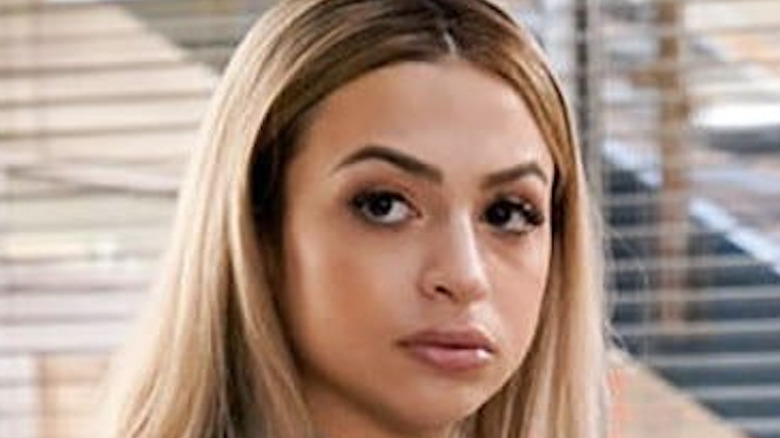 Peacock
Writer/producer Tracey Wigfield ("30 Rock," "The Mindy Project," "Great News") was a fan of the original "Saved By the Bell" series that ran on NBC from 1989-1993, likening it to a "fantastical 'Entourage'-for-fifth-graders" that was her generation's "Brady Bunch," so she developed a new take on the beloved series for streamer Peacock. "I wanted to make Bayside a real place that existed in 2021, but you still had characters that acted like the characters in the original show, kind of thoughtless, a little privileged," said Wigfield.
The new series finds the right balance of stoking nostalgia for fans of the original, while tackling contemporary issues and painting a more diverse picture of today's student bodies. Of course, some of the beloved old gang is back too: Zack Morris (Mark-Paul Gosselaar) is now governor, still married to Kelly (Tiffani Thiessen), and (no) thanks to his budget cuts, the "bubble of privilege" at Bayside (where their son attends) goes pop when a more diverse school across town closes and integrates all of their students there. Class and racial mingling, confusion, and hilarity ensues, with gym coach A.C. Slater (Mario Lopez) and guidance counselor Jessie Spano (Elizabeth Berkley Lauren) lending a helping hand to these new kids on the block.
Berkley Lauren says now is the right time for the show to be brought back, and "introduce it to a whole new generation with this amazingly talented cast." Critics agreed, as the Los Angeles Times hailed the comeback as one of the best TV shows of 2020, praising the new Tigers. "The younger players are first-rate — even better than one might notice at first, given the general air of nuttiness. But they play different levels with great skill, resolving the character and the joke about the character in people you can authentically care about, at least a little, even as the metafictions remain legible."
After a full season in the books, the cast may be recognizable to us now, but these young bucks have been making splashes outside of the city limits of Bayside, as well. Let's refresh our memories on the cast of the new "Saved by the Bell," and with Season 2 on the horizon, look forward to meeting even more new students who may also have familiar faces.
Haskiri Velazquez (Daisy Jiménez)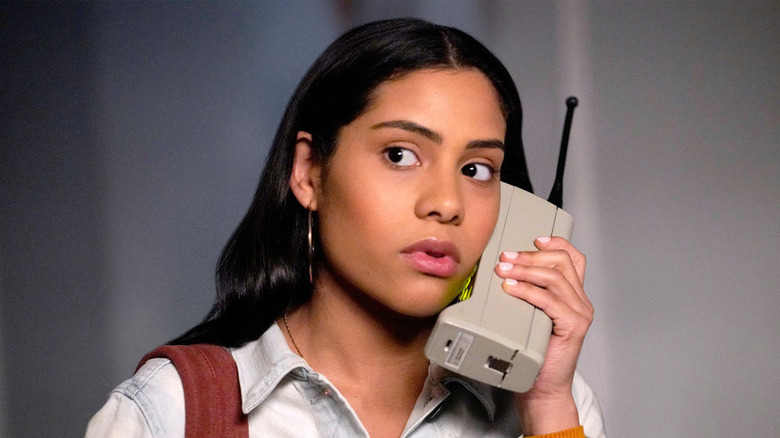 Casey Durkin/Peacock
In the new series, every character displays reminiscent characteristics of someone from the older series (and in the case of Daisy Jiménez, super powers, as she is the one who takes on Zack's ability to freeze time and directly address the audiences, breaking the fourth wall). Played with verve by Haskiri Velazquez, of Dominican and Puerto Rican descent, she told Hola! that having this rare opportunity of being able to speak of the Latina experience as a Latina herself on a TV show pulls "strings in my heart."
Inspired by the careers of Jennifer Lopez (her family called her "Baby JLo") and Gina Rodriguez, as well as her parents instilling an "anything is possible" mantra, the New York native honed her craft with non-profit theater before breaking into TV and film in bit parts. One of her first big roles was on Season 1 of Facebook Watch's "The Birch" as Charlotte "Charley" Dunaway. 2020 was a breakout year for her, as in addition to ringing the "Bell" as Daisy, she garnered attention as Rosa, one of Radha Blank's students in her Sundance Festival awarding winning film "The-Forty-Year-Old-Version." Velazquez praised "Version" for its authenticity and fulfilling a childhood dream of filming in her hometown, "where the culture is, where there are so many people from so many different backgrounds." She was also recently seen in the horror film "What Lies Below" and the Lifetime pregnancy drama "You're Not Safe Here" (also titled "The Girl in the Window").
While gearing up to play Daisy for Season 2, and seeking out new roles, Velazquez has provided tips and advice to others looking to do the same, since "anything is possible."
Mitchell Hoog (Mac Morris)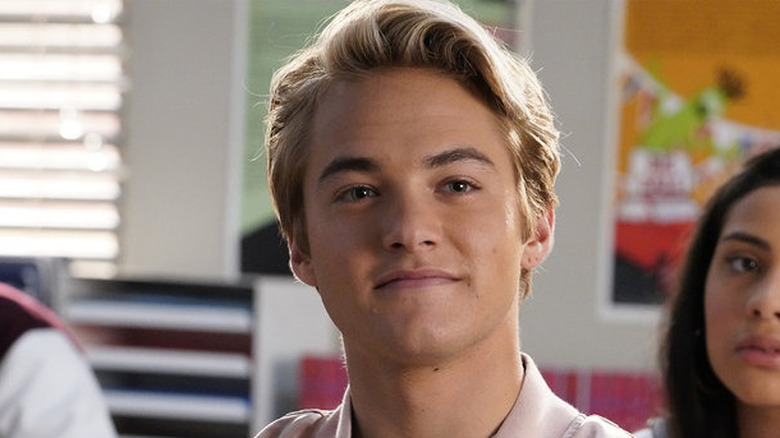 Casey Durkin/Peacock
Mitchell Hoog had never seen the original "Saved By the Bell," and didn't bother to binge watch it when he was cast to play Zack Morris and Kelly Kapowski's beautifully blonde, beautifully-oblivious son Mac. He didn't meet his screen father Mark-Paul Gosselaar until late into filming the first season, so he set upon creating the character himself, and "never felt this pressure to live up to anything" in filling those big TV family shoes. Hoog sees Mac taking after both his parents, pulling pranks like dad, and showing a softer side like his mother. When Hoog eventually met Gosselaar, the two "hit it off" over similar interests, and their screen relationship grew "organically."
For the Colorado native, acting wasn't his first passion — but injuries and concussions from competitive snowboarding had his doctor changing his mind, and advice from his actor cousin pushed him to where he is now. Hoog broke out in 2017 as the lead in the short film "Thinking of Me" and in the haunted house feature "The Spookiest." His next project, 2019's "Walk. Ride. Rodeo." about real-life paralyzed rodeo rider Amberley Snyder, was a "story very close to my heart." In that same year, he was seen in two saucy Lifetime movies, "The Wrong Stepmother" and "Sleeping with My Student," as well as the Academy Award nominated features "Richard Jewell" and "Harriet." That last film became a form of guidance for Hoog, as it "was the first time that I was exposed to that level of acting and I knew where I wanted to go."
In addition to being the big Mac of Bayside, Hoog loaned his voice as the narrator of the pandemic anthology series "After Masks," and appeared in the third "Conjuring" film "The Devil Made Me Do It," playing a younger version of Patrick Wilson's Ed Warren. Hoog is also a Ford Model, and enjoys reading and meditating. He also wouldn't be opposed to doing more horror films, or joining the "Star Wars" galaxy, saying "who doesn't want to hold a lightsaber?"
Josie Totah (Lexi Haddad-DeFabrizio)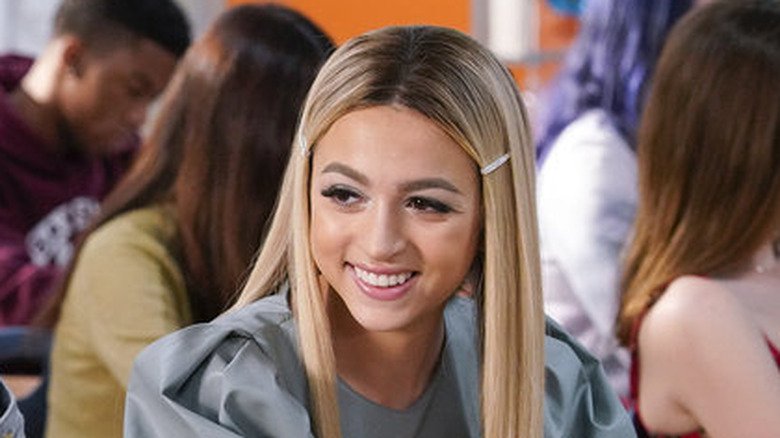 Casey Durkin/Peacock
Born and raised in Northern California as Joseph Jacob Totah, this child wunderkind got the bug to perform at age 2. By 10, Totah was performing stand up comedy at the Hollywood Improv, got an agent and segued into acting in short films and television shows. Billed as J. J. Totah, recurring roles followed as Michael Lovett on "Back in the Game," Stuart Wooten on Disney's "Jessie," and as Myron Muskovitz on "Glee." Filmwork came along as well, shining in parts in 2016's "Other People," and 2017's "Handsome: A Netflix Mystery Movie" and "Spider-Man: Homecoming." Totah landed on NBC's radar after being cast to play theater kid Michael Patel in the short-lived Mindy Kaling co-created comedy "Champions." Around that time in 2018, Totah came out in a self-penned piece for Time as a transgender female, and with a new name: Josie Totah.
Josie was freed by her admission, and it opened up new avenues for her career as well. She not only landed the barrier-breaking trans cheerleader role of Lexi on "Saved By The Bell," but also became a producer on the new series "in order to tell this story authentically." Totah is so proud to play Lexi and be "able to help so many kids and adults feel less alone just by being able to show them a nuanced, three-dimensional character on screen who might share some parts of their identity." She wishes she had a role model like Lexi when growing up, as "it would've been easier to see there was a healthier and happier future for me."
In addition to performing on camera, Totah is completing a film studies degree at Chapman University, and became the first transgender member of a sorority at the school, pledging to Alpha Phi. For her work as an advocate on behalf of the LGBTQ community, Totah was honored with Human Rights Campaign's Visibility award and the Upstander award.
Alycia Pascual-Peña (Aisha Garcia)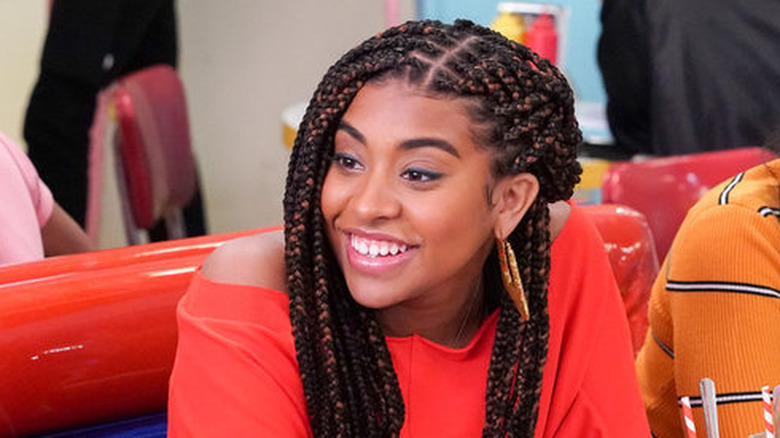 Chris Haston/Peacock
Alycia Pascual-Peña sees a lot of herself in her "super strong" character Aisha Garcia, as "a lot of the adversity and obstacles that she faces in Bayside, I faced in my own personal life." Aisha scores points on both the football field and the hallways, and Pascual-Peña added how much fun she has playing her and portrays a "sense of satirical realism in this wacky show." She calls herself "one of the luckiest people on earth," and is amazed how when she was nine years old, she waited in line to get Mario Lopez's autograph and now works closely with him.
In addition to acting, the proud Afro-Latina Pascual-Peña is an accomplished dancer, singer and model, appearing in ads for companies like Neiman Marcus and JC Penney. She was a cheerleader in high school, and became the first college graduate in her family, with a double major degree in Political Science and Communications. As luck would have it, she took a semester off for auditions and landed the key role of Lucy in Amy Poehler's "Moxie," which also co-stars her "Bell" classmate Josie Totah, and was released on Netflix in early 2021. She also sees a bit of herself in her "Moxie" character: "Lucy is never scared to speak her mind, and to use her voice, and to remain true to who she is, and I think that those are traits that I have in my own life."
Prior to that film and tolling on the "Bell," Pascual-Peña had two minor credits: as Clara for two 2011 episodes of "Chase," and playing TT in a 2018 episode of "The Plug."
Belmont Cameli (Jamie Spano)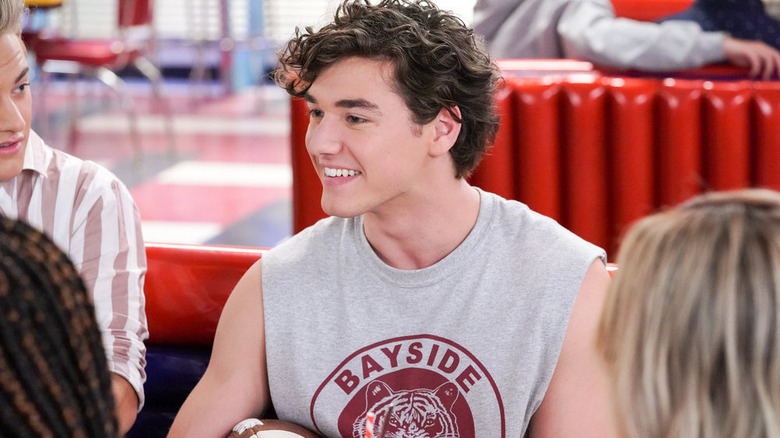 Chris Haston/Peacock
Starting on the path of a business degree, a tragic turn of events turned Belmont Cameli's life and career in an entirely different direction. His father died in his freshman year in college, "upturning my reality and reshaping my perspective in instant, extraordinary fashion." He turned to acting and modeling, with his first credited role as "cute guy" on a 2018 episode of "Empire." Cameli said, "there wasn't a ton for me to work with there," but luckily there was on his next gig, when he was cast to play Jessie Spano's dopey, jockey son with a giant heart Jamie.
Jamie Spano's mama is the school's emotional guidance counselor (she's still so excited) and he is a true mama's boy who in Cameli's own words, "has this weird balance between total lack of common sense and a really firm grasp of what it's like to be at this school in 2020." Cameli's screen matriarch, Elizabeth Berkley Lauren, has also been a "huge help" to him off screen as well, helping him navigate Hollywood as an industry and a place to live.
Cameli's career is just getting started. In 2019, he played the loyal best friend of an imperiled stepdaughter in the Lifetime movie "My Evil Stepdad." Last year saw the premiere of a "meet the parents" (one of who owns a bar and wrote a book on dating) type movie "Most Guys Are Losers," which co-starred both Mira and Paul Sorvino. Up next, and currently in production for Netflix, is an adaptation of the Young Adult novel "Along for the Ride," where he will play the love interest to an insomniac (Emma Pasarow) as the two embark on "a nightly quest" to loosen her life up.
Belmont is actually his middle name (Philip is his first), and was named in honor of his great grandfather, whose Italian name Belmondo was Americanized to Belmont when he arrived in the United States. The Naperville, Illinois native is hungry for more, and when recently asked what shows he'd love to be a part of, he mentioned "Succession," "American Horror Story," and "Euphoria."
Dexter Darden (Devante Young)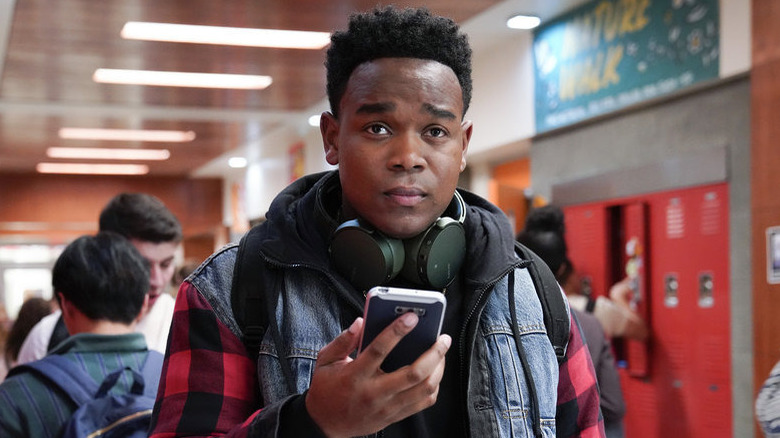 Casey Durkin/Peacock
Dexter Darden was a "big fan" of the original series, having grown up watching the reruns, and relished the chance to attend Bayside and "be the new Bayside kid" on the 2020 series. Devante ran afoul at his former school, and Darden says his character has "the opportunity to reinvent himself" at his new one. He added "I think it's really, really important that we show characters like Devante on television because not very often do we see an African American young man get the opportunity to have a fresh new start in school where he has a new opportunity to be somebody who he's always wanted to be."
Darden is one of the more seasoned actors of the "Bell" students (having booked his first role in the 2006 Vanessa Williams/Tatum O'Neal drama "My Brother"), and the oldest — at age 30, he was born during the show's original run. Darden Is perhaps best known for playing Frypan in the three "Maze Runner" films, a role he at first received a lot of backlash for, but fans have been really supportive of him ever since.
He started singing in his church's choir at age 3, and even had his talents recognized by Paul Newman at his Hole in the Wall Gang Camp. One lesson he learned from Mr. Newman was "that kindness is key, and that's something I take with me everywhere." Another was "auditioning is the job and booking is the reward." His vocal chops have been utilized and put on display in 2010's "Standing Ovation" and 2012's "Joyful Noise." Other notable works include portraying John Lewis in "Son of the South," Hags in "The Binge," and William Watson on "Bronzeville."
Darden is a celebrity ambassador for the Sickle Cell Disease Association of America, and his favorite movie is "Rush Hour."
John Michael Higgins (Principal Ronald Toddman)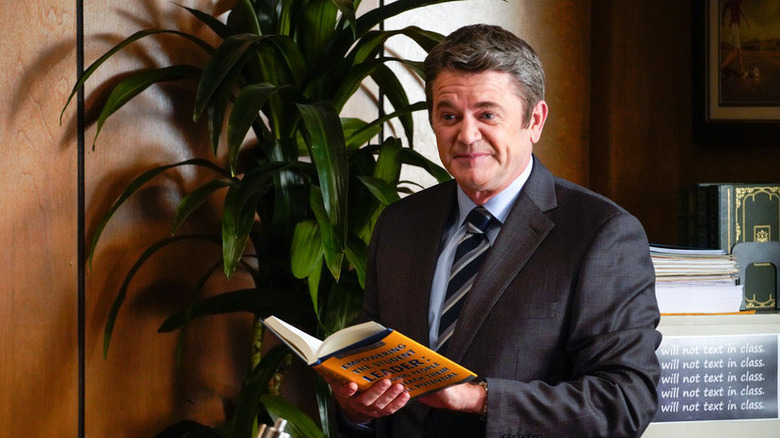 Casey Durkin/Peacock
Becoming the next principal of Bayside is a tough act to follow, especially after the fine work Dennis Haskins handed in as Mr. Belding; veteran actor John Michael Higgins, who did feel some pressure, was more than up to the challenge. While he had never seen the original series, he was happy to reunite with "Bell" showrunner Tracey Wigfield, as the two previously worked together on the sitcom "Great News." She recruited him to play, in Higgins' words, "basically a dunk tank clown," and "the butt of a lot of debasements."
Higgins may not exactly be a household name, but his welcoming, ever-smiling face has graced stages and screens small and large, mainly in comedic roles. It's hard to keep up with his career, but he's just one of those "guy you've seen somewhere" types. Be it in the classic Christopher Guest mockumentaries "Best In Show" and "A Mighty Wind" (where he even contributed his singing and songwriting skills), playing David Letterman in HBO's "The Late Shift," or tossing bon mots alongside Elizabeth Banks in the "Pitch Perfect" trilogy. He's worked with iconic directors like Ridley Scott "(G.I. Jane"), Barry Levinson ("Wag The Dog") and Cameron Crowe ("We Bought a Zoo"), and yucked it up with Jim Carrey in a pair of comedies ("Fun with Dick and Jane," "Yes Man"). Higgins also does a lot of voiceover work ("Big Hero 6: The Series," "Bob's Burgers"), and is a well-suited pitchman for TV ads.
Higgins was nominated for an Emmy for 2016's "Tween Fest," and a Daytime Emmy for hosting the Game Show Network's "America Says," ultimately losing out to Alex Trebek.
He met his wife Margaret Welsh when the two co-starred in a Connecticut production of George Bernard Shaw's "Arms and the Man," and went on to collaborate a few more times, including two children.
Matthew Sato (Gil)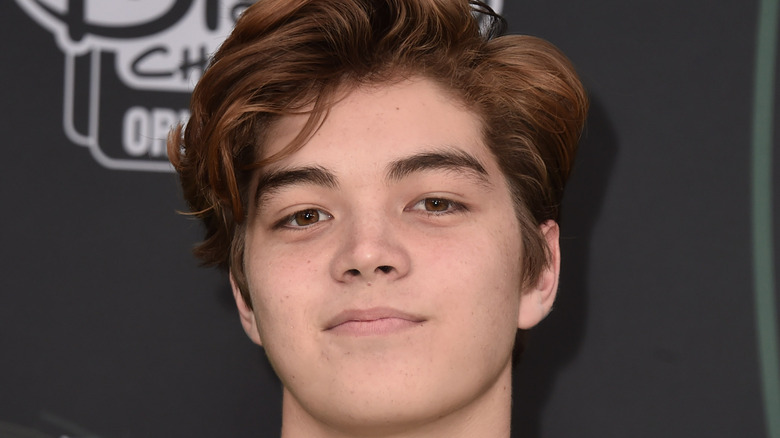 Alberto E. Rodriguez/Getty Images
Season 2 of the new "Saved By the Bell" brings some fresh faces into the hallowed halls of Bayside. One new character is Gil who, according to TV Insider, is "a cute and nerdy new Student Council VP who catches the attention of Daisy (Haskiri Velazquez)." He will be played by up-and-coming Hawaiian native Matt Sato, who is also a model and melodic musician who makes sweet "pop folk."
Sato's first screen credit was close to home, with a bit part on a 2015 episode of "Hawaii Five-O." A few years later, his career really picked up steam and the rising star told KHON-TV, "I've worked on many platforms. From short films, to Nickelodeon and now Disney+. Which is crazy because these are networks I grew up watching and have always wanted to be a part of." You might have caught him in the Snapchat series "Save Me," Brat's "Chicken Girls," or Nickelodeon's "Side Hustle." He is currently making a splash in Disney+'s "Doogie Howser" reboot "Doogie Kameāloha, M.D.," as the doc's older brother Kai.
He is very close with his family and his dogs, and supports charities involving clean oceans, anti-bullying and helping animals. Sato enjoys traveling, with Bali being his favorite of all destinations.
Ariela Barer (Chloe)
Joining newbie Gil will be the character Chloe, "a cool, queer student who encourages Lexi (Josie Totah) to join the LGBTQ club at Bayside." Chloe will be played by Ariela Barer, who is not shy about expressing her own sexual orientation, and is excited to be a part of "genuinely such a funny show."
A love of the arts runs in Barer's family (her older sister Libe is also an actor), and Ariela knew she wanted an agent when she was just four-years-old. Her parents said no, but local theater followed, and she netted her first role at age 9 in an episode of "E.R." More guest appearances followed, on shows ranging from "90210" to "Weeds" to "New Girl" and "Modern Family," before getting her first recurring role as Carmen on "One Day at a Time." A 33 episode stint as Gert Yorkes on Marvel's "Runaways" taught her "everything that I know about the industry. It taught me professionalism and efficiency." She currently is playing Katey Sagal's daughter Ziggy on ABC's "Rebel," and recently released a short film she wrote and directed titled "Jelly," which she describes "about the warping and exploitation of social movements for personal gain."
Barer once was in the band The Love-Inns with her best friend Eden, but broke up in 2019 (the two remain best friends). During quarantine, she watched over 200 movies, and worked hard to reduce her 6 cups of coffee a day habit down to 3.