Fans Of Derry Girls Just Got Heartbreaking News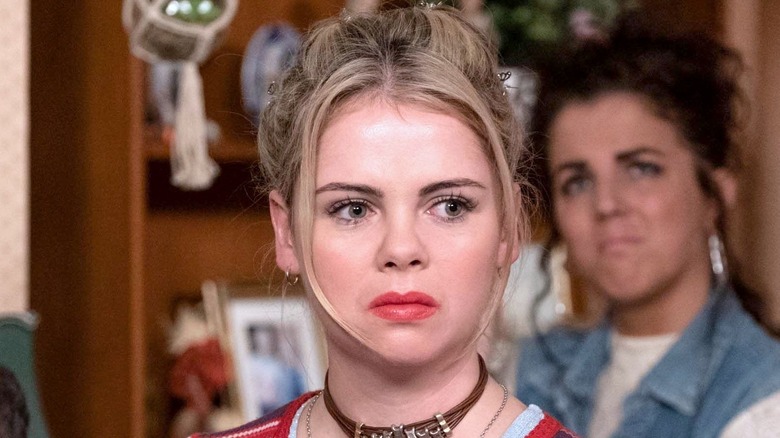 Channel 4/Netflix
If you are looking for a new comedy to watch that will have you rolling on the floor laughing, look no further than "Derry Girls." Set in Derry, Northern Ireland during The Troubles of the 1990s, the series focuses on a group of teenage school friends and all the mischief they get up to each day. At the center of the show is Erin Quinn (Saoirse-Monica Jackson), an overly-confident and brash 16-year-old whose sarcasm often gets her into trouble. 
If it's not that, then it's her friends, and in particular, Michelle Mallon (Jamie-Lee O'Donnell), the one who likes to challenge the rules the most. Then there's Erin's cousin Orla McCool (Louisa Harland), a weird, flighty girl who doesn't care at all about what people think about her, along with Michelle's intelligent yet anxious English cousin James Maguire (Dylan Llewellyn). Last but not least, there's Clare Devlin (Nicola Coughlan), the one who gets extremely nervous about breaking the rules but still goes along with it. 
While "Derry Girls" found extreme success on Channel 4 overseas, it's influence greatly expanded when the show was added to Netflix. Season 1 came out in early 2018, with Season 2 following around the same time the next year, and fans have been eagerly waiting for "Derry Girls" Season 3 ever since. Because of the pandemic, there's been a huge delay, but fans are assured that it is on its way. Unfortunately, there is now some bittersweet news for fans about the upcoming bout of episodes. 
Derry Girls will be ending with Season 3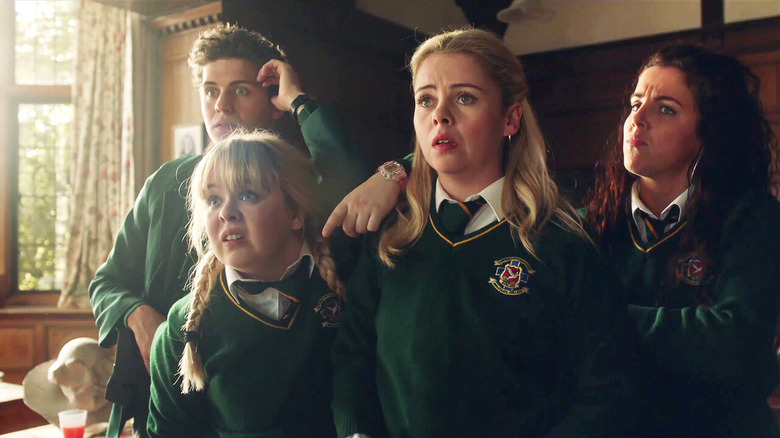 Channel 4/Netflix
While The Irish Post confirmed in August that the show was scheduled to begin filming Season 3 in September 2021, writer and creator Lisa McGee just revealed some information about the new season that fans will definitely be sad about. In a statement to Digital Spy, McGee confirms that Season 3 of "Derry Girls" will be the show's last. In her statement, McGee stated that "It was always the plan to say goodbye after three series. 'Derry Girls' is a coming of age story; following five ridiculous teenagers as they slowly... very slowly... start to become adults." That means that the third season, which will likely be six episodes like Seasons 1 and 2, will finish off the story of Erin and her friends — or maybe not? 
In the same statement, McGee also hinted at the possibility of returning to the world of "Derry Girls" in the future, possibly in the form of a rumored movie, which Digital Spy reported on back in 2019. The show's creator shared, "Who knows if Erin, Clare, Orla, Michelle and James will return in some other guise someday, but for now this is it for us." Hit sitcoms in the UK have gone this route before, like "The Inbetweeners," which had two movies after the show finished up. No matter what happens in the future, at least fans can rest assured knowing that Season 3 of "Derry Girls" is finally filming and will be coming soon.