The Character Everyone Forgets Justin Theroux Played In Zoolander
Dimitrios Kambouris/Getty Images for Disney+
Justin Theroux is known for a prolific career, that has included acting in films like "The Girl on the Train," "On the Basis of Sex," "American Psycho," and 2019's "Lady and the Tramp" from Disney+ (he voiced the Tramp), along with TV shows such as HBO's "The Leftovers" and "The Mosquito Coast." He's a writer, as well, with credits like "Iron Man 2" and "Tropic Thunder" under his belt. He has even produced a few projects, including the aforementioned "Tropic Thunder." And if you're still having trouble placing Theroux's face, it may be that you know him best as Jennifer Aniston's post-Brad Pitt plus-one: the two became close on the set of the 2012 film "Wanderlust," and were married from 2015 to 2018 (via Hello! Magazine). 
Given all of Theroux's more recent accomplishments, it's easy to overlook the fact that Theroux is a friend of Ben Stiller's from way back. The two met, according to Elle Magazine, in 1997, through Stiller's then-girlfriend Jeanne Tripplehorn. They soon became collaborators, developing 2008's action comedy "Tropic Thunder" together — proving that their friendship has lasted longer than many of their romances. 
The fact is, Theroux is one of those actors that you know from certain roles, but maybe don't realize you know. And before his work with Stiller resulted in "Tropic Thunder," Theroux played a small but memorable role in the original "Zoolander." 
He played the Evil DJ in Zoolander and Zoolander 2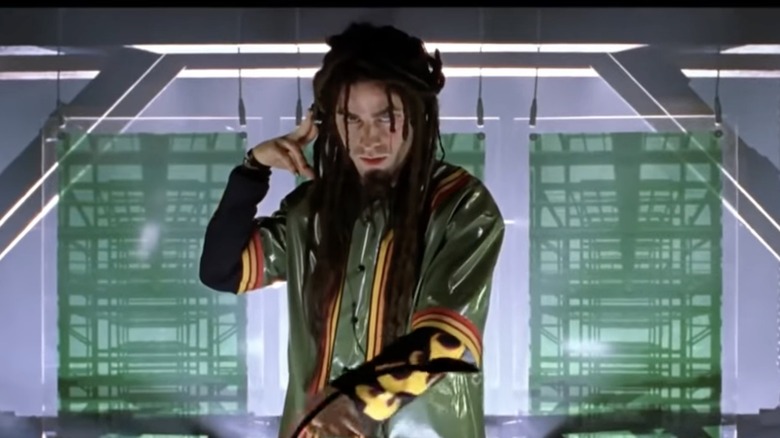 Paramount Pictures
In 2001's "Zoolander," Stiller plays a model, Derek Zoolander, at a low point in his career. This leads fashion mogul Jacobin Mugatu (Will Ferrell), along with Derek's agent Maury Ballstein (Jerry Stiller), to target him as someone who could be brainwashed into assassinating the prime minister of Malaysia, whose policies are cutting into Mugatu's profits. 
You may recall the scar-faced, dreadlocked, goateed Evil DJ who first appears when Katinka (Milla Jovovich) signals him to start the brainwashing process with a recorded remix of Frankie Goes to Hollywood's "Relax." Later, he and Owen Wilson's character, Hansel, have an epic and hilarious breakdancing fight when Hansel tries to prevent the DJ from putting on the record that would trigger Zoolander's mind programming.
It makes sense that you might not recognize Theroux as Evil DJ. After all, he's nearly unrecognizable in the role, though it is an important part of the movie's climax. "It's kind of our Act 3 action sequence. I broke-fight with Owen Wilson," Theroux marveled to Conan O'Brien in 2014. He told the talk show host he'd been breakdancing since he was 12 or 13, which inspired him to show off some moves Ben Stiller's wedding to Christine Taylor in 2000. He said, "Ben saw it once, it was actually Ben's wedding — I broke-danced at his wedding." That led to his appearance in the movie.
In addition to continuing the role in "Zoolander 2," Theroux helped write that film. He even wore the full Evil DJ getup on the red carpet at the movie's premiere in 2016 (via Hello! Magazine), stealing the show while messaging that he definitely enjoyed playing the character, 15 years after he originated it.