F9 Director Justin Lin Reveals What It's Really Like Working With The Rock And John Cena - Exclusive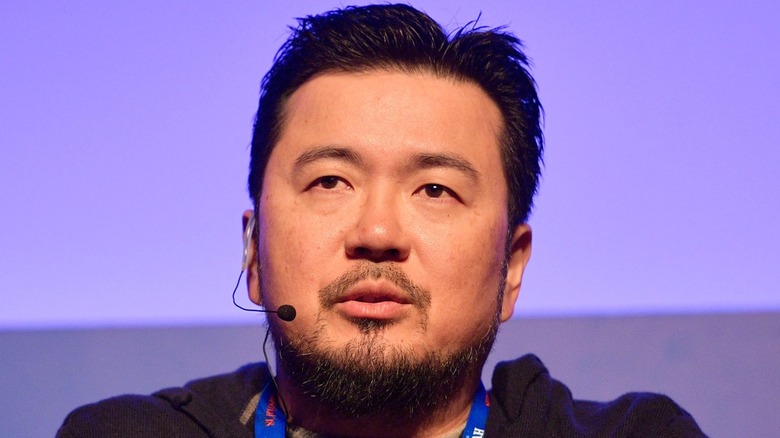 Matt Winkelmeyer/Getty Images
Dwayne "The Rock" Johnson and John Cena have made sure they'll always be connected. Both spent time as the top star in WWE and were basically the faces of wrestling in America. The two main evented back-to-back WrestleManias, in the famous "Once In A Lifetime" match followed a year later by "Twice In A Lifetime." Johnson confirmed on "Jimmy Kimmel Live" in 2018 that their rivalry went beyond scripted events in the squared circle, saying that "it was so real. Like, we had real problems with each other." Now, he claims, they're great friends.
John Cena has spent the past few years making his way in Hollywood, following the path carved out by The Rock. In fact, that path has led them to the same place: the "Fast & Furious" franchise. Johnson has since split off from the mainline "Fast" movies, now doing his own thing in the "Hobbs & Shaw" series. Meanwhile, Cena joined the crew this year in "F9" as Dom's brother Jakob.
Looper recently spoke with "F9" director Justin Lin, who directed Johnson in previous franchise installments. We took the opportunity to pit the two old rivals against each other once again and ask him about working with them.
Thrice in a Lifetime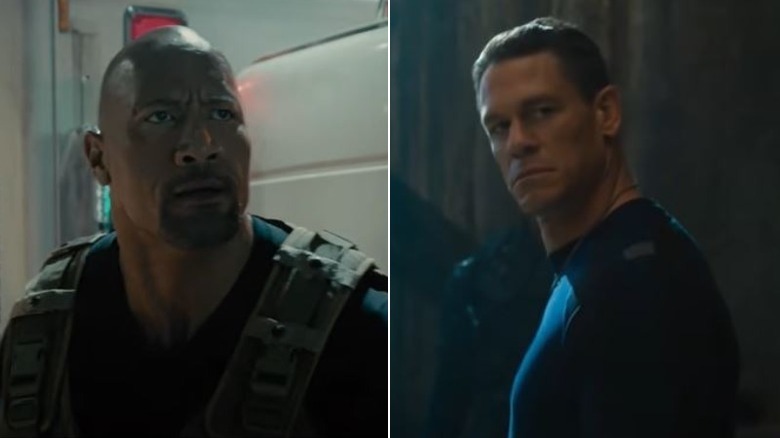 Universal Pictures/MovieClips
"I love them both," said Lin of Johnson and Cena. "Great human beings. I think with Dwayne, I really enjoy it because he played football, and so I love sports and I think the way we approached it was very much like that and that's something that I enjoy." Here's hoping that Johnson can count Lin as a viewer for the XFL 3.0 next year.
Lin reiterates that Cena is a "great human being" and notes that "we spent a lot of time talking about who Jakob was. There was a lot of catch-up because he was going to show up in 'F9,' but he's lived in this universe the whole time." Lin says that Cena took being a Toretto "very seriously" and highlights "the care and the ... detail that he brought" to the portrayal of Dom's brother. "I can't wait to continue to work with him, whether it's in this franchise or other opportunities."
"F9 The Director's Cut" is yours to own exclusively on the home entertainment release. It's now on Digital, available on Blu-ray and 4K UHD. Share your viewing experience with #F9TheDirectorsCut and @TheFastSaga / @UniAllAccess on Twitter.