Teasing Master Takagi-San Season 3 - What We Know So Far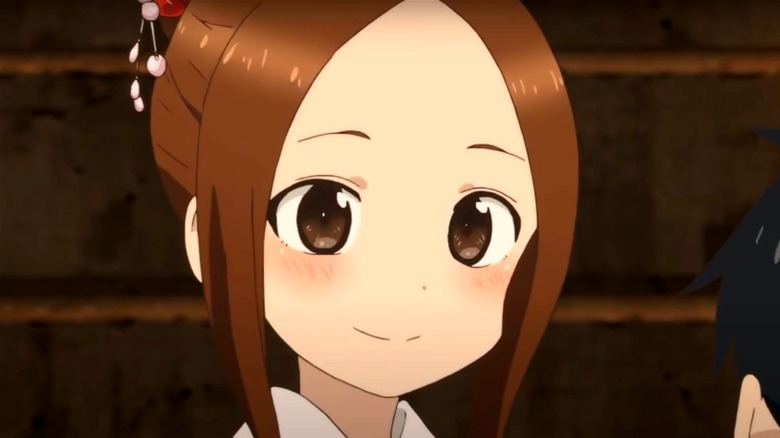 Shin-Ei Animation
Everyone loves a good best friends to lovers story, right? Well, the simple yet sweet anime "Teasing Master Takagi-san" is that and more, showcasing the developing relationship of two young friends named Takagi, voiced by Rie Takahashi, and Nishikata, voiced by Yuki Kaji. The show is based on the manga of the same name written and illustrated by Sōichirō Yamamoto, which premiered Season 1 in 2018, created by Shin-Ei Animation. A second season was then released in 2019 (Crunchyroll).  
Takagi and Nishikata are best friends in middle school who spend every day together. Because Takagi knows Nishikata so well, she can tell exactly what makes him tick, using that knowledge to constantly play pranks on him and joke around. While Nishikata vows to one day have a great comeback, he doesn't mind the teasing for now, and the two's friendship slowly develops into more. 
Here's everything we know so far about "Teasing Master Takagi-san" Season 3.
What is the release date of Teasing Master Takagi-san Season 3?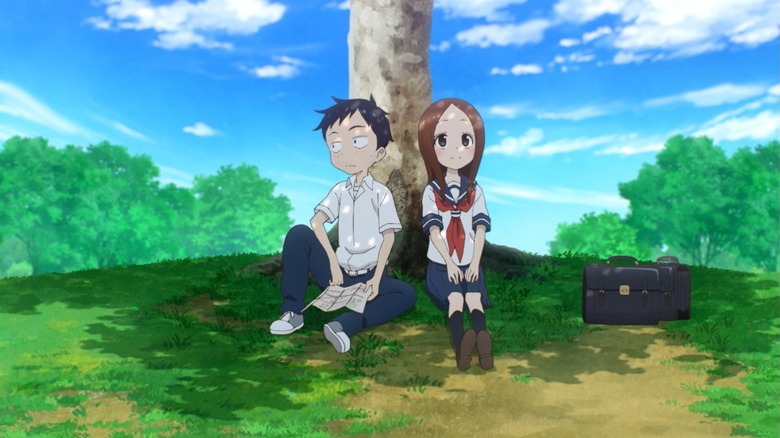 Shin-Ei Animation
Following the success of Season 1 of "Teasing Master Takagi-san," a second season followed soon after, coming out in mid 2019. After that, there was quite a wait before fans even knew that Season 3 was coming, likely due to a production delay caused by COVID-19. While two years doesn't seem like a long time to wait in the world of anime, when other series like "Attack on Titan" can go four years or more between seasons, it's still quite a while, especially when a new season of your favorite show would be the perfect distraction from the pandemic and work. 
Thankfully, the first official teaser trailer for "Teasing Master Takagi-san" was recently released, revealing a sneak peek at new episodes, when to expect them, and another fantastic surprise. As shown in the video, Season 3 of "Teasing Master Takagi-san" will start airing in January 2022. It's unclear how many episodes will be in the new season, but given both Seasons 1 and 2 had about 12 episodes total, Season 3 will likely be around the same length. On top of that, the official video also revealed that there will be a "Teasing Master Takagi-san" movie coming out in 2022 — a little icing on the cake for those who really missed the series over the past couple of years. 
What characters will be in the anime's third season?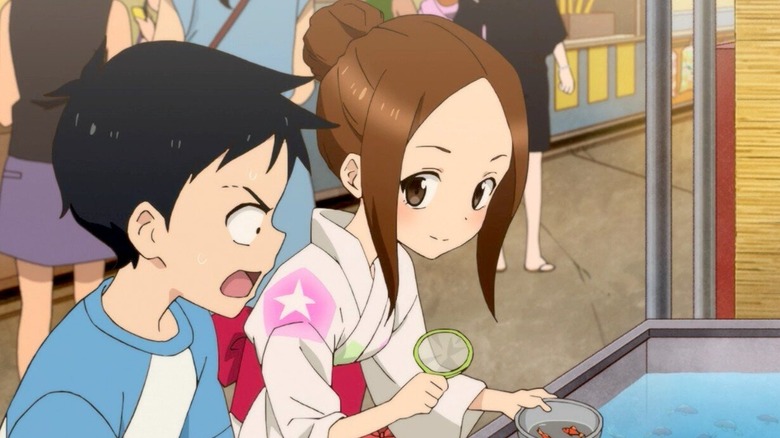 Shin-Ei Animation
The story of "Teasing Master Takagi-san" mainly centers around the two best friends, Takagi and Nishikata. Nishikata is a kind boy who easily blushes and gets embarrassed, which Takagi takes advantage of. He's anxious and constantly worries about what other people think about him, which shows deeply on his face. 
In contrast, Takagi is very smart and confident, and while she can be independent, she always sticks by Nishikata's side, which might have something to do with her major crush on him. While she teases Nishikata every day, she never pushes it too far, which is why they are such good friends. But somehow, Nishikata is oblivious to Takagi's deeper feelings, at least for now.
The duo's daily adventures tend to happen at school and other places around town, so there are plenty of surrounding characters that show up now and then. A few common friends are Mina, Yukari, Sanae, Nakai, and Mano. 
What will Season 3 of Teasing Master Takagi-san be about?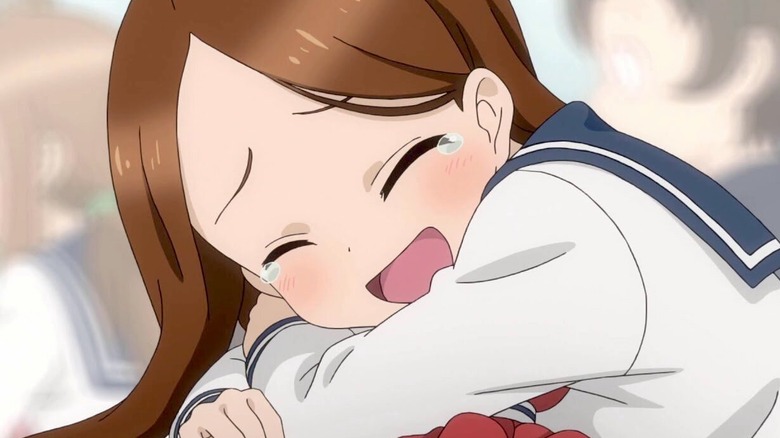 Shin-Ei Animation
The story of "Teasing Master Takagi-san" follows the middle school students Nishikata and Takagi as they go through each day by each other's side. The show provides a small look at the future, years down the line, revealing that Takagi and Nishikata end up getting married and having a child together. It's such a cute reveal, and adds more meaning to the two's interactions when they are young. 
Still in middle school, Takagi will surely continue her teasing in Season 3. But the new episodes will also build on the pair's past and show Nishikata finally realizing that Takagi likes him as more than a friend. But will he be able to act on it? As fans now know that there will also be a movie following Season 3, it's possible that the plan is to wrap up the story with the feature-length film, finally connecting Takagi and Nishikata's past and future in a concrete way. 
No matter what major steps forward Season 3 has in store for the duo's relationship, new episodes of "Teasing Master Takagi-san" are sure to feature the same charm and humor that made fans fall in love with the show in Seasons 1 and 2.