DJ Khaled Films Possible MCU Cameo With Stan Lee, Tom Holland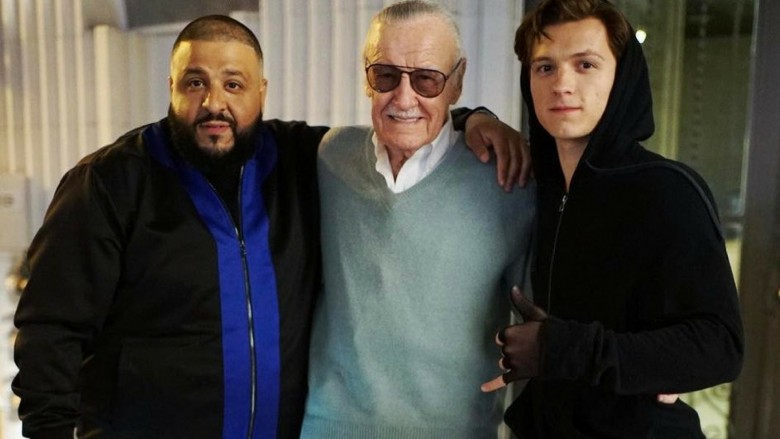 Twitter
The era of bizarre MCU cameos appears to be upon us. Shortly after news came out that Miley Cyrus has a voiceover role in Guardians of the Galaxy Vol. 2, musician and elite level Snapchatter DJ Khaled was spotted hanging out with none other than Stan Lee and a suited up Tom Holland, leading some to believe that he will have a cameo in either the upcoming Spider-Man: Homecoming or Avengers: Infinity War.
Khaled, of course, documented his experience on set Wednesday on his Snapchat, and, although he didn't say what he was working on, he did say that he was filming "another movie" that was going to be "legendary." His scenes appeared to be in some kind of convenience store, with the musician on set for a few hours repeatedly teasing the upcoming project. (Don't worry, they gave him a trailer to relax in, and he says they got his vibe just right.) The big reveal of the story comes at the end of his day on set, though, when Khaled posted a video of himself standing with Lee (who reminds him not to forget how legendary he is) and Holland, who both appear to be very excited to be joining what is probably the world's most viewed Snapchat.
The cameo appears to be taking place in New York City, which is fitting, considering that's where Peter Parker is from. This has led some to theorize that Khaled could be appearing in Spider-Man: Homecoming. While that's not impossible, the movie is due out in July, and filming should definitely be completed at this point, so that seems unlikely (although this could have just been when they were finally able to work in the cameo with Khaled's busy schedule). Avengers: Infinity War, on the other hand, is currently filming, and while the cast has been spotted in Atlanta and Scotland, it wouldn't be completely out of the question for Khaled to be filming a piece with Spider-Man in New York.
You can watch Khaled's video with Lee and Holland below and decide for yourself if you think that he will find himself in the MCU one day soon. Spider-Man: Homecoming, which will definitely be better than you think, is due out on July 7, while Avengers: Infinity War is due out on May 4, 2018.