We Might Finally Know What Was In Jim's Note For Pam On The Office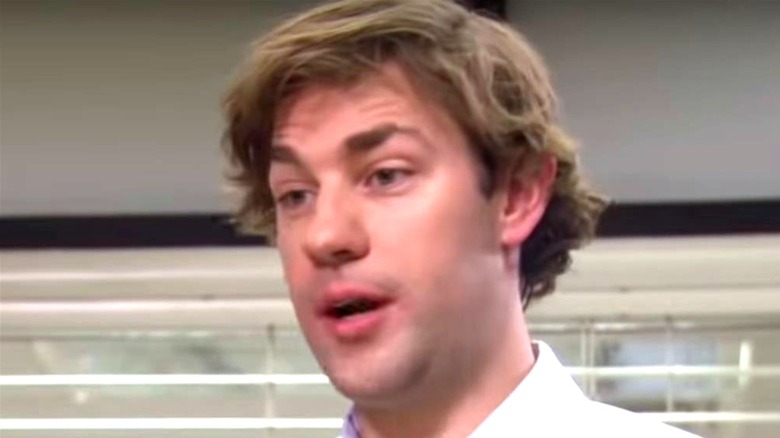 NBC
Fans of "The Office" have wondered about the contents of the teapot note Jim Halpert (John Krasinski) gave to Pam Beesley (Jenna Fischer) for a decade, and we finally have an answer ... ish. The first two seasons of workplace comedy chronicled Jim's crush on Pam, who was engaged to warehouse worker Roy Anderson (David Denman). In Season 2's "Christmas Party," Jim gives Pam a teapot that includes a note revealing his feelings for her, but he removes the letter before Pam can read it. Jim eventually tells Pam he loves her during the Season 2 finale, but the pair don't get together until Season 4.
Pam and Jim date for a good bit, get married and have two children, all while becoming one of television's most beloved and iconic couples along the way. Their marriage is tested in Season 9 when Jim takes a second job in Philadelphia. The distance puts a strain on their relationship, so Jim leaves his dream job to keep his dream girl. Pam worries that Jim will regret his choice, so he has production put together a video montage chronicling their romance and finally gives Pam the infamous note. During the series finale, when the Dunder Mifflin staff fields questions from fans of the documentary, one woman asks about the note's contents, and Pam says she prefers to keep it private. However, Fischer has since opened up about the infamous piece of paper.
The note was about Jenna and John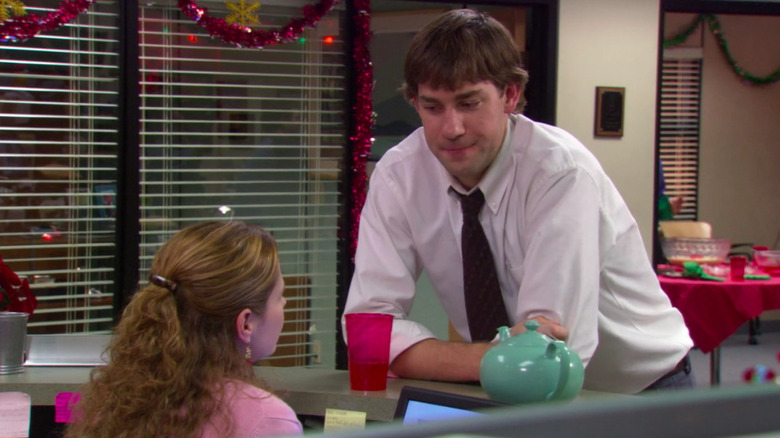 NBC
Jenna Fischer discussed the teapot note on her podcast "Office Ladies," which she hosts with Angela Kinsey. Entertainment Weekly summarized the highlights, and according to Fischer, show creator Greg Daniels told John Krasinski to write the goodbye note to his co-star as the sitcom was ending its nine-season run. "I'm on camera, and I open up the note that John had given me, and I just start crying," the actress remembered. So Fischer was reading a heartfelt letter from her co-star and friend, giving the scene its authenticity.
Daniels used a similar approach for Pam's goodbye scene with Michael Scott (Steve Carell) in Season 7's "Goodbye, Michael." Pam catches up with her former boss at the airport, and the two exchange words and a hug, but the audience witnesses the moment from afar. Daniels suggested Fischer "run up and say goodbye to your friend Steve."
Some fans may be disappointed that there was no grand romantic gesture from Jim to unpack. However, how could it get any better than Jim's Season 4 confession that he'd gone out and purchased an engagement ring a few weeks after he and Pam started dating? Or his backup wedding plan of secretly getting married on a boat ride around Niagara Falls? Or him bending down on one knee while proposing in the pouring rain in front of a gas station?
As far as what Krasinski wrote to Fischer? Well, that's a secret she'll never tell.