The Walking Dead Season 11 Episode 5 Scene Fans Thought Made No Sense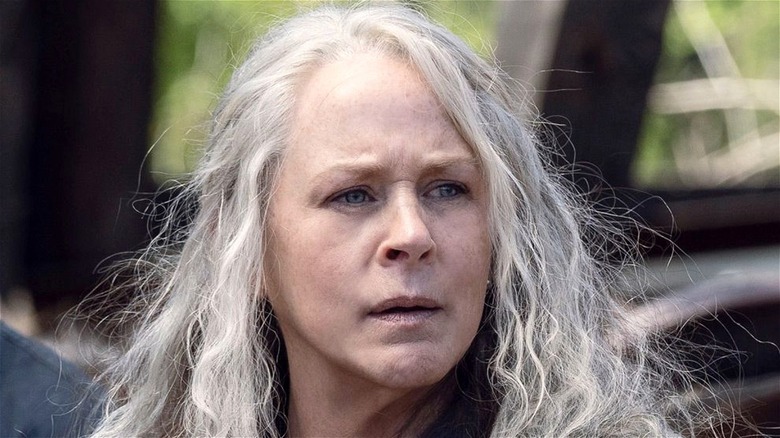 AMC
Contains spoilers for "The Walking Dead" episode "Out of the Ashes"
This week's episode of "The Walking Dead," titled "Out of the Ashes," saw an air of futility settle over Alexandria, with supply runs netting less than optimal results and starvation continuing to threaten the settlement's inhabitants. As the survivors searched for a way to survive, they lost their sense of hope, and even the settlement's children began to fight, with tensions ratcheting up between Judith (Cailey Fleming) and her trainees. Now, it seems as if joining up with the Commonwealth is the characters' only hope of continuing to survive as a group, but even in that community, things look a little too good to be true.
In addition to the episode's overall, all-encompassing sense of despair, "Walking Dead" fans also revealed on the show's subreddit the one thing that really confused them in "Out of the Ashes." With that in mind, which scene, in particular, did "Walking Dead" fans have a hard time with during the recent episode?
The Walking Dead's heroes could have used a wardrobe change
The dangerous scavenging missions depicted in the latest episode of "The Walking Dead," as well as the way certain characters chose to dress up for them, proved to be an unfortunate sticking point for some viewers. "They really should've changed into normal clothes to not attract attention. They still look like protagonists," remarked u/Racing2F in regards to Eugene (Josh McDermitt) and his allies' attempts at trying to blend in at the Commonwealth.
Multiple fans noted that Ezekiel (Khary Payton) spent the entire recon mission wearing blood-spattered armor, which was likely to arouse the attention of both walkers and enemy agents alike. "I thought it was weird that Ezekiel is still walking around with bloody armor on," wrote u/LateNight22, while u/BullworthMascot noted that Princess (Paola Lázaro) and her "hot pink jacket" also made her a sitting duck in the episode.
Considering that the masquerade was ultimately for nothing and everyone but Yumiko (Eleanor Matsuura) is now set to go on trial, it's hard to disagree with these "Walking Dead" fans. To put it simply: Ezekiel and co. really should have changed before shipping out.