Why Matt Reeves's New Batman Tease Is Giving Fans Deja-Vu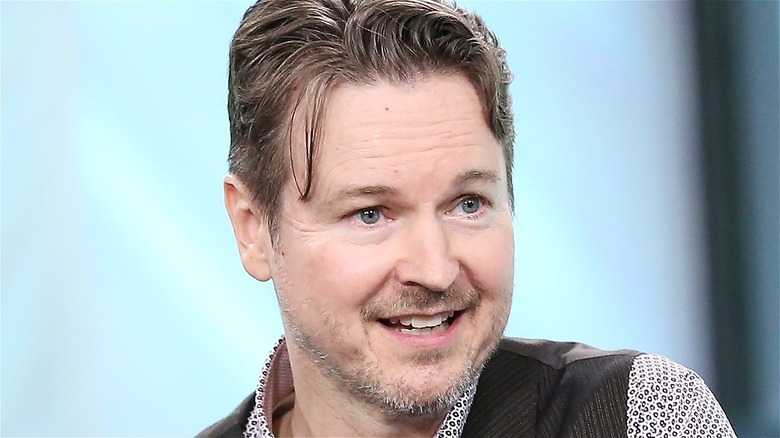 Monica Schipper/Getty Images
This month gave comic book fans everywhere the chance to fully celebrate the world's favorite Caped Crusader, and in the spirit of that, "The Batman" director recently decided to gift fans with a new tease of what lies in store with his version of the beloved DC Comics character.
On September 18, officially designated as "Batman Day" by DC Comics, "The Batman" director Matt Reeves broke a six-month Twitter hiatus to share a picture from the film's editing room. The image includes a glimpse of the film's titular hero (played by Robert Pattinson) on a nearby TV monitor. "Just popping my head out of the editing room for a moment to say #HappyBatmanDay !" Reeves wrote in his post. "Can't wait to share a lot more with you all four weeks from today at #DCFanDome !" (He also apologized for his messy desk.)
The image in question shows Pattinson's Batman (cowled, caped, and slightly blurry) as he's reaching up and aiming his version of the character's classic grapple gun at an off-screen target. It's the smallest of teases, but it was still enough to get plenty of people even more excited to finally see the newest live-action version of the character on-screen.
How fans are reacting to the newest shot of Robert Pattinson's Batman
Matt Reeves' post earned thousands of retweets, likes, and comments, most of which consisted, predictably, of fans expressing their barely contained excitement for "The Batman."
Some fans were also quick to point out the similarities between the way the grappling hook is framed in this shot from "The Batman" and the way it is shown during a scene in "Zack Snyder's Justice League." However, others pointed out that it's a pretty classic Batman pose, one used frequently in both Batman comics and animated titles. The presence of the Bat-Grappling Hook in "The Batman" comes as no surprise either, as a shot in the film's first trailer showed him ascending up the center of a stairwell using the tool. 
In other words, while Reeves promises to bring a more grounded approach to the character, it turns out that even the grittiest and most inexperienced versions of Batman still tend to find themselves in need of a way to rise quickly into the sky.
DC fans also got a new tease of The Batman's score
Matt Reeves stayed busy on Twitter for Batman Day, sharing posts from DC Comics' Twitter account that encouraged fans to learn more about Batman Day celebrations and that promised the "global Batman celebration" would continue at the DC FanDome event on October 16. The company's latter tweet also featured a video with previously released shots of Robert Pattinson's Batman as part of a broad tribute to the character's other animated, video game, and live-action appearances.
Reeves also retweeted a post from composer Michael Giacchino that featured a video of him conducting a large group of musicians on a soundstage for "The Batman." "Happy #BatmanDay everyone!!" Giacchino wrote. "We have been hard at work and can't wait to share what we've been up to!!" The clip, only 28 seconds long, opens with the orchestra creating a big, Gothic sound that quickly turns into something softer but still foreboding. "Happy #BatmanDay my friend!" Reeves wrote when he shared the post. "I cannot wait for everyone to hear your incredible score!"
"The Batman" is currently due to hit theaters on March 4, 2022.