This Might Have Been The Most Chaotic Cold Open Of The Office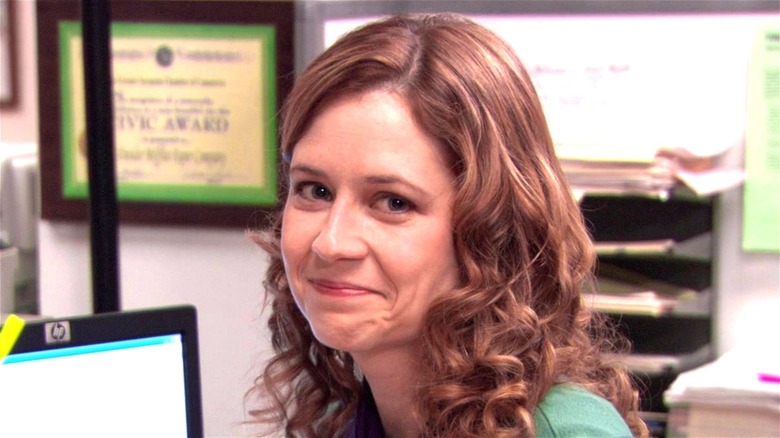 NBC
There's no doubt that "The Office" has some of the best cold opens in sitcom history. Almost every episode in the series features one — often a little scene that has nothing to do with the episode's plot. Some of the most famous cold opens in the show's history include the lip dub, Kevin (Brian Baumgartner) spilling his famous chili, the KGB knock-knock joke exchange, and Michael (Steve Carell) hitting Meredith (Kate Flannery) with his car.
However, there are some cold opens on the series that you could describe as chaotic. Who could forget the scene with the fire drill which resulted in Stanley (Leslie David Baker) having a heart attack in the bullpen? Another that included lots of yelling was when Dwight (Rainn Wilson) birthed a watermelon in Michael's office. Additionally, the small scene where Roy (David Denman) tries to attack Jim (John Krasinksi) could also be considered rather tumultuous.
While those cold opens are insane in their own right, one stands above the rest as the most chaotic ever on "The Office."
Pam's morning sickness rocks the office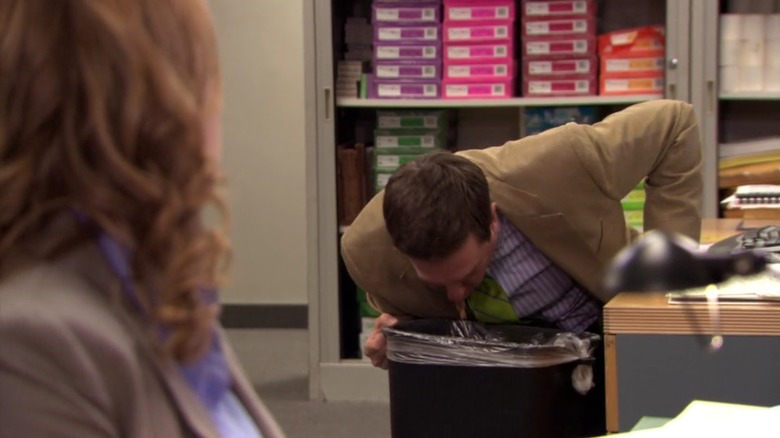 NBC
In Season 6, Episode 4 ("Niagara Pt. 1"), Pam (Jenna Fischer) and Jim kick off the cold open by asking a favor of their coworkers. Pam's pregnancy has caused her to struggle with morning sickness, which is triggered by several smells throughout the office. She and Jim ask if their colleagues can be more courteous by suggesting they wear less perfume and eat their smelly lunches in the breakroom.
Naturally, Dwight is offended by their request, citing that he didn't choose for them to get pregnant, so he shouldn't have to follow their rules. His attempt at flouting Pam's request backfires after he peels and eats a hardboiled egg at his desk. Pam immediately throws up in the trash can under her desk, which sets off a vomiting spree in the office. Andy (Ed Helms) admits he can't watch people throw up without doing it himself, and he vomits shortly after. Before you know it, Meredith, Erin (Ellie Kemper), Phyllis (Phyllis Smith), Oscar (Oscar Nunez), and Angela (Angela Kinsey) all start throwing up as they run for the nearest trash can. As expected, Creed (Creed Bratton) is unphased as he stuffs his mouth with noodles and watches the pandemonium.
Pam gets the last laugh as she wipes her mouth and looks at Dwight. The puking spree definitely cements this episode as having the most chaotic cold open ever.