Paranormal Activity: Next Of Kin Gets A Terrifying New Trailer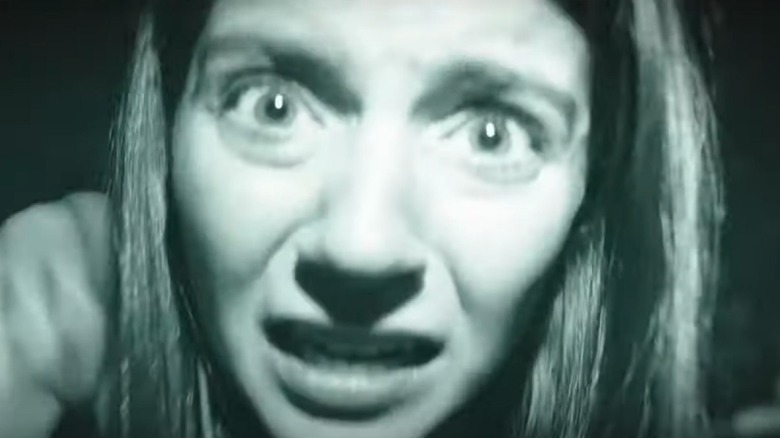 Paramount+
This Halloween, fans of the "Paranormal Activity" franchise are getting a proverbial full-sized candy bar in their bucket.
After a six-year hiatus, the landmark found-footage horror series is finally getting another installment. "Paranormal Activity: Next of Kin" has been in the works for a while and was one of the many films whose release was affected by the COVID-19 pandemic. However, today Looper can confirm that the seventh film in the "Paranormal Activity" franchise will be arriving exclusively on Paramount+ on Friday, October 29.
The franchise got its start way back in 2007 when the first "Paranormal Activity" film, which was made on a shoestring budget and starred relatively unknown actors, became a runaway box office success. The movie's simple but engrossing story and highly effective scares made it an instant classic. While it wasn't the first found footage horror movie, it helped popularize the genre in the late 2000s and 2010s. A cavalcade of sequels followed which expanded on the lore and continued the tradition of using low-fi camera footage to scare audiences out of their seats.
"Next of Kin" is a reboot that was directed by William Eubank, who helmed 2020's "Underwater," written by Christopher Landon, who penned several previous films in the franchise, and produced by Jason Blum and Oren Peli. In addition to the release date information, we now also have a teaser that is full of surprises.
What the teaser for Paranormal Activity: Next of Kin tells us about this upcoming reboot
Even though this new teaser for "Paranormal Activity: Next of Kin" is only 30 seconds long, it is jam packed with revelations about the film.
There are two obvious things that jump out at us (pun intended) right away. The first is that it appears that the movie will feature a blend of found-footage style filmmaking and a more traditional approach. Some of the scenes in the teaser, including some high-up tracking shots and dinner table scenes, look to be shot like a regular movie. However, those who cherish the franchise for its signature style of horror won't be disappointed. There are quite a few scenes shot on grainy hand-held devices and webcams that harken back to the older films.
The other noteworthy detail is that the film appears to take place in an Amish or Mennonite community. The teaser kicks off with a performance by a chorus of conservatively dressed children and then cuts to a man announcing, "We are grateful to have our sister Margot return to us." Margot is in modern dress, implying that she has come back to this traditionalist community after spending time in the wider world.
As for how this all plays into the lore of the franchise, we'll have to wait until Halloween to find out.
"Paranormal Activity: Next of Kin" stars Emily Bader, Roland Buck III, Dan Lippert, and Henry Ayers-Brown and drops on Paramount+ on October 29.