Nicolas Cage Says He's 'Never Going To See' One Of His Upcoming Movies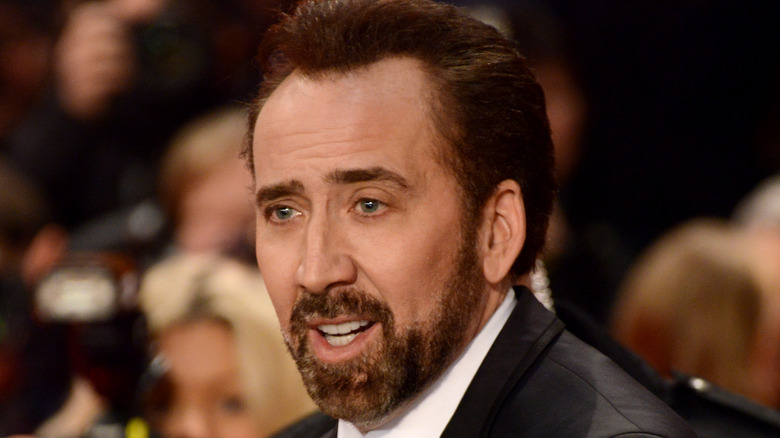 LaCameraChiara/Shutterstock
Fans of Nicolas Cage and meta examinations of reality were disappointed to hear that his upcoming film "The Unbearable Weight of Massive Talent," in which the actor plays a fictional version of himself, had been delayed until 2022. However, it seems that there is one person who is not particularly bothered by waiting another year to view it — Nicolas Cage, who said in an interview that he does not plan to ever see the film. This is, of course, because Nicolas Cage viewing a movie starring Nicolas Cage as Nicolas Cage would bring about the immediate vacuum decay of the universe.
Actually, he has a different reason. 
In The Hollywood Reporter's announcement of the delay, "The Unbearable Weight of Massive Talent" is described as a film starring Cage as a version of himself who is both broke and dissatisfied with his career. His financial issues lead him to take up an offer from a wealthy but dangerous fan, Javi (Pedro Pascal), to attend a birthday party for a payout of $1 million. Of course, when the CIA gets involved by recruiting Cage to spy on Javi, things take a turn for the worse, and the actor must pull from his iconic film roles to keep his family safe.
Films like "Adaptation," in which Cage stars as both the movie's screenwriter, Charlie Kaufman, and fictional twin brother Donald, have shown that the actor can hold his own in complex, self-referential films. However, it seems that as far as his own personal viewing preferences go, the actor draws the line at watching himself perform an unhinged version of himself. 
Here is why Nicolas Cage says he will never see "The Unbearable Weight of Massive Talent."
Cage says seeing The Unbearable Weight of Massive Talent would be a 'whacked-out trip'
The actor revealed his surprising stance on the film during an interview with Collider. After being asked how he managed the transition from more traditional acting roles to one where he was playing himself, Cage let it be known that he had no intention of seeing "The Unbearable Weight of Massive Talent."
Cage explained, "That is a really great question and I'm still trying to answer it. One of my answers is that I'm never going to see that movie." While he noted that he felt it was a good movie, and his manager, who was a member of the production team, was pleased with the way the film turned out, seeing it himself would not be an enjoyable experience. The actor said, "It's just too much of a whacked-out trip for me to go to a movie theater and watch me play Tom Gormican's highly-neurotic, anxiety-ridden version of me."
Beyond that, Cage noted that the choice to depict himself in that manner was the result of the film's director, Tom Gormican, pushing him to portray the character that way. Cage remembered Gormican telling him, "Well neurotic Cage is the best Cage," at which point the actor relented and leaned into the version of himself that the filmmaker wanted to see. 
After explaining that dynamic, he reiterated, "I won't see it. But I do hope you enjoy it."