Here's What David F. Sandberg 'Forgot' To Put In Shazam!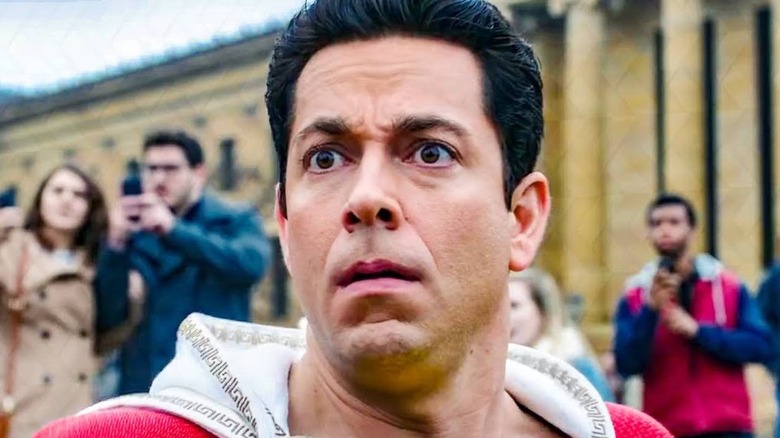 Warner Bros. Pictures/DC Films
"Shazam!" perfectly encapsulates everything people love about superheroes. It's wish-fulfillment at its very finest as Billy Batson (Asher Angel) stumbles upon a wizard who grants him extraordinary powers. By yelling "Shazam" at the top of his lungs, he transforms into the superhero of the same name, played by Zachary Levi, who can summon lightning bolts from his fingertips. He's the only one who can stop the nefarious Dr. Thaddeus Sivana (Mark Strong) and his manifestations of the Seven Deadly Sins. Apparently, Superman was off-world that weekend.
It's a ton of fun and arguably one of the best movies set within the DC Extended Universe, but some fans noticed there was one thing missing in the cut. The movie lacked the famous DC intro where the seven members of the Justice League are highlighted, followed by a massive canvas showing various other heroes lining up together. Instead, the DC logo appears, and that's it. There's no Batman throwing a Batarang or Flash speeding past.
In case you were worried "Shazam! Fury of the Gods" would contain the same omission, fear not. Director David F. Sandberg has assuaged all worries.
The DC studio intro will return in Shazam 2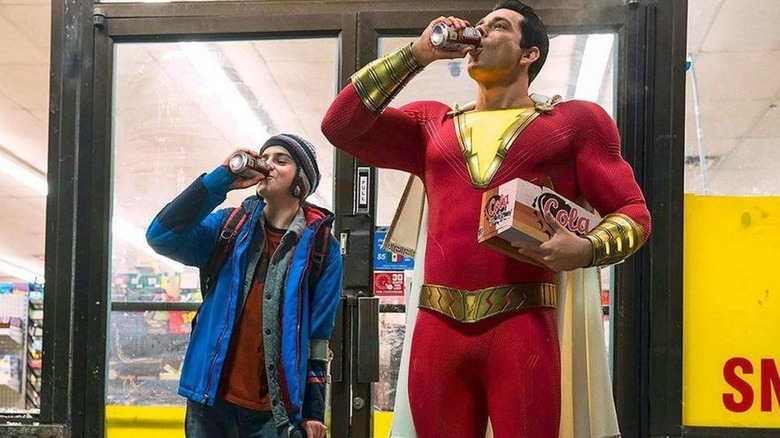 Warner Bros. Pictures/DC Films
There's something thrilling about seeing the DC intro light up the big screen. It lets you know you're about to enter a whole universe of characters facing larger-than-life threats. And David F. Sandberg took to Instagram to assure everyone it will be there when "Shazam 2" drops in theaters on June 2, 2023.
The director uploaded a video of the upcoming film's editing bay, consisting of some impressive-looking speakers and a TV set. He accompanies the footage with the following message: "People freaked out when I forgot to put this intro in the first Shazam. Well it's currently in the sequel. Let's see if it stays. I mean who knows, by 2023 they could have a new logo or something." Could that be a veiled way of Sandberg hinting that DC is cooking something up special to put in front of its films moving forward? Who knows? For the time being, at least we know the "Shazam" sequel will start things on the right foot.
A lot of people chimed in to express their pleasure of seeing the classic intro back in action. Of course, others learned some new information for the first time, like one person who wrote, "I [didn't] even notice that it wasn't there lol." "Shazam! Fury of the Gods" may still be a long way away, but it's bound to be worth the wait.