The Surprising Role Whoopi Goldberg Wishes You'd Forget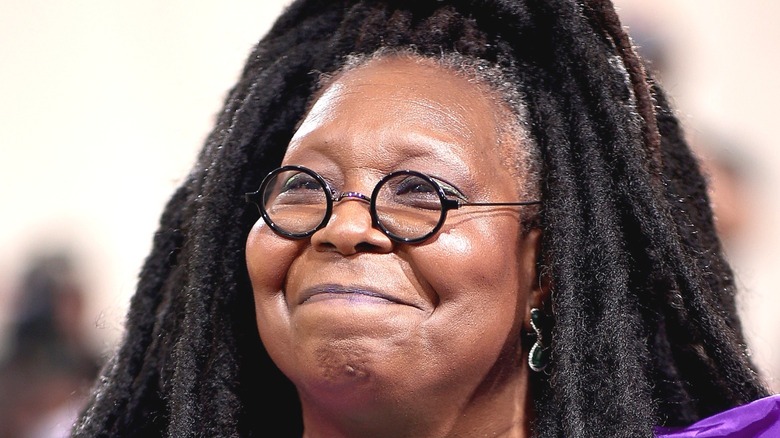 Dimitrios Kambouris/Getty Images for the Met Museum/Vogue
Whoopi Goldberg pulls double duty as a successful actress and moderator of ABC's talk show "The View." In 2007, The New York Times reported Goldberg would replace Rosie O'Donnell, who exited "The View" abruptly after a particularly contentious debate with Elisabeth Hasselbeck. The move fell in line with Goldberg's diverse résumé as a performer whose career choices have been anything but predictable. Goldberg got her start as a stand-up comedian, and she's tackled everything from television to movies to hosting the Oscar and Tony Awards to helming her own late-night talk show.
Whoopi Goldberg has a proven track record as a serious dramatic actress thanks to her roles in "The Color Purple" (earning the performer her first Academy Award nomination for Best Actress), "Ghosts of Mississippi," and "The Long Walk Home." The majority of Goldberg's best-known films, however, showcase the actress leaning into her comedic roots, including "Sister Act," "Jumpin' Jack Flash," "The Associate," "Soapdish," and her role as psychic Oda Mae Brown in "Ghost," for which she earned the Oscar for Best Supporting Actress in 1991.
However, throughout her versatile 40-year career, Goldberg has had her share of both hits and misses. One movie stands out as an appearance she wishes her fans would forget.
Whoopie Goldberg starred opposite a fake dinosaur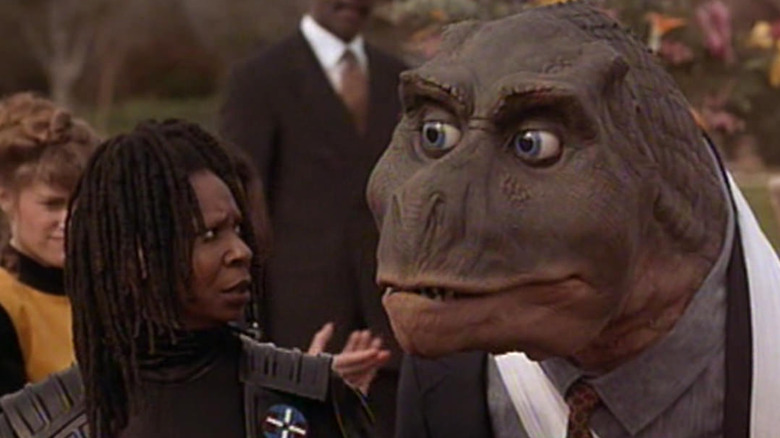 New Line Cinema
In August 1993, Variety reported that Whoopi Goldberg could be liable for $20 million in damages after trying to pull out of the movie "Theodore Rex" (also known as "T. Rex"). According to the movie's producer Richard Abramson, Goldberg had made a verbal commitment to star in the sci-fi buddy cop film. She would play Katie Coltrane, a police detective partnered with a dinosaur. Yes, the Academy Award-winning actress' co-star was an animatronic dinosaur. Goldberg was poised to earn $5 million for the flick as well as a portion of the profits. The actress' attorney Richard Loeb, however, stated that Goldberg received script offers regularly and had not expressed anything more than a passing interest in the film.
However, in September, the LA Times reported that Goldberg had settled the breach-of-contract suit by agreeing to star in the film directed and written by Jonathan Betuel. In the end, New Line Cinema decided to release "Theodore Rex" direct-to-video in 1996 after disappointing test screenings. "Theodore Rex," which had a $35 million budget, became the most expensive movie ever to be released directly to video (per/Film), and the movie has a 0% approval rating on Rotten Tomatoes. In 1997, Whoopie Goldberg received a Worst Actress nomination from the Golden Raspberry Awards (Razzies) for her work in "Eddie," "Bogus," and "Theodore Rex." On the upside, Goldberg's performance wasn't abysmal enough for her to take home the humiliating prize.