Guardians Of The Galaxy Vol. 2 Might Feature An LGBT Character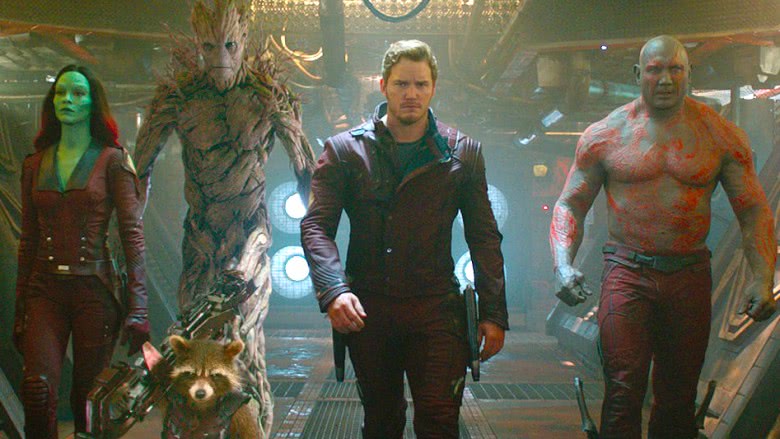 The upcoming Guardians flick might include an LGBT character.
In a recent discussion with the Press Association (via Yahoo Movies), director James Gunn said that he'd "absolutely... love to be able to" incorporate a gay character into one of his films, and he "might have already done that" with Guardians of the Galaxy Vol. 2. "I say watch the movie," he said. "Check it out. See what you think."
However, reports from those who've already seen Guardians Vol. 2 state there isn't any obvious LGBT character inclusion. But that doesn't mean it's not there. Gunn later clarified his statement with Digital Spy, hinting that any of the heroes and heroines in the film could identify as non-straight, even if they're currently in or have previously been in a heterosexual relationship.
"What I meant to say is this: There are a lot of gay people in the world. There are a lot of bisexual people in the world. There are a lot of characters in the MCU. We've barely gotten to know the sexuality of any of those characters," Gunn explained. "We know Gamora and Quill are interested in each other. That's about the only sexual relationship that exists within the Guardians. We know Drax has a past with a wife, so he's got some sort of interest in women. But we don't really know who's gay and who's not. It could be any of them."
If Guardians of the Galaxy Vol. 2 truly does include an LGBT character, it'll follow closely after the first openly gay big-budget superhero, Trini Kwan (Becky G), debuted in Power Rangers. However, it may include a negligible moment or mention, much like Beauty and the Beast and its highly buzzed-about "exclusively gay moment" that was quite vague in actuality.
It looks like we'll just have to wait and see how things shake out when Guardians of the Galaxy Vol. 2 hits theaters on May 5. While we wait, check out some of the coolest gay superheroes in the comic book world.