The Comedy That Almost Ruined Norm Macdonald's Acting Career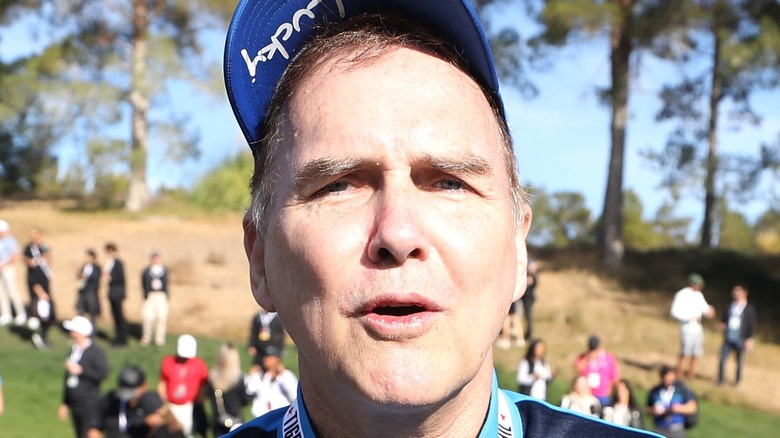 Christian Petersen/Getty Images for The Match
No one did comedy quite like the incomparable Norm Macdonald. His dry delivery and sardonic wit made any of his jokes instantly recognizable, and his penchant for dark humor allowed him to tell jokes few other comedians could hope to get away with. Macdonald died on September 14, 2021, and while the comedy world mourned a legend, people also took the time to look back fondly on decades' worth of material.
From his iconic bits as the Weekend Update anchor on "Saturday Night Live" to his famous moth joke, numerous people took to social media to post clips of his work and reflect on all of the laughs he elicited over the years. As you look through all of the tributes that have taken place, it's easy to wonder why Macdonald didn't have a more prominent acting career. He continued performing stand-up comedy, where he shined, but his brand of humor could've landed with the proper projects. Unfortunately, an acting career got somewhat derailed after a leading role went awry, even though most people fondly look back on the film.
Critics lambasted Dirty Work when it first came out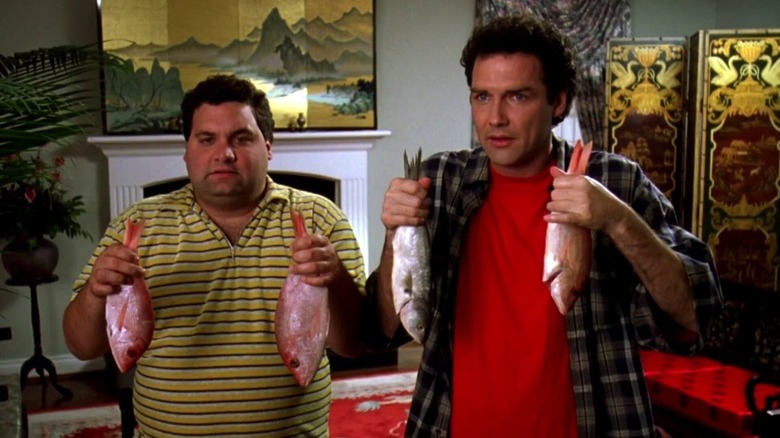 Metro-Goldwyn-Mayer
By modern definitions, 1998's "Dirty Work," starring Norm Macdonald and Artie Lange, is a cult classic. It barely made a blip on the radar when it was first released, grossing $10 million at the box office against a budget of $13 million, but it found new life in later years. In fact, most of the positive reviews you can find of the film came out years after the fact when people could appreciate what Macdonald was doing in the role. At the time of the release, most reviews looked like this one from Marc Savlov of The Austin Chronicle: "With 'Dirty Work' though, [Macdonald's] fashioned an 80-minute harangue out of 10 minutes of material, an 'SNL' sketch gone horribly awry, and one that drags on long after its daily ration of humor has been exhausted."
Many "SNL" stars went on to get at least one movie where they were the lead, but unfortunately for Macdonald, "Dirty Work" didn't launch him into leading man status like Adam Sandler or Will Ferrell. He received his own sitcom a year later with 1999's "Norm," but it was canceled after a couple of years. One could blame the poor performance of "Dirty Work" for Macdonald never really getting more into acting.
It's a shame, too, because people came around on "Dirty Work" years after the fact. As recently as June 2021, director Bob Saget spoke about potentially doing a sequel, stating, "We're talking about, and thinking, there could be a sequel ... I talk to Norm quite a bit, and Artie, and it's a pretty cool thing if it goes, which is looking very nice" (via MovieWeb). Macdonald's death eliminates any chances of a proper sequel happening, but at least we still have the first film you can watch on HBO Max.
Norm Macdonald had fun with Dirty Work's legacy years later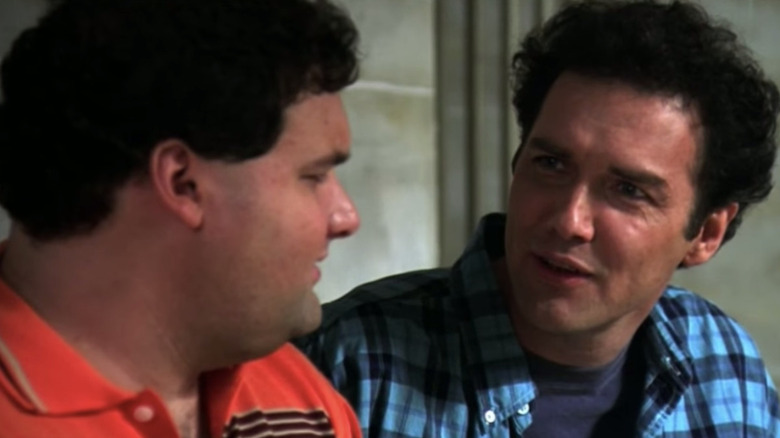 Metro-Goldwyn-Mayer
Nathan Rabin of The A.V. Club wrote a retrospective on various flops over the years, including "Dirty Work." In the piece, Rabin discusses how "Dirty Work" is a dumb comedy in the best way, partly because it knows it's dumb and dives head-first into absurdity. He writes, "In its hilarious first half, 'Dirty Work' embodies a curious cinematic subgenre I'm beginning to suspect exists only in my mind: the ironic dumb comedy, the slyly postmodern lowbrow gag-fest that so lustily, nakedly embraces and exposes the machinations and conventions of stupid laffers that it becomes a sort of sublime bit of meta-comedy."
Around the same time this review came out, Macdonald also embraced the comedy's inconsistent legacy. The funnyman took to Twitter to post some pages from a "script" of the film he'd been working on. It's only three pages long, but it has all of the hallmarks one would expect from a classic Macdonald bit.
First, the part of Sam, whom Artie Lange played in the original movie, is now portrayed by Brad Pitt. He turns to his brother for one last prank, which for some reason involves Sam having sex with Macdonald's character's wife, who's a beautiful scientist. And the script takes ample time to remind the reader that she is, indeed, both beautiful and a scientist. It's practically impossible to read lines like "I don't much like this" without hearing it with Macdonald's iconic voice and delivery. Maybe a follow-up could pick up with their characters' children who have followed in their parents' footsteps. One can dream after all.