Mark Proksch Discusses Taika Waititi's Work On What We Do In The Shadows Season 3 - Exclusive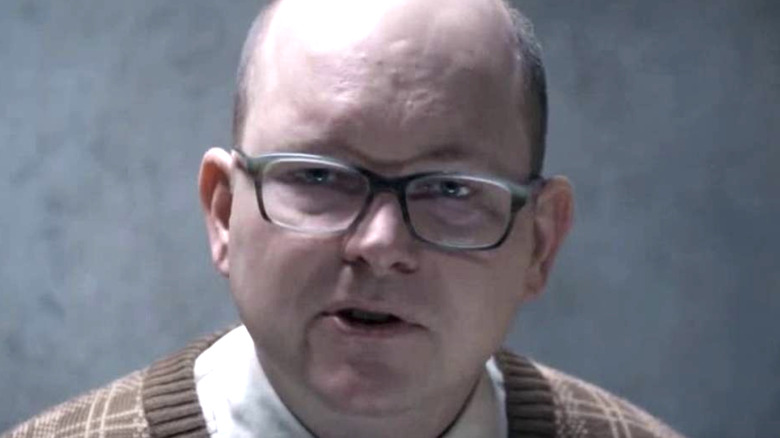 FX
Taika Waititi, director of such films as "Jojo Rabbit" and "Thor: Ragnarok," could be considered the unofficial godfather of FX comedies. Alongside Sterlin Harjo, he co-created one of the best new shows of 2021 in the form "Reservation Dogs," which brings indigenous culture to the masses. Prior to that, he had already stepped foot into FX territory with a sitcom-style adaptation of his hit 2014 movie, "What We Do in the Shadows."
The vampire-centric series is already on its third season, and it has all of the quirks one would expect out of a Waititi joint. As such, it should come as no surprise that the eclectic director not only serves as an executive producer on the show but also directed several episodes of its first season. Despite that, fans probably won't see his name come up in the show's Season 3 credits as often as they would like.
Mark Proksch, who plays energy vampire Colin Robinson on "What We Do in the Shadows," recently sat down for an exclusive interview with Looper to discuss how the show and his character have evolved over the years. He also spoke about Waititi's involvement in the show's third season, and it looks like fans can take comfort in knowing they can always place their trust in the "Thor: Ragnarok" filmmaker.
Taika Waititi doesn't need to be very involved in the show's production anymore
During his recent conversation with Looper, "What We Do in the Shadows" actor Mark Proksch was quick to sing Taika Waititi's praises, saying, "It's always fun on set when he's directing." However, Waititi's career has really taken off in the years since "What We Do in the Shadows" first premiered in 2019. He's currently directing Marvel's "Thor: Love and Thunder," and in case that wasn't impressive enough, Lucasfilm has also hired him to work on a new, untitled "Star Wars" project.
That's a lot for anyone to try and balance, which means Waititi doesn't have a lot of time to be directly involved in the making of "What We Do in the Shadows." Speaking on the director's ongoing role in the series, Proksch said, "Taika hasn't really been involved since the first season, at least on a level that we see on set. I'm sure he's involved in some decision-making and what have you, but he's so busy." Fortunately, there are plenty of other individuals still involved in the show that are capable of it running smoothly in Waititi's absence, and it sounds like that's the way it was always designed to be. "[Waititi] and Jemaine [Clement] and Paul [Simms] have set up the show in a way that once it's going, it can run pretty well with just one of them or two of them involved," Proksch revealed.
It's not like "What We Do in the Shadows" fans have to say goodbye to Waititi forever either. The filmmaker and actor is still available for the occasional cameo appearance, which in and of itself is impressive considering just how busy he seems to be keeping these days.
New episodes of "What We Do in the Shadows" air every Thursday on FX and premiere the next day on Hulu. Make sure to also tune in for the new aftershow "After the Shadows," hosted by Harvey Guillén, which is available on all "Shadows" social channels.