The Forgotten Emma Thompson Drama You Can Watch On HBO Max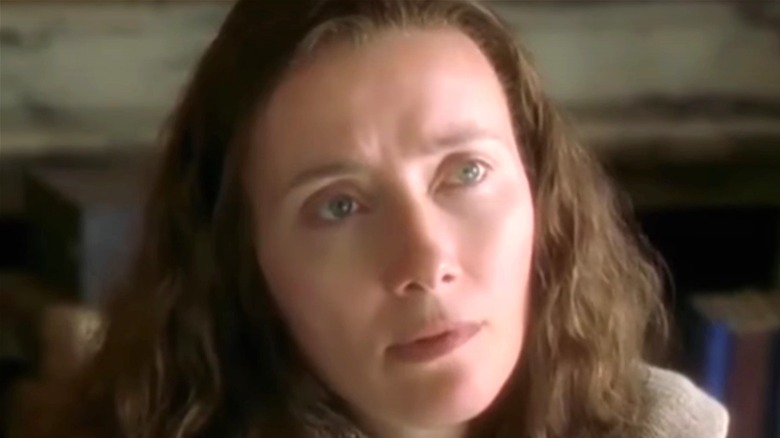 HBO
Emma Thompson, who has been working since the early 1980s, is one of the most acclaimed actors out there. Arguably best known for her dramatic performances, Thompson's breakthrough gig was actually on a British sketch comedy variety show called "Alfresco," which ran for two seasons from 1983 to 1984. She then moved into the realm of drama, with starring roles in two consecutive miniseries, both of which came out in 1987 — "Tutti Frutti" and "Fortunes of War." Since then, Thompson has taken on numerous prominent roles, from starring in Shakespeare adaptations — such as 1993's "Much Ado About Nothing" — to a rendition of Jane Austen's "Sense and Sensibility," the latter of which she also wrote the screenplay for. In more recent years, Thompson has starred in 2003's "Love Actually," the 2003 miniseries "Angels in America," as well as three of the "Harry Potter" films, in which she portrayed Professor Sybill Trelawney. In 2021, she starred opposite Emma Stone in Disney's "Cruella," playing the title character's rival, the Baroness. 
Out of all of these roles, Thompson has been nominated for — and won — countless awards, including three Academy Award acting nominations (and one Adapted Screenplay, for penning "Sense and Sensibility"). One of those Oscar nods landed her a win, for starring in 1992's "Howards End." 
With a filmography as extensive as Thompson's, there's bound to be some lesser known gems hidden amongst all of the hit movies. One of these is the 2001 television movie, "Wit," which premiered on HBO and is now available to watch on the streaming site, HBO Max. 
Read on for more information about "Wit," including why it's worth checking out.
Wit is a powerful drama led by a mesmerizing Thompson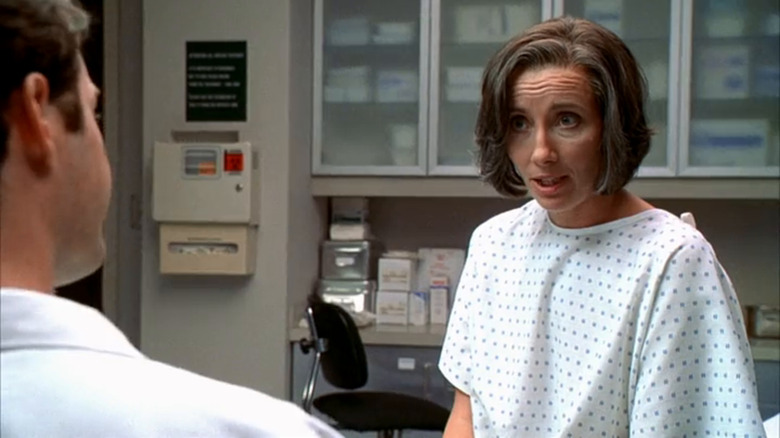 HBO
Based on the Pulitzer Prize-winning play of the same name by American playwright Margaret Edson, the story of "Wit" was adapted for the screen by director Mike Nichols and star Emma Thompson. "Wit" follows Professor Vivian Bearing (Thompson), who is known in her field as being an expert on 17th century poetry (and particularly the work of John Donne), as she discovers that she has advanced ovarian cancer. As she begins an aggressive and experimental treatment — administered by one of her former students, Dr. Posner (Jonathan M. Woodward) — Vivian reflects on her life, both personal and professional.
"Wit" was very well regarded upon its release and it currently holds a 83% Tomatometer score on Rotten Tomatoes, with an even higher 91% audience score. Summarizing much of the praise received, the New York Magazine review by John Leonard reads, "From the Margaret Edson play that deserved its Pulitzer Prize, Mike Nichols has made a television movie that deserves not only an Emmy but our baffled gratitude as well."
Along with overall praise of the film's treatment of the story, many critics directly called out Thompson's performance as being the highlight. Cinemania wrote, "Thompson gives a real tour-de-force performance, moving professor Bearing from bemusement to curiosity, fear to confusion, anger to anguish with skillful subtlety." Echoing this sentiment, Roger Ebert wrote on his site, "If 'Wit' had qualified in theaters, Thompson would certainly get an Oscar nomination for her best work on film."
Between Thompson's performance and a compelling — though at times, admittedly, hard to watch — story, there are undeniably many factors about "Wit" that makes it worth a viewer's time. Stream it now, along with the other best movies you can find on HBO Max.