Did AMC Just Spoil This Major Twist About Stephanie In The Walking Dead?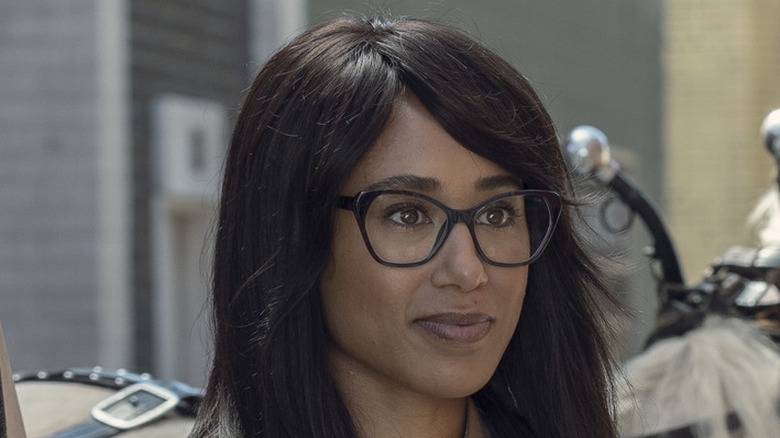 Josh Stringer/AMC
Warning: May contain spoilers for "The Walking Dead" Season 11, Episode 5 – "Out of the Ashes"
AMC appears to have spoiled an upcoming twist on "The Walking Dead" via photo captions on the network's press site, according to Insider. And believe it or not, this is vindication for fans who called the twist.
At the end of "The Walking Dead" Season 11, Episode 2, Eugene (Josh McDermitt) finally met Stephanie, the Commonwealth resident with whom he had been communicating on the radio. The chance to meet her was the whole reason Eugene took the trip in the first place. But when she finally appeared, fans had a good reason not to believe anything this person said to Eugene.
Stephanie had already made a voice appearance on "The Walking Dead," and the actress who provided her voiceover, Margot Bingham, appeared in the show's opening credits. And Deadline reported in 2020 that Bingham had joined the cast of "The Walking Dead" for Season 11, presumably in an in-person capacity, not just as a voiceover.
Margot Bingham is a recognizable actress who starred in the show "She's Gotta Have It" — and the actress who played "Stephanie" in Episode 2 is Chelle Ramos, not Margot Bingham. There was no announcement that Margot Bingham had dropped out of "The Walking Dead," so something felt very fishy about the Stephanie switcheroo. 
For all the world, it looked like this Stephanie was not the real Stephanie — and new press photos seem to have confirmed that theory.
Don't trust that Stephanie, Eugene!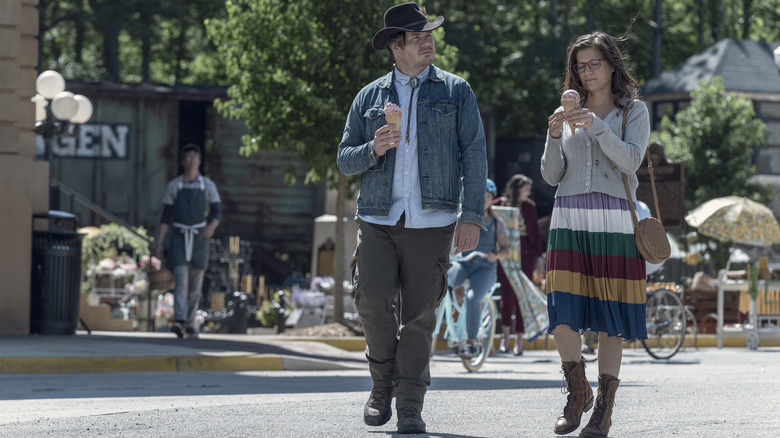 Josh Stringer/AMC
On Monday, AMC uploaded some new press photos from the upcoming "Out of the Ashes." In the captions for a photo of McDermitt and Ramos, she was clearly identified as "Decoy Stephanie." Another photo, this one featuring Margot Bingham, identified her as "Max, FKA Stephanie." 
As of Tuesday, the captions have been edited to read just "Stephanie" for Ramos and "Max" for Bingham, but Insider has since shared screenshots of the originals. It wouldn't make a lot of sense for Margot Bingham to be playing a different character than the one she was playing before, so the likelihood that "Max" is in fact "Stephanie" is nearly 100 percent. 
Perhaps Mercer (Michael James Shaw), the leader of the Commonwealth's security forces, still might not trust Eugene, and has somebody keeping an eye on him to try to find holes in his story. Mercer warned Eugene that if he lied to him, he will find out — it seems like this is how he's going to find out.
"Out of the Ashes" is currently available to stream on AMC+, and will premiere on AMC on Sunday.