James Gunn Says Zoe Saldana Didn't Reveal Avengers 4 Title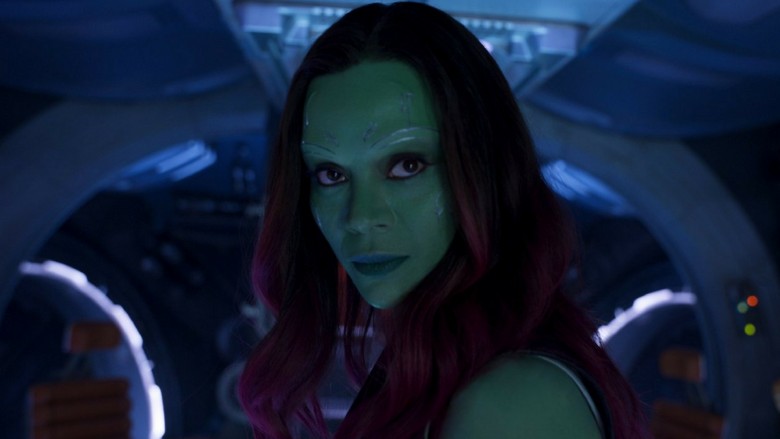 Zoe Saldana may not have slipped up after all.
Earlier this week, reports emerged that the actress had accidentally revealed the tightly under wraps title of the fourth Avengers film while speaking to a reporter on the Guardians of the Galaxy Vol. 2 red carpet. But Guardians director (and Avengers 4 executive producer) James Gunn said that she didn't actually spill the beans.
The fourth Avengers movie has been left untitled since Marvel announced that it would no longer be called Avengers: Infinity War Part II, leading many fans to speculate what will happen in the third film to prompt that change. Marvel Studios head Kevin Feige fueled the fires even more when he said that the title of the fourth film will actually be a spoiler for Infinity War, leading to massive efforts to decipher the truth about the fourth film's title.
Fans thought they had their solution when Saldana made her comments on the red carpet, telling a reporter, "I think that the Guardians just shot their part when it comes to Infinity War like the first part, and we all have to go back for Gauntlet later this year."
This led many to believe that the movie was called Avengers: Infinity Gauntlet, a title which actually wouldn't be all that surprising or all that much of a spoiler, considering the fact that we know that Thanos will be trying to fill the Gauntlet in Infinity War.
Gunn told Yahoo! Movies UK that he thinks Saldana just misspoke, saying, "I'll talk to Zoe today, but I would imagine that is just Zoe misspeaking and saying Infinity Gauntlet instead of Infinity War." While he confirmed that Infinity Gauntlet is not the title, Saldana's slip could still provide another reveal for the movie, proving that, as some fans have theorized, the movie will be based on the Infinity Gauntlet comic arc.
Either way, it appears that the mystery of the title of the fourth Avengers movie remains unsolved. The movie is expected to start filming in Atlanta in the late summer, after the completion of Avengers: Infinity War, so hopefully set photos and other tidbits will begin to come out soon.
Infinity War is due out on May 4, 2018, while the fourth Avengers will follow on May 3, 2019. While we wait, check out all of the superheroes that are confirmed for Infinity War and some that we think might not make it out alive.