Why Renji From Netflix's Kate Looks So Familiar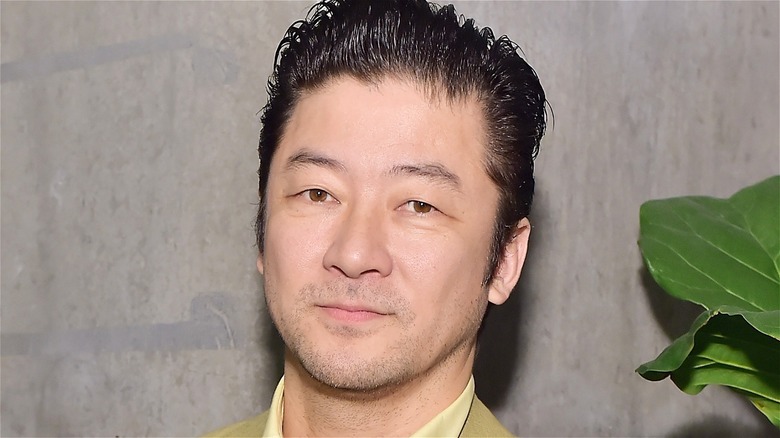 Stefanie Keenan/Getty Images for Netflix
By the looks of it, "Kate" appears to fit the bill of another big home run for Netflix. The Cedric Nicolas-Troyan directed action thriller film is already making waves, stirring controversy, and, of course, getting viewers to google the names in its sturdy ensemble cast.
The story of an assassin (Mary Elizabeth Winstead) who's tasked with killing a Yakuza top dog by her handler (Woody Harrelson), only to find out she's been poisoned and has a mere 24 hours to live, "Kate" is a bloody, brawny, stylish revenge thriller in the tradition of cult classics like "Kill Bill" and "Oldboy." As ever with movies of this particular flavor, a good deal of the fun lies in seeing the actors put their spin on tried-and-true action archetypes. And, though Winstead's dynamo turn is undoubtedly the main attraction, another "Kate" cast member gets to show off his own intimate understanding of the crime caper genre, which he has honed over the course of a 30-year cinematic career. Here are a few examples of where else you might have seen the actor who plays double-crossing Yakuza advisor Renji.
Tadanobu Asano had his beginnings as a mainstay of Japanese arthouse cinema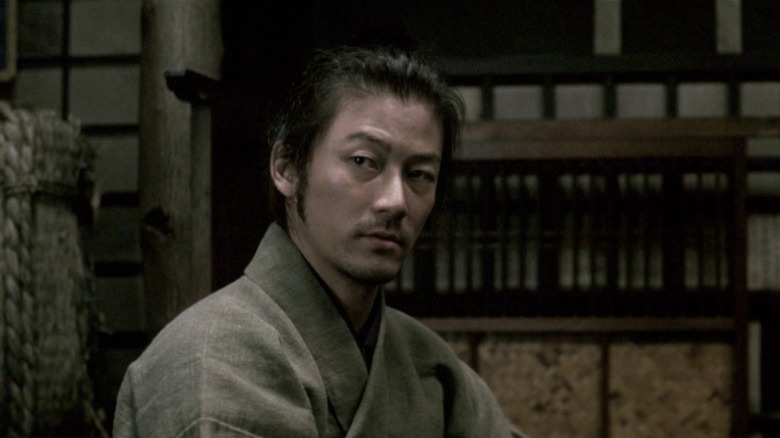 Shochiku/Office Kitano/Miramax
Yokohama-born actor Tadanobu Asano began his career at the age of 16, spurred on by his father, an actors' agent (via Toho Kingdom). Since then, he has appeared in over 90 films, in Japan as well as internationally, and built one of the most respectable acting careers in all of Asian cinema.
It all began with a role on the Japanese show "Kinpachi-sensei," which Asano then parlayed into increasingly frequent appearances in some of the most iconic Japanese cult films of the 1990s and 2000s. From the mysterious suicidal man in Hirokazu Kore-eda's "Maborosi" to the titular blind swordsman of Takeshi Kitano's "Zatoichi" (pictured above) to a factory worker pushed too far in Kiyoshi Kurosawa's "Bright Future," Kitano became one of the defining faces of the Japanese turn-of-the-century cinema renaissance. It's hard to single out his most recognizable roles from that period, but it is safe to say that if you've seen your share of Japanese cult classics, then you're almost certainly acquainted with Tadanobu Asano.
Ichi the Killer made him known to gorehounds all over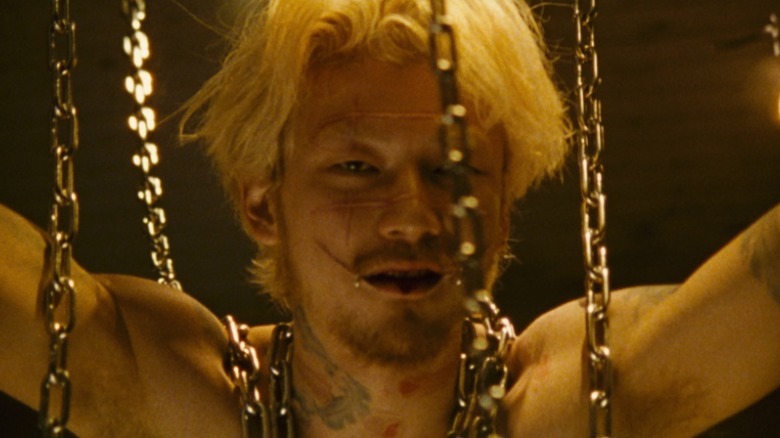 Prénom H Co. Ltd./Media Blasters
Gorehounds, thrill seekers, and fans of morbidly fascinating shock cinema are all likely to recognize Tadanobu Asano from Takashi Miike's "Ichi the Killer" before anything else. A bona fide underground classic, Miike's film would be fascinating enough for its singular blend of genres — it's both a propulsive action movie and a skin-crawling horror exercise — even without the qualification of being possibly, literally, the most violent movie ever made.
Asano plays the film's lead, Kakihara, a sadomasochistic executor who enters into an escalating cat-and-mouse game with a ruthless, mentally unstable assassin. Although "Ichi the Killer" also finds Asano playing a high-ranking Yakuza member, his role in it couldn't be more different from the one he plays in "Kate." Kakihara's insatiable thirst for pain and suffering, which he begins to quench via his relationship with the deranged Ichi, makes him one of the most abrasive and downright strange protagonists you're likely to ever see in a crime film. As bizarre and horrifying as the psychosexual set pieces in "Ichi the Killer" are, Asano commits to every single one of them with gusto, demonstrating why he became a favorite of so many Japanese auteurs in the first place.
Asano played Hogun the Grim in three Thor films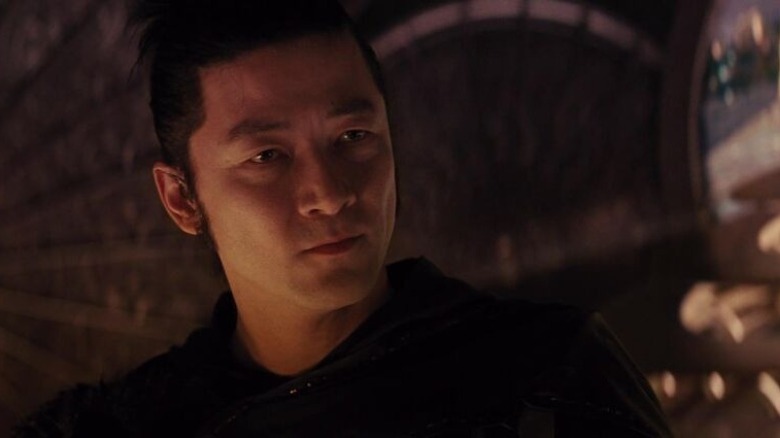 Paramount Pictures
Like many actors who become superstars in Asian markets, Tadanobu Asano eventually crossed over to Hollywood. Back in the early days of the MCU, he was one of the many big-name actors who lent prestige and personality to the ensemble of Kenneth Branagh's "Thor."
Along with Ray Stevenson as Voltagg and Josh Dallas as Fandral, Asano rounded out the Warriors Three, the band of Asgardian adventurers who accompanied Thor (Chris Hemsworth) on his quests along with Lady Sif (Jaimie Alexander). Asano's character, Hogun the Grim, was known for being the most taciturn member of the trio and for mostly keeping to himself, yet still giving it his all in battle and always looking after his allies; the role took full advantage of Asano's sheer presence and gravitas.
The Warriors Three returned for both subsequent "Thor" movies, and Asano reprised his role each time, with "Thor: The Dark World" revealing Hogun as a native of the realm of Vanaheim and "Thor: Ragnarok" pitting him in a valiant final stand against the Goddess of Death, Hela (Cate Blanchett).
He gave one of his most acclaimed performances ever in Silence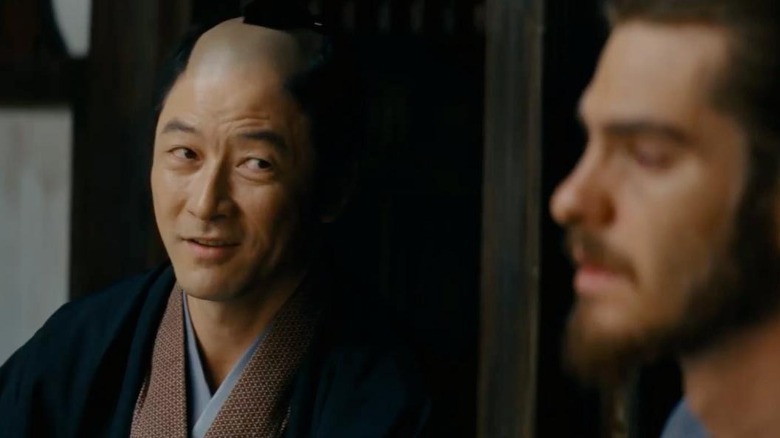 Paramount Pictures/United Artists
For a legendary director more than half a century into his career, Martin Scorsese has shown no signs that he intends to let up on his trademark consistency; in fact, there's an argument to be made that his post-2010 period has been the most fruitful one of his career. A prime example of that is "Silence," his 2016 historical drama about the crises faced by Portuguese Jesuit priests in Japan. As meticulous as ever, Scorsese made a point of casting just the right Japanese actors for the film's supporting roles, and that included Tadanobu Asano.
Originally a replacement for Ken Watanabe, who left the project due to scheduling conflicts (via Empire), Asano turned out to be the perfect actor for the role of the Interpreter, a smug, sharp-tongued samurai who accompanies Fathers Sebastião Rodrigues (Andrew Garfield) and Francisco Garupe (Adam Driver) on their journey to track down Father Cristóvão Ferreira (Liam Neeson). Working for the first time with an American filmmaker on a major arthouse film, Asano gave one of the most brilliant performances of his career, and received widespread acclaim alongside fellow Japanese cinema veteran Issey Ogata.
His performance as Lord Raiden in Mortal Kombat has been controversial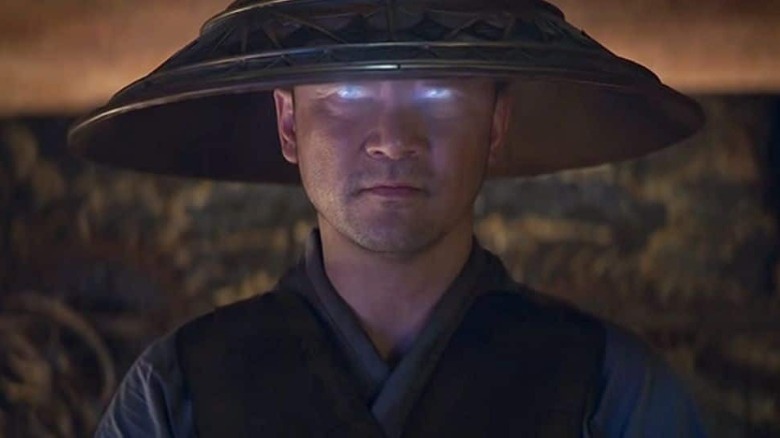 Warner Bros.
At this point, as evidenced by his appearance in "Kate," Tadanobu Asano has become a Hollywood mainstay. The years following his MCU appearances saw him branch out into more blockbusters, such as "47 Ronin" and "Battleship." Just recently, he was also seen in another high-profile actioner, in an even more central capacity: In the 2021 "Mortal Kombat," he played fan favorite Lord Raiden, the God of Thunder and de-facto mentor to the rest of the ensemble.
Raiden's depiction, like much of the film's treatment of "Mortal Kombat" lore, was met with some controversy among fans; per a Reddit thread, some felt that the script and direction leaned too heavily on the surlier aspects of Raiden's personality and kept Asano from fully realizing the character's potential as an inspirational leadership figure. Still, for Asano himself, the experience of playing Raiden was its own reward; as he told Gamerbraves, both he and his child are "MK" fans. Plus, the film offered him a chance to set the record straight after whitewashed live-action portrayals of Raiden in the past by actors such as Christopher Lambert.