Even Chris Pratt Doesn't Know The Still-Hidden Guardians Of The Galaxy Easter Egg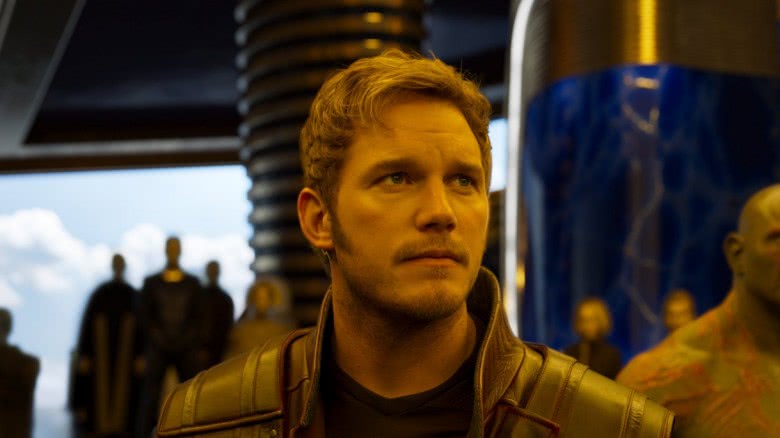 Guardians of the Galaxy writer and director James Gunn may be willing to reveal quite a lot while talking to fans on Twitter and Facebook, but there are still some things that he likes to keep really close to his heart.
The secret that has been most intriguing to fans has been a Guardians easter egg that Gunn says fans haven't found, even in the three years since the film's release. While he's refused to cough it up to fans, many assumed that those close to the film knew the secret, but, as it turns out, even Guardians star Chris Pratt is still in the dark.
Gunn set off the easter egg hunt in 2015 when he responded to a fan on Facebook (via Mashable) saying that no one has found a "big" referential moments. "Maybe once someone came close," he teased, without revealing any more details. Over the years, fans have tried to guess, but Gunn has said again and again that nobody has found the easter egg at the center of the search.
Pratt said that he pushed Gunn to tell him what the easter egg is, but the director refused. "He won't tell me," Pratt told The Huffington Post. "I'm like, 'C'mon man. Don't you trust me?' He's like, 'No.' He thinks I'll spoil it." The star added that this is just one of many things that Gunn won't tell him, saying, "He loves to withhold information from me. That pisses me off so much. But I totally trust him, and he's really smart, too, because I would be blabbing all over the place."
So, there you have it folks: even Star-Lord doesn't know the easter egg still hidden in his own movie–that is if there even is one at this point (we wouldn't put it past Gunn to just be trolling for all these years).
Even though fans are still searching for the Guardians easter egg, they'll also have a lot more to find when Guardians of the Galaxy Vol. 2 hits theaters on May 5 (even though Gunn had to cut one of the most Easter egg-heavy scenes). In the meantime, take  a look at some other movie easter eggs that remained hidden for years.