The Horror Movie You Didn't Know Kickstarted Elizabeth Olsen's Career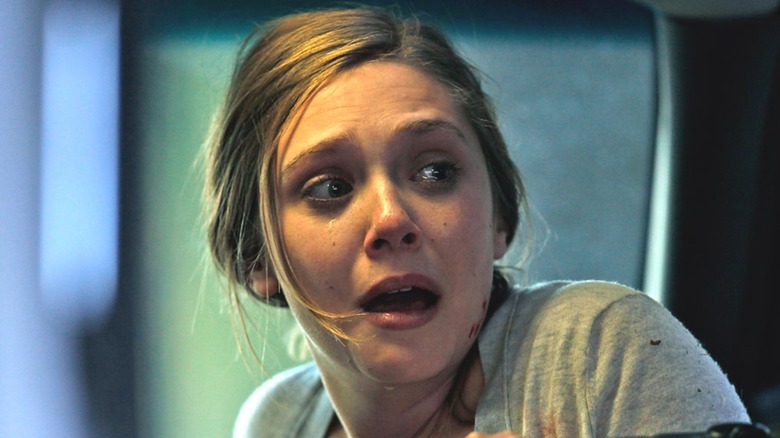 Open Road Films/Universal Pictures
Elizabeth Olsen has become a very prominent actor in recent years, mostly due to her role as Wanda Maximoff AKA Scarlet Witch in Marvel's "Avengers" franchise. Her time as the character began with a cameo at the end of 2014's "Captain America: The Winter Soldier," which was quickly followed by a leading role in 2015's "Avengers: Age of Ultron." More recently, Olsen made an even more notable name for herself when she reprised her "Avengers" role in the Disney+ original series, "WandaVision," which proved to be incredibly popular amongst both viewers and critics. Olsen even received an Emmy nomination for Outstanding Lead Actress In A Limited Or Anthology Series Or Movie for her work in "WandaVision" (via IMDB).
In addition to her appearances as Wanda Maximoff, she's starred in films such as 2012's "Liberal Arts," 2013's "In Secret," and 2017's "Ingrid Goes West." Meanwhile, one of her earliest films, 2011's "Martha Marcy May Marlene," earned her a long string of award nominations for her performance, including a Best Female Lead nod at the 2012 Independent Spirit Awards.
But before all of those films, Olsen actually got her start with a horror movie that managed to fly somewhat under the radar despite featuring an intriguing psychological thriller concept and a compelling use of one unbroken camera shot. The film is called "Silent House" and was directed by Chris Kentis and Laura Lau, with a screenplay by Lau. Read on for more details about "Silent House" — including why it may be worth your time.
Silent House is an early showcase of Elizabeth Olsen's talent
Based on the 2010 Uruguayan film, "La Casa Muda," "Silent House" follows a young woman named Sarah (Olsen) as she helps her father (Adam Trese) and uncle (Eric Sheffer Stevens) clean up her family's old Victorian house in order to put it on sale. While there, Sarah begins experiencing increasingly ominous events and eventually comes to a shocking realization.
The film received lukewarm reviews from critics (it holds just a 43% Tomatometer score and a 30% audience score on Rotten Tomatoes), but Olsen did consistently garner praise for her performance in it. The Telegraph, for instance, wrote that Olsen's turn in "Silent House" is "brilliantly nervy and detailed" and that it "deserved a flick that knew how to house it." Echoing these statements, The Independent Critic described "Silent House" as a "flawed film with a near flawless performance by Olsen."
As for the flaws in question, many critics pointed out that the film didn't do much to differentiate itself from the original. On this note, Time Out wrote, "Filmmakers Chris Kentis and Laura Lau should have plugged the original's plot holes and straightened out its logic." It was also criticized for having a lack of a clear direction, with CineVue writing that the film "remains an intangible folly, caught between atmospheric chiller and inconsequential farce."
Despite all this, Olsen's performance in "Silent House" is, as Maclean's Magazine put it, a "tour de force." As a result, the film may be worth checking out solely for her portrayal of a scared and paranoid woman trapped in an eerie house.