Mark Proksch Dishes On The Origin Of Energy Vampires On What We Do In The Shadows - Exclusive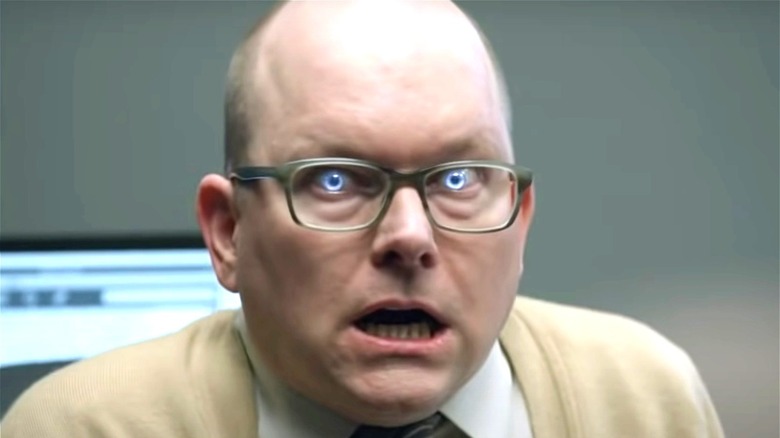 FX
Mark Proksch has a knack for playing characters with whom you wouldn't want to go on a long road trip. The actor first came onto most people's radars when he joined "The Office" as Nate Nickerson, who was hired to work in the warehouse of Dunder Mifflin once everyone else quit after winning the lottery. From there, Proksch moved onto Daniel Wormald on "Better Call Saul." Despite diving into the criminal underbelly of Albuquerque, New Mexico, Daniel was fully unprepared for the darkness waiting for him.
All those roles prepared him for his biggest role to date — Colin Robinson on "What We Do in the Shadows." He's not a vampire like the rest of his housemates. Instead, he's an energy vampire, and when you go back and look at his resume, you could form a compelling fan theory that every character of his fed off the boredom of others. Colin Robinson doesn't bite necks; he'll just tell you a really boring story until you wish for the sweet release of death.
The concept of an energy vampire has been around for a while, but the idea of making one literal adds a nice bite to the satirical nature of "What We Do in the Shadows." Despite being a main cast member, there's still quite a lot we don't know about Colin. As Laszlo (Matt Berry) said in the pilot episode, he "came with the house." However, Season 3 seems to be giving him more of a backstory than we've seen before. In an exclusive interview with Looper, Proksch discussed the unknown nature of Colin.
Mark Proksch enjoyed the freedom of having no explanation for why energy vampires exist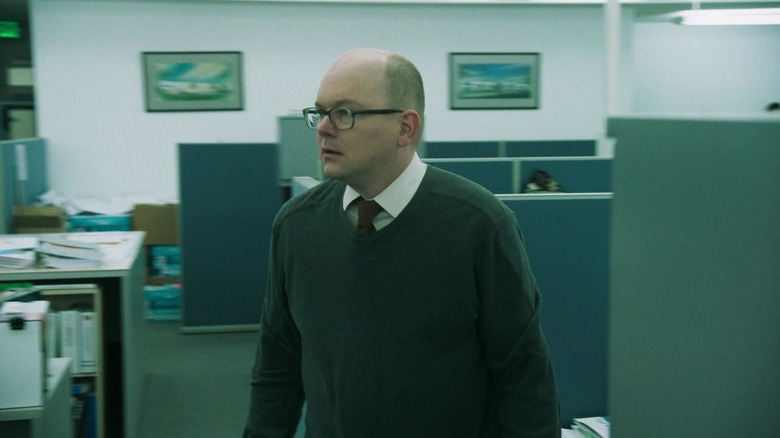 FX
All of the other members of the "What We Do in the Shadows" household have backstories. Nandor the Relentless (Kayvan Novak) was a warrior from the Ottoman Empire. Nadja (Natasia Demetriou) turned Laszlo into a vampire, and the two later married. However, Colin Robinson is a mystery except for the fact he can walk in the sunlight and is theoretically as old as his roommates. While the lack of a backstory may have hindered some actors, Proksch found it freeing. "It was an area that we never discussed and whenever it was brought up, they didn't have any concrete answers, which kind of helped the character to some extent knowing that there are no hard and fast rules," Proksch said. "It allowed me as an actor to come up with some things, both physically and emotionally, that I think informed the character moving forward." 
Part of what's made Colin such an intriguing character on the show so far is that his powers have been malleable. It means when he gets a promotion in Season 2, allowing him to grow even more powerful, he can develop psychic powers and it doesn't go against anything established previously in vampire lore. Still, Proksch is excited at the potential storylines that can come out of exploring Colin's origins. "I liked that we're now, after a couple of seasons, going to kind of try to define where he came from and where he's going," he said. For his roommates' sake, hopefully that doesn't include another promotion.
New episodes of "What We Do in the Shadows" air on FX every Thursday and then the next day on Hulu. Make sure to tune in for the new aftershow "After the Shadows" hosted by Harvey Guillén, which will be available on all "Shadows" social channels.