Dustin From Zoey 101 Is Unrecognizable Now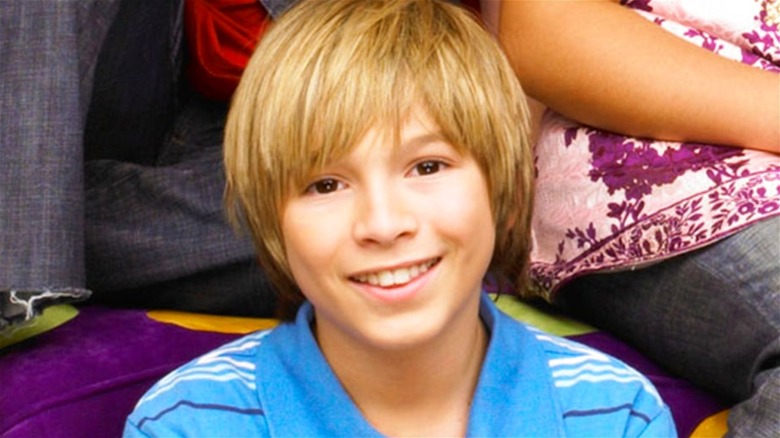 Nickelodeon
Preteen sitcoms hit their golden age between the late 1990s early 2000s, with various networks finding massive success in the genre. The Disney Channel is arguably the first one that springs to mind when the topic arises, seeing as it brought viewers the likes of "The Suite Life of Zack & Cody," "Hannah Montana," and "That's So Raven," but Nickelodeon didn't disappoint with its offerings either. Titles such as "Drake & Josh" and "iCarly" became worldwide hits in no time, retaining their popularity to an impressive degree. Alongside them was "Zoey 101": a title that's often overlooked these days but is still regarded as a fan favorite.
"Zoey 101" transported audiences to sunny Southern California to visit the PCA — Pacific Coast Academy. This is the school where Zoey Brooks (Jamie Lynn Spears) and her friends, including Chase Matthews (Sean Flynn), Dana Cruz (Kristin Herrera), and Quinn Pensky (Erin Sanders), among others, found their footing as both students and young adults. At the same time, Zoey's education was a family affair, with her prodigious younger brother Dustin Brooks — as portrayed by actor Paul Butcher — tagging along.
Over a decade has passed since "Zoey 101" came to its conclusion, and in that time, the cast has done a lot of growing up. In the case of Paul Butcher especially, he's changed quite a bit since his time on the Nickelodeon classic.
Paul Butcher looks nothing like he did during his Zoey 101 days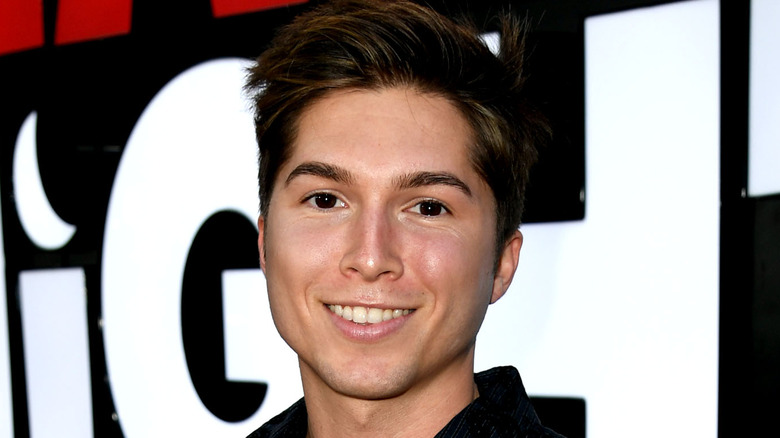 Kevin Winter/Getty Images
When "Zoey 101" premiered on Nickelodeon in January of 2005, Paul Butcher was a mere 11 years old. Born and raised in Los Angeles, California as the son of longtime NFL linebacker Paul Butcher Sr., he was in the right place at the right time to not only survive in the entertainment industry but thrive. His natural acting talent proved to be exactly what the minds behind "Zoey 101" were looking for, allowing him to become the shy yet caring sibling of Jamie Lynn Spears' Zoey Brooks.
Butcher brought Dustin Brooks to life across all four seasons of the program, last appearing in the role for the series finale, "Chasing Zoey." That episode aired in May of 2008 when Butcher was roughly 14 years old, and at the time of this writing, that was a whopping 13 years ago. Naturally, the once child actor has done some serious growing up in that time, as you can see in the above photo. Long gone are his blond, windswept hair and his early 2000s sense of fashion, though his now-27-year-old face still resembles the Dustin Brooks we all remember.
Butcher is still a small screen regular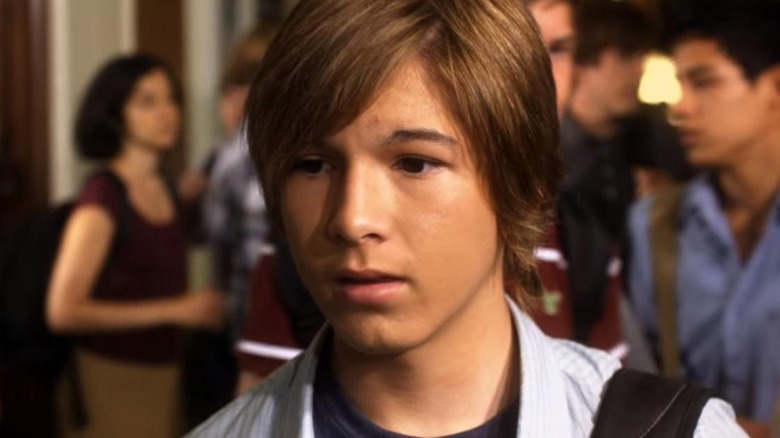 CBS
So, what has Paul Butcher been up to since his tenure on "Zoey 101" wrapped up? Well, first and foremost, he returned to his television roots and started popping up wherever he could. After all, he'd been a TV regular since 2001, scoring credits on "The Bernie Mac Show," "Power Rangers Wild Force," "ER," and more, long before he became Dustin Brooks for the first time. Not to mention, he has an extensive history in voice acting, giving "King of the Hill," "The Mighty B!," "Avatar: The Last Airbender," and "American Dad!" a whirl.
As far as Paul Butcher's post-"Zoey 101" workload goes, he has made some strong additions to his already stacked television résumé. 2009 saw him play one of his most recognizable live-action characters to date, Jeffrey Barton, on the "Criminal Minds" episode "Faceless, Nameless." Following that up, he enjoyed a lengthy stint on "MyMusic" as Jeff Pookie and a 2015 cameo on "Comedy Bang! Bang!" as Tyler Cunningham. Some of his latest ventures are 2016's "Destiny 7" and 2021's "The Lower Bottoms," where he portrayed Brian and Tom, respectively.
Butcher has dipped his toe into the cinema pool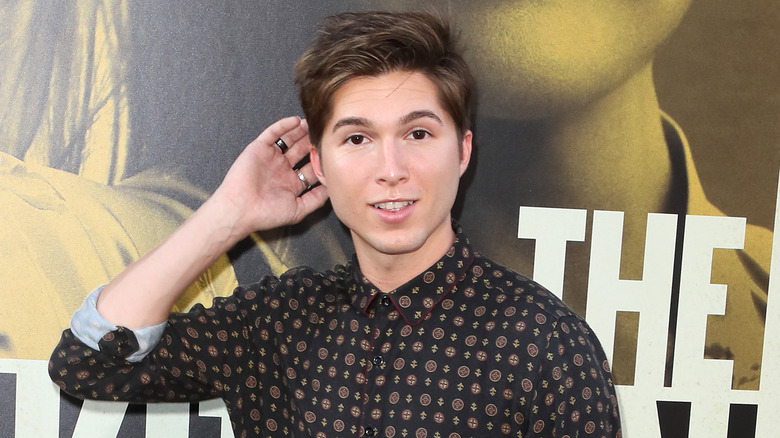 David Livingston/Getty Images
When looking over Paul Butcher's filmography, it's evident that he has a preference for projects on the small screen. Be that as it may, he has jumped to the cinema on more than one occasion over the course of his career.  His first came in 2002 via director Christian McIntire's "Landspeed," where he played a younger version of Billy Zane's Michael Sanger. Butcher then returned to the silver screen in 2003 for "Hollywood Homicide" and would later take a small part in David Payne's "Reeker" from 2005.
Aside from these aforementioned titles, Butcher hasn't done anything else on the live-action movie front. Otherwise, he has continued honing his craft as a voice actor, leading him to add his name to some fondly remembered animated productions. He voiced Skeeter in the 2006 DreamWorks hit "Over the Hedge," then became Chick in "Barnyard" that same year. Additionally, he provided a handful of background voices for "Ice Age: The Meltdown" before joining the cast of "Meet the Robinsons" as Stanley. Where Paul Butcher's cinematic journey will take him next — and in which medium — remains to be seen. 
Paul Butcher is a successful recording artist
Having conquered both television and the movies, Paul Butcher has moved onto other forms of entertainment. The actor behind Dustin Brooks has tried his hand at being a musician and has proven himself a talented one at that. His journey as a recording artist began in 2008 when he covered "This Love" by Maroon 5 and "Gimme That" by Chris Brown, prompting him to begin working on tracks of his own. Sure enough, Butcher dropped his first single in 2010 titled "Don't Go" and made sure to stick with his musical dream in the years to come.
2016 was a big year for Paul Butcher's music career, as he released a series of promotional singles. This round debuted covers of "Love Yourself" by Justin Bieber, "Little Things" by One Direction, and "Mercy" by Shawn Mendes, to name a few. In the years that followed, he got back to putting together songs of his own creation, resulting in the singles "Blood" and "Ain't Hurtin Nobody" in 2017. His most recent songs are 2019's "Nothing" and 2020's "Freaky (Tus Manos)," and just like the bulk of his discography, both are available to listen to on Butcher's YouTube and Spotify profiles.
Paul Butcher is a social media sensation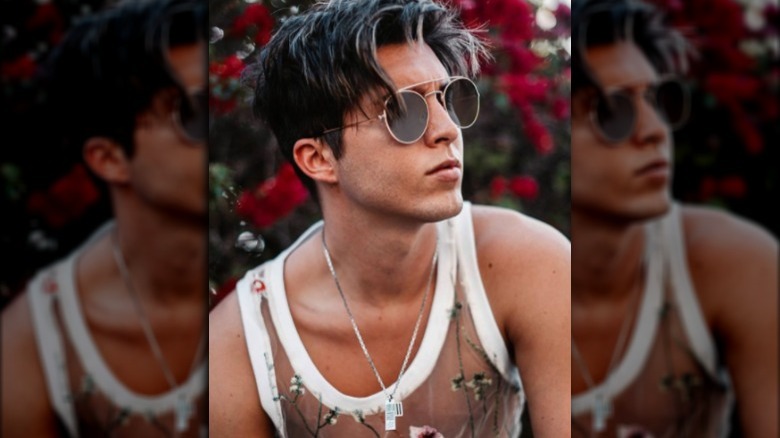 @paulbutcher/Instagram
Though being an actor and a musician simultaneously can be quite time-consuming, Paul Butcher finds a way to keep it all sorted. He has even squared away some time in his hectic schedule to be a fairly regular presence on social media. He is no stranger to the worlds of Instagram (@paulbutcher) and Twitter (@ThePaulButcher), where he posts semi-often about everything from his latest professional efforts to whatever he might have going on in his personal life — interacting with his fans now and again too.
There's no denying the strength of Butcher's following on Instagram and Twitter, but TikTok is the platform he has become synonymous with. His account (@paulbutcher) boasts a follower count in the millions, and it's certainly not due to a lack of trying. In the early months of 2021, several news outlets took note of what he posts on the short-form video-sharing app, voicing their shock that the former Dustin Brooks had grown up to make such risqué content. Then again, not all of his clips are so mature, with some simply touting his love for a good pizza.
Paul Butcher has done a lot since "Zoey 101" came to a close, from putting out hit singles to producing the odd thirst trap. However, in the eyes of many, he'll always be Dustin Brooks.