Why Littlefinger From Game Of Thrones Looks So Familiar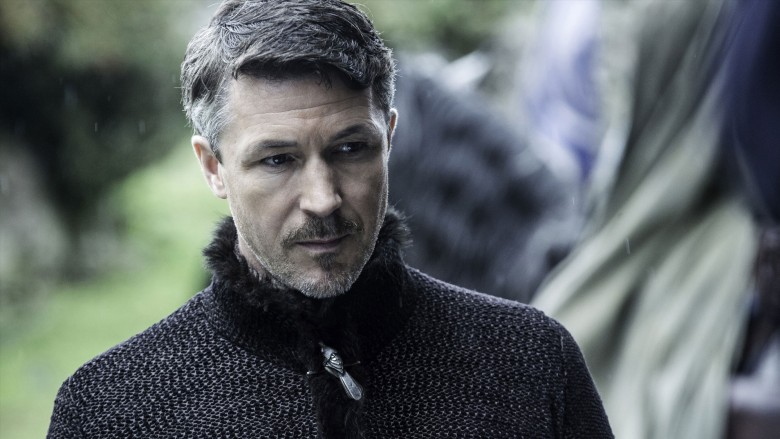 With over 70 television and movie roles and 20 or more stage roles since the beginning of his career in the mid-1980s, it's no surprise that Aidan Gillen looks so familiar. Although he's risen to worldwide fame with his role as Lord Petyr Baelish on the hit HBO television series Game of Thrones, Gillen has also been in a number of high-profile TV and movie roles over the years. Let's take a look at some of his best parts, along with what's on the horizon for the Game of Thrones star.
Queer as Folk (1999-2000)
In one of his earliest starring roles, Gillen played lead character Stuart Alan Jones in the British television series Queer as Folk, a groundbreaking series focused on three gay men living in Manchester's Canal Street district. While the original BBC series only ran for 10 episodes, the series made waves as one of the first shows to focus exclusively on LGBT characters. Despite the short run of the show, Gillen's character made an impact—he was nominated for a BAFTA award in 2000 for the part. Queer as Folk's success inspired not only a spinoff American version of the show, but countless other dramas, like The L Word.
The Low Down (2000)
As an English indie film, The Low Down may have flown under the radar of all but the most dedicated cinephiles. In his first feature film, director Jamie Thraves spins a tale of professional and personal frustration which packs some serious nuance as it explores the lives of a young couple in London. Starring Aiden Gillen, The Low Down is an emotionally complex movie, with a lot of the same aesthetic that would later make waves in the American "mumblecore" film movement. If you enjoy The Low Down, be sure to keep an eye out for Pickups (2017), in which Gillen and Thraves reunite for another feature film.
Shanghai Knights (2003)
While Gillen has made something of a name for himself playing the bad guy, his villainous role in the 2003 action-comedy film Shanghai Knights relies more on campy jokes and evil-doer tropes than Littlefinger's subtle cunning. In the movie, starring Jackie Chan and Owen Wilson, Gillen plays the evil Lord Rathbone, who has a devious plot to take the throne from Queen Victoria. While the plot of Shanghai Knights is pretty predictable, Gillen's fighting skills are quite surprising. The climax of the film involves a swashbuckling fencing duel between Gillen's character and Jackie Chan. Not only does Gillen hold his own against the martial arts expert, he nearly wins the fight. We all know that Game of Thrones' Littlefinger doesn't have much fighting prowess, preferring to use his mind and manipulation to solve his problems. Now imagine the subtle menace of Lord Baelish with the swordsmanship skills of Lord Rathbone—a scary thought, indeed.
The Wire (2004-2008)
In the critically acclaimed HBO series The Wire, Gillen plays Tommy Carcetti, an ambitious Baltimore politician with his eyes on the governor's mansion. Partially based on real-life politician and 2016 candidate for the Democratic presidential nomination Martin O'Malley, Carcetti uses a hotly contested and successful Baltimore mayoral campaign as a stepping stone on his way to higher office. Gillen's subtle and almost Machiavellian political machinations as Carcetti will remind many Game of Thrones viewers of his role as Littlefinger. While O'Malley despised The Wire for how it portrayed his city, his opinion was not shared by fans of the show and TV critics. Today, The Wire is frequently considered to be one of the best television series of all time.
Identity (2010)
In Identity, Gillen manages to take a step away from the "bad guy" character type and steps into the role of Detective Inspector John Bloom, who has just spent the last 15 years working undercover in a Turkish mafia ring. While Identity focuses on crimes of identity theft on the surface, the show is really all about Gillen's character—what he's done, what his motivations are, and where his true loyalties lie. Even though the show only lasted one season before cancellation, it's an interesting look at Gillen in a role much different from others he has played in the past.
Thorne (2010)
In Thorne, a crime drama based on the novels of Mark Billingham, Gillen plays Phil Hendricks, a gay forensic pathologist and one of the few friends of title character DI Tom Thorne. As his colleague and friend, Hendricks often finds himself as the primary sidekick of the loner detective. The first season of the show chronicles Billingham's first two Thorne crime novels, Sleepyhead and Scaredy Cat. It's a show that aims to bring the grittiness of American crime dramas like The Sopranos and The Wire to English audiences. While it only lasted one season, there's no question that Thorne helped pave the way for later, more successful British crime dramas like Broadchurch.
Love/Hate (2010-2013)
In the Irish television drama series Love/Hate, Aidan Gillen plays John Boy Power, the criminal kingpin of a Dublin gang. While the series sometimes drew criticism for being too "slick" in its portrayal of the gritty reality of Irish organized crime, Love/Hate was also wildly popular. It was essentially The Sopranos of Ireland, drawing almost a million viewers for the Season 4 premiere alone. Although his character only appears in the first two seasons of the show, Gillen made an impact as the gang's mastermind, earning himself an Irish Film and Television Award for the role in 2012. He was so popular in the role among his fellow Irishmen that local fans and even schoolchildren call him "John Boy" when they spot him on the street.
The Dark Knight Rises (2012)
While Gillen's role as CIA Agent Bill Wilson in The Dark Knight Rises was a relatively minor part, his opening scene with Bane aboard an airplane has generated quite a bit of talk over the years. Director Christopher Nolan claimed in a Q&A session at the 2015 Tribeca Film Festival that the opening scene from The Dark Knight Rises is one of his proudest accomplishments. While the scene no doubt was a technical achievement in filmmaking, Nolan failed to mention the many hilarious memes that have sprung from the scene, based on a bit of awkward and misheard dialogue between Gillen and Bane actor Tom Hardy. Since then, "Baneposting" has become its own category of meme, with entire websites dedicated to it.
Beneath the Harvest Sky (2013)
In this coming-of-age indie drama, two teenage boys from Maine stumble through life trying to come up with enough money to escape their small town and move to Boston. While one of the boys (Callan McAuliffe) uses his job on a local potato farm to earn money, the other (Emory Cohen) teams up with his drug-runner dad (Aidan Gillen) to hustle prescription pills over the nearby Canadian border. The differences in their money-making methods and their ultimate goals in life cause tension between the friends and challenge their loyalty to each other. While it never saw a wide theatrical release, Beneath the Harvest Sky was praised by critics, with the Boston Globe calling it "down east done right" and with Indie Wire congratulating Gillen for "a great performance" in his role as the outlaw father, Clayton.
Maze Runner: The Scorch Trials (2015)
In this 2015 sequel to Maze Runner, Gillen makes an appearance as Assistant Director Janson, the main antagonist from the Maze Runner series of novels by James Dashner. Gillen manages to bring the menace of his Game of Thrones character to the role, along with a terrifying and realistic streak of sadism. While we're sure that Gillen is probably tired by now of constantly playing the bad guy in many of his roles, we can't deny that he's pretty much perfect for the part. The ending of The Scorch Trials leaves us with a nice setup for the next sequel, The Death Cure, in which Gillen will likely reprise his role as Janson. The Death Cure is slated to hit theaters on February 9, 2018.
Quantum Break (2016)
Is it a television series or a video game? Quantum Break is a unique combination of both, and it stars Aidan Gillen in a role as Paul Serene, a complicated man with complicated plans and the power of precognition. Throughout Quantum Break, the wibbly-wobbly timey-wimey action switches from gameplay to one of the 30-minute television episodes, which are frequently told from the perspective of the "bad guys." By contrast, much of the game is told from the perspective of the "good guys." You even have opportunity to play as Gillen's character at multiple points throughout the game, which allows you to get inside Paul Serene's head and see the action from his point of view.
King Arthur: Legend of the Sword (2017)
On May 12, 2017, Gillen returns to the big screen with his role as "Goose Fat Bill" Wilson in King Arthur: Legend of the Sword. In this reimagining of the classic legend, Arthur grows up not mentored by the wizard Merlin, but by a group of underworld outcasts, thugs, and misfits—including Gillen's hoodlum character. Despite his unsavory line of work, Bill Wilson is an all-around good guy, which is a refreshing change from his string of villains and antagonists. According to Gillen, "It's a good character. Pretty good shot with a bow and arrow. Good with casseroles. Bad with razors. It's a good guy." From the King Arthur trailers that have been released so far, this film promises plenty of action. Hopefully that means we'll get to see Gillen show off some of the swordplay skills he learned on the set of Shanghai Knights.