Hidden Gems You Need To Watch If You Love Zombie Movies
This content was paid for by Netflix and created by Looper.
If you've got a hankering for some flesh-eating fun to get you into the spirit of the spooky season, we definitely get it. There's nothing like an undead apocalypse to set the mood ahead of Halloween, and the good news is that there's plenty of zombie fare to be found on Netflix right now, including more than a few films that are bound to satisfy your hunger for some exciting undead adventures.
Whether you're a fan of sprawling action-adventure encounters with the living dead or if you prefer the more slow-walking movies that highlight the human side of the story, there's a little something for everyone to stream on the service. So strap on your best bite protection gear and get ready to check out the hidden zombie gems on Netflix that you need to watch at least once.
Army of the Dead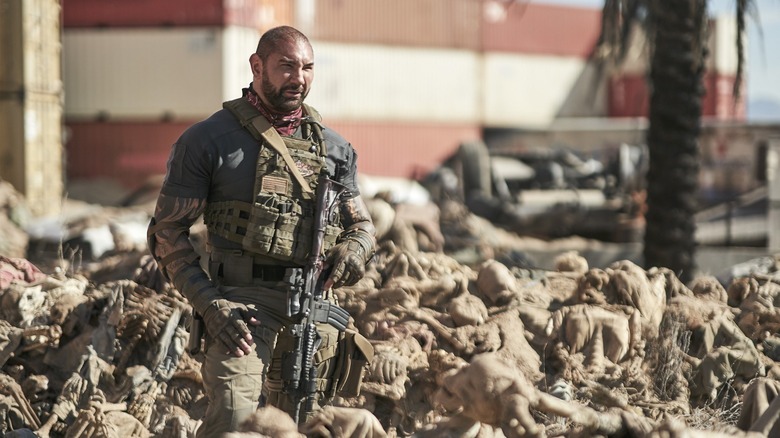 Clay Enos/ Netflix
Las Vegas becomes the epicenter of the undead apocalypse in Zack Snyder's "Army of the Dead." The riveting action-adventure film wastes no time bringing audiences into the mouth of the beast, after an Area 51 experiment-gone-wrong unleashes a world of pain upon Sin City. But even after the town is walled off, there's still one more chance to roll the dice for one band of brave gamblers.
Before the city full of shamblers is turned to ash by a scheduled nuclear blast, a group of zombie slayers are challenged to pull off the ultimate heist by breaking into a casino vault full of millions of dollars. But even as skilled at zombie-slaying as they might be, the mission becomes unexpectedly complex, and they'll all have to fight for success and survival as they race against both the undead and a ticking clock. With a bevy of strangely sophisticated walkers and issues of trust in their own ranks, the heroes are in for the adventure of a lifetime in "Army of the Dead," and the real winners are those at home who get to watch the gnarly action unfold on-screen.
#Alive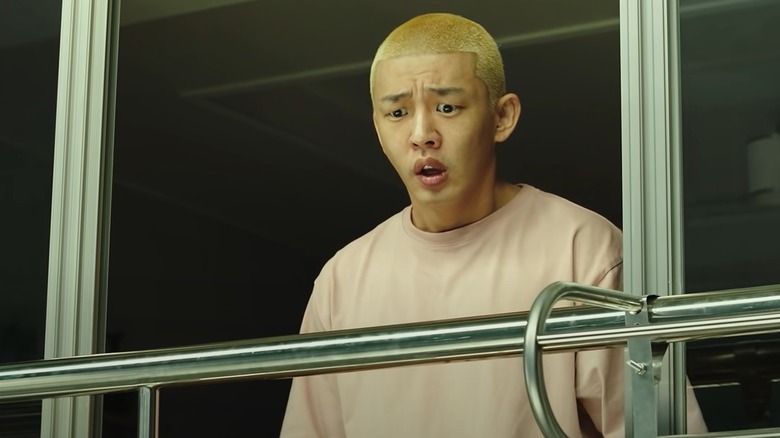 Lotte Entertainment
Being an avid gamer who likes to spend time at home alone can be something of a boon when the world outside suddenly gets upended by a deadly viral outbreak ... right? In the South Korean film "#Alive," we meet Oh Joon-woo (Yoo Ah-in), a teen who likes to spend his time in a virtual world until the reality around him collapses, and all of his neighbors suddenly begin attacking each other with cannibalistic rage.
Remaining isolated in his family's apartment is the ticket to staying alive at first, but once his digital communications falter and he realizes he has little food or hope of escape, his place of safety becomes a prison from which he might never escape. You'll have to watch to see if Joon-woo can use his technological savvy as a tactical advantage against the undead uprising, but "#Alive" is a smart and inventive thriller that gives the long-lived zombie genre a 21st century twist.
Cargo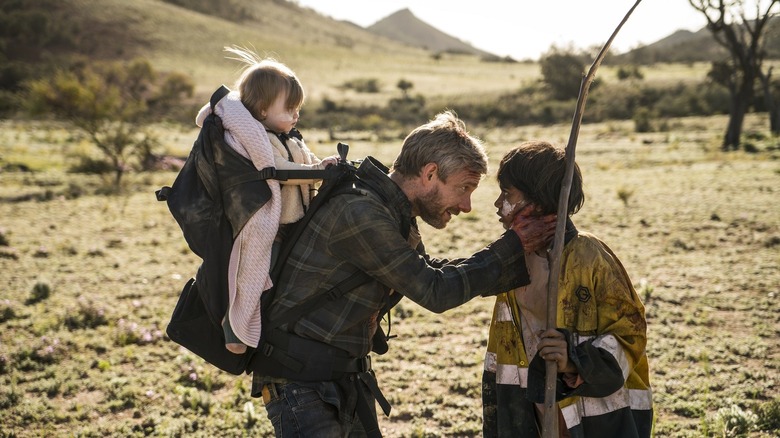 Matt Nettheim/Netflix
There's nothing scarier than the prospect of being unable to protect your kid, especially when the world is teeming with hungry corpses. In "Cargo," we follow Andy (Martin Freeman), a man who's barely managed to survive the rise of the dead alongside his wife and baby daughter by staying on the outskirts of the Australian wilderness.
Once he and his wife become infected, though, Andy has to race against time to find a safe place where his child might have a chance at a future. The problem is, it's not just the undead who have the capacity to be inhuman in this terrifying new world. As Andy fights to protect his baby from the biters of the Outback, he'll also have to fend off some fiendish survivors and his own strange new impulses. For those zombie film fans who enjoy a more thoughtful look at what it actually means to eke out an existence and still hope for hope at the end of the world, "Cargo" is a must-see.
Ravenous (Les Affamés)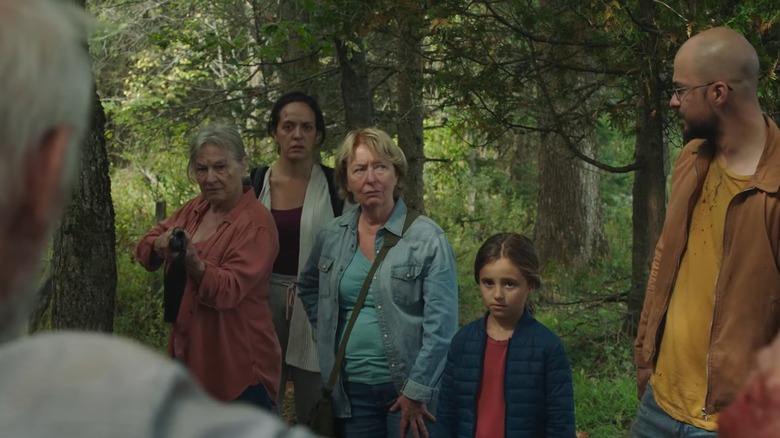 Netflix
The award-winning French-language film "Ravenous" (or "Les Affamés") is set in a quiet rural town in Quebec, Canada, and follows a small group of survivors who try to outrun and outlast their now-dead neighbors. The trouble is, identifying the infected isn't always so easy because they're not all mindless people-eaters. Instead, the zombies in this quiet little universe are actually quite organized and efficient at increasing their numbers to the point of being tricksters. Oh, and they also seem to have some sort of bizarre religious rituals going on as they scour the forest to increase their masses and make heaping piles of rubbish into statues that they can stare at.
The mysterious nature of the infected necessitates a level of distrust and even nihilism among the survivors, so in addition to brimming with the traditional jump scares and terror thrills of your usual zombie film fare, "Ravenous" also boasts some dark humor and is celebrated for its clever social commentary. It's also wildly unpredictable and will leave you feeling truly eerie afterwards.
Day of the Dead: Bloodline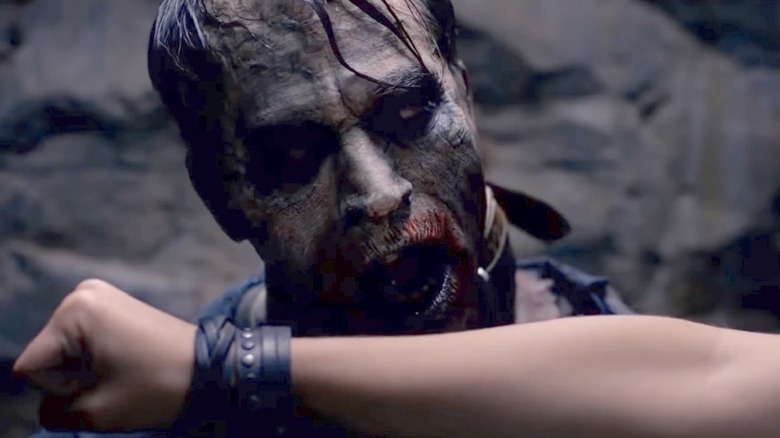 Lionsgate
You'll need a pretty healthy appreciation for gore to check out "Day of the Dead: Bloodline," but this reimagination of George A. Romero's classic film has some real intrigue for those with strong stomachs. The film introduces us to a brand new doctor named Zoe (Sophie Skelton), who inadvertently finds herself at the center of the undead apocalypse when she's attacked by a creepy patient and then her entire class is wiped out by another reanimated corpse. She narrowly escapes the attack to find safe haven at a military refugee facility, and there, she works to protect the few survivors who've managed to escape along with her. All the while, she hopes to find a cure for the viral outbreak that's claimed so many bodies across the globe.
But with little contact with the outside world, Zoe will have to take matters into her own hands if she hopes to keep her most vulnerable patients safe. However, venturing outside of their comfort zone invariably spells disaster, especially once Zoe comes face to face with one of the most malignant monsters from her past in this brutal fright flick.
ParaNorman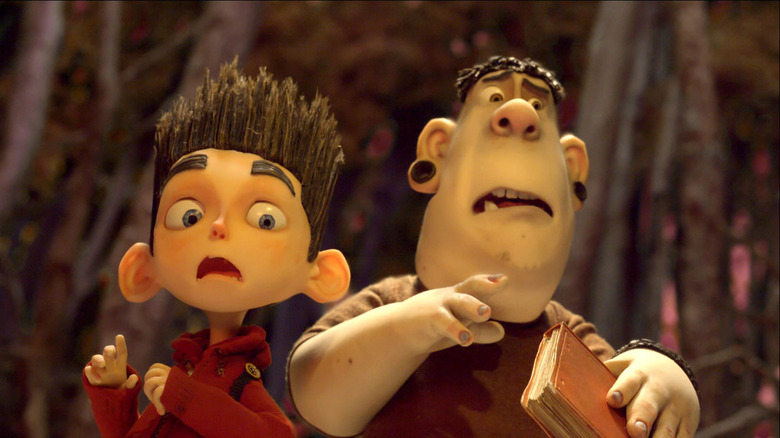 Focus Features
If you're looking for a more family-friendly option for your zombie movie queue, well, "ParaNorman" is just what you need. The stop-motion animated film offers a wicked blend of horror and comedy, centering on the titular Norman (voiced by Kodi Smit-McPhee), a very unique 11-year-old boy who has the gift of gab — but only with the ghosts that he can see.
That's right. Norman may be bullied by his classmates, but he has lots of friends who are dead. So when he receives a warning from a specter that he needs to perform a reading ritual before nightfall, he takes it seriously. Unfortunately for him and everyone else, his task doesn't exactly work out, and his hometown becomes overrun with zombies. And that's not the only supernatural scare that Norman and his town will face during the fracas. So if you're in the mood for a spirited and kid-friendly adventure, be sure to check out "ParaNorman."
Doom: Annihilation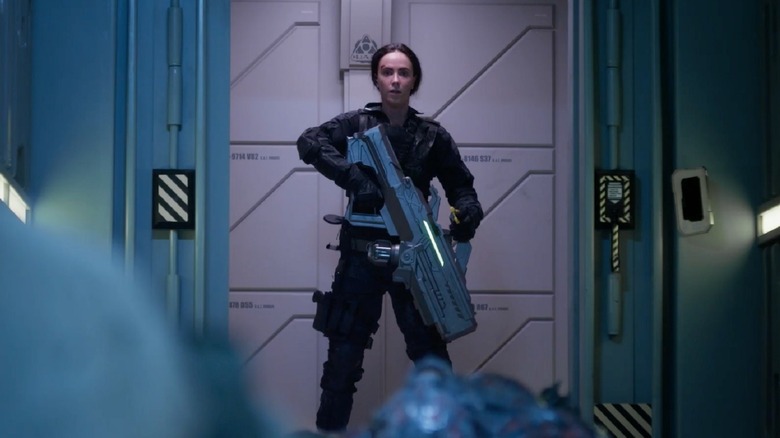 Universal Pictures
If you like your zombie fare to be sprinkled with both horror and some serious sci-fi action, then "Doom: Annihilation" is a must-see. The 2019 film — which is the second live-action adaptation of the "Doom" video game series — follows a group of Marines stationed near an aerospace base on the Martian moon Phobos, where scientists are experimenting with ancient "gates" to achieve teleportation.
Naturally, trying to catapult people from one planet to the next in no time is bound to have some consequences, so the Marines are called in to investigate when something inevitably goes awry with the experiment. Upon arrival, though, they discover that this is more than just your average power failure — the gates have actually unleashed a sinister force that's transformed the crew into hideous zombie monsters who have bigger plans than to just take over this remote lab. With jaw-clenching tension, "Doom: Annihilation" takes audiences on an otherworldly journey with far-reaching consequences.
It Comes at Night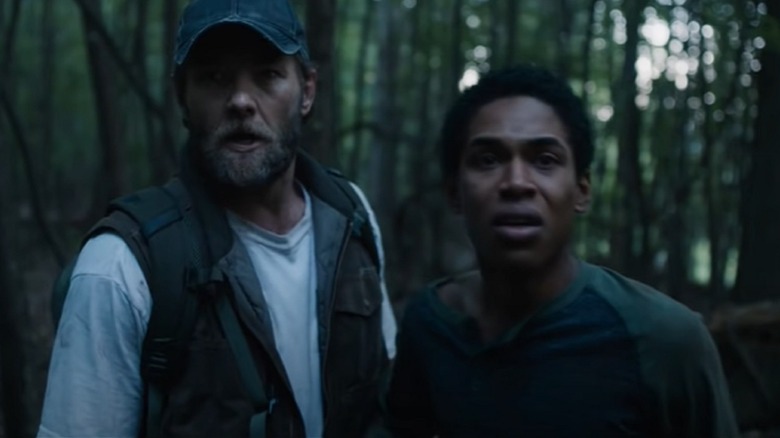 A24
You won't find a forest full of gnashers shambling about in "It Comes at Night," but it still has all of the hallmarks of a great zombie story. The 2017 psychological horror film takes place amid a mysterious, deadly pandemic that's overtaken the planet, and the story centers on a family that's managed to survive the outbreak by living in a secluded home in the woods and abiding by a strict set of rules about how they can avoid being exposed to the grotesque disease..
However, the arrival of an unexpected visitor to the family's property changes everything, especially once they discover their new guest is trying to protect a vulnerable family of his own. At first, they welcome the family into their home in hopes of expanding the ranks of survivors, but soon, isolation, distrust, and the ubiquitous threat of the infection start to creep into their well-fortified manor. "It Comes at Night" is a riveting thriller that doesn't need a bevy of brain-eaters to satisfy your hunger for a good apocalyptic actioner.
Only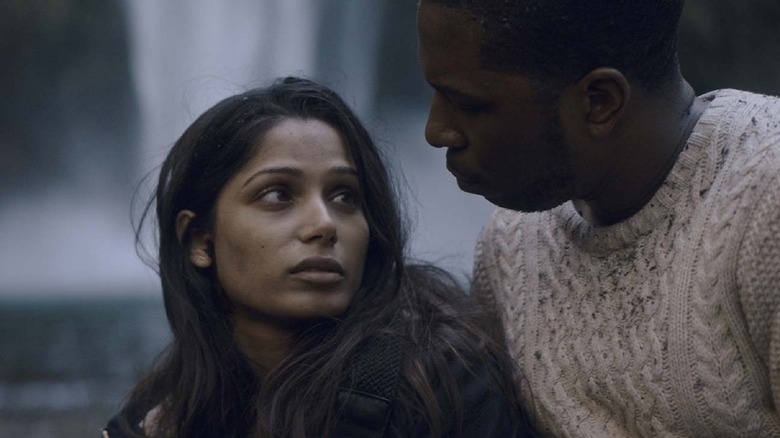 Vertical Entertainment
Similar to "It Comes at Night," the 2020 post-apocalyptic film "Only" also delves into the human side of a global catastrophe. In this story, Leslie Odom Jr. and Freida Pinto star as a young couple living together in quarantine. They spend their days inside a self-sealed apartment after a toxic ash rain from a comet coats the world and causes most of the women to die.
Pinto's Eva is one of the few females who've managed to avoid being infected somehow, but her survival depends on more than just avoiding the air outside. Any remaining women are now being hunted for bounties and by a government desperately searching for answers, which means it's the people around her who have the potential to become monsters. Like any good zombie flick, this movie is dripping with dread and a sense of futility as our heroes face a world that's been ravaged with horrors that threaten all of humanity forevermore.
The Darkest Hour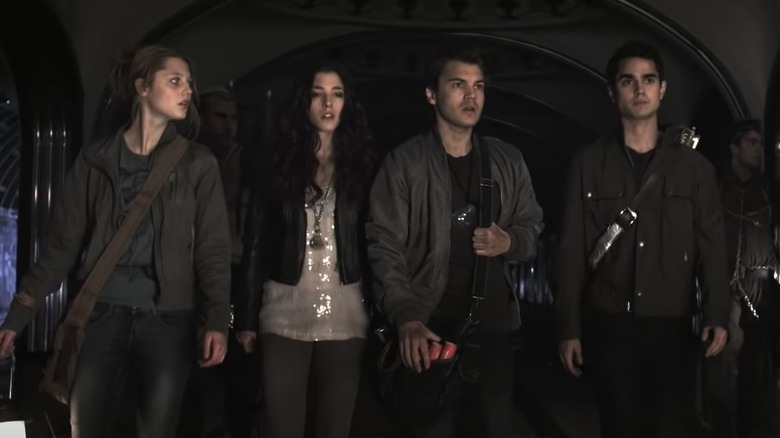 Summit Entertainment
Zombie film fans might find a lot to enjoy about the 2011 sci-fi action film "The Darkest Hour." The film centers on a group of Americans who venture to Moscow, Russia, in order to pursue a new business opportunity. Unfortunately for our heroes, they soon find themselves stranded amid a devastating invasion event. They witness people around them being suddenly wiped out by an invisible force that seems hellbent on destroying everyone, and soon, it becomes clear that this attack is being waged all across the world.
Just like with zombie films, the heroes of this story must avoid being devoured by these new alien life forms while trying to discover their vulnerabilities if they hope to save mankind from certain extinction. Between the creeping emptiness of the cityscapes and the seemingly endless peril that surrounds our heroes, "The Darkest Hour" is full of chills and thrills.