What Ever Happened To The Final Girl From The Texas Chainsaw Massacre?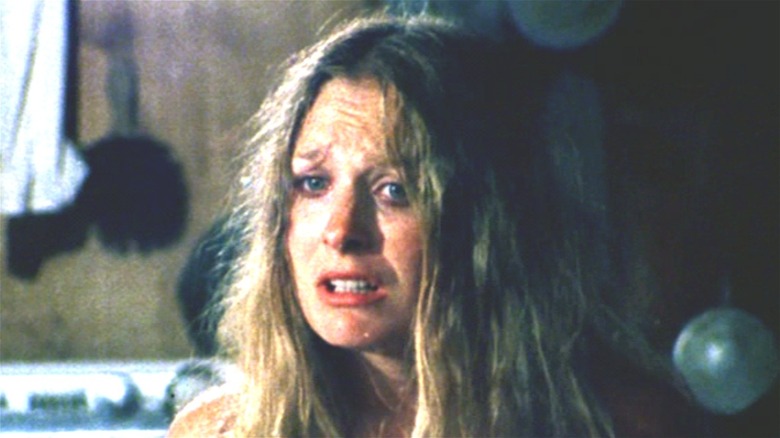 Bryanston Distributing Company
As one of the only blonde Final Girls, Sally Hardesty from "The Texas Chainsaw Massacre" stands out among her peers. The 1974 slasher film directed by Tobe Hooper helped establish this character trope and is regarded as one of the best horror films ever made. Hardesty, portrayed by the late Marilyn Burns, travels through Texas with her brother and friends, which is where they encounter a violent, cannibalistic family with a penchant for head cheese and torture. She fights for her life as her peers are brutally killed, eventually fleeing to safety and surviving with a victorious laugh.
Though today the film is a staple in the horror genre, no one could've anticipated its success at the time. It was a notoriously dangerous, low-budget shoot in the sweltering summer heat, relying on a mostly unknown cast. Now, the franchise boasts eight films as well as video game and comic book adaptations. In a 2013 interview with Terror Transmission, Burns reflected on how she joined the film, the painful stunts she performed, and how she expected people to forget her role. 
"You know, I kept thinking, 'well, it'll all go away soon,'" she joked, pointing out that she'd been saying this for nearly 40 years.
Though she was known as 'the Texas Chainsaw girl,' Burns was involved in other horror projects over the course of her career. So, what did the actress do in the years following her breakout role as Sally Hardesty?
Once a scream queen, always a scream queen
After portraying Sally Hardesty in "The Texas Chainsaw Massacre," Marilyn Burns continued her reign as a scream queen in the Golden Age of slasher films. She starred in films like "Kiss Daddy Goodbye," "Butcher Boys," and collaborated with Hooper again in "Eaten Alive." She also appeared in "Helter Skelter," a Charles Manson-inspired TV miniseries that received three Primetime Emmy nominations.
She briefly reprised her role as Hardesty in 1995's "Texas Chainsaw Massacre: The Next Generation" and appeared as a nurse in 2013's "Texas Chainsaw 3D." The legacy of Sally Hardesty, an original Final Girl, carries on, and throughout her life, Burns embraced her contribution to the genre. Despite her graphic, over-the-top on-screen performances, the actress kept her personal life out of the limelight.
Sadly, Marilyn Burns died in her sleep on August 5, 2014, in her Houston home. Her obituary expressed that she loved acting, meeting fans at horror conventions, and cherished her cat, Cinnamon.