Fans Are In A Frenzy Over The LEGO Star Wars: Terrifying Tales Trailer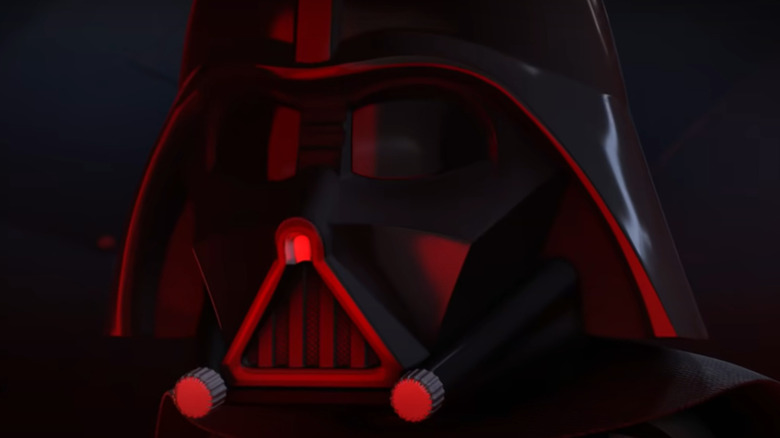 Lucasfilm/YouTube
Since 1999, LEGO and "Star Wars" have gone together like peanut butter and jelly. The one-of-a-kind worlds, unique vehicles, and numerous iconic characters from the film series have served as the perfect supplement to a line of construction toys based on imagination and overall fun, hence why they still sell like hotcakes today. However, in 2021, the LEGO-"Star Wars" partnership has evolved to encompass so much more than it once did — providing fans of both with several beloved video games and books, as well as short films and television shows to watch at their leisure.
These days, the LEGO "Star Wars" media library is vast. Ranging from "LEGO Star Wars: The Freemaker Adventures" to the "LEGO Star Wars Holiday Special," there's plenty to enjoy from this ingenious example of brand synergy, but neither Lucasfilm nor the LEGO Group is content to rest on its laurels just yet. Next on their release slate is the "LEGO Star Wars: Terrifying Tales" Disney+ special, which will hit streaming on October 1, 2021. The project promises a handful of spooky stories set in the "Star Wars" universe, all told in brick-built form and designed for the whole family to enjoy.
Ahead of its release in only a few short weeks, we've got our first look at "Terrifying Tales," and as always, the "Star Wars" faithful weren't shy about sharing their thoughts.
The Terrifying Tales trailer gives Star Wars fans a lot to look forward to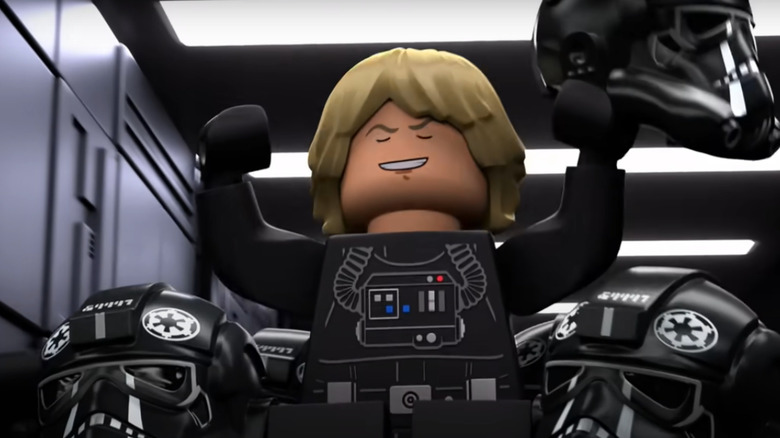 Lucasfilm/YouTube
After the events of "The Rise of Skywalker," Poe Dameron (Jake Green) and BB-8 travel to the former castle of Darth Vader (Matt Sloan), where Graballa the Hutt (Dana Snyder) is overseeing renovations. With their X-Wing being repaired, the Resistance figurehead and his trusty droid, in addition to Graballa and his assistant, Dean (Raphael Alejandro), explore the structure alongside Vader's mysterious servant, Vaneé (Tony Hale). As he serenades them with frightening stories, little do our heroes realize they're being led into a trap.
From zombie battle droids to an Imperial loyalist Luke Skywalker, the "LEGO Star Wars: Terrifying Tales" trailer showed off a lot, thus giving the masses a plethora of things to discuss on social media. @AhchToRadio on Twitter gave the teaser a glowing endorsement, writing, "Who else is smiling with glee at the #LEGO #StarWars Terrifying Tales trailer? So good." @CurtisBurkhart agreed, tweeting out, "Oh that looks so cute! Looks like fun that does!"
"This looks fun! Great to see the Night Sisters again," added @LauraGeeksOut, pointing out the return of Mother Talzin and the Nightsisters of Dathomir. @StarStrikeYT threw in an especially intriguing comparison, calling the "Terrifying Tales" special "what if for starwars" — putting it up against the Marvel "What If...?" series that's currently running on Disney+.
As evidenced by this small subset of "Star Wars" die-hards, the consensus is overwhelmingly clear: The people are excited to check out "LEGO Star Wars: Terrifying Tales" as soon as it arrives on the small screen this October.