The Raunchy Comedy That Ruined Zooey Deschanel's Career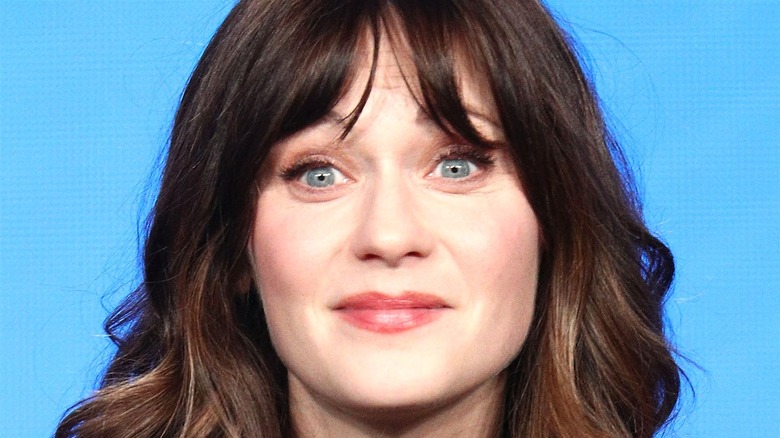 Frederick M. Brown/Getty Images
The doe-eyed actress Zooey Deschanel appeared in a slew of movies before landing the role of Jessica "Jess" Day on the comedy "New Girl." The series, which earned Deschanel an Emmy nomination for best lead actress in a comedy series in 2012, aired for seven seasons on Fox and chronicled the lives of Deschanel's character, a quirky schoolteacher-turned-principal, and her three male roommates. Sadly, she never ended up winning for her role on the show, a fact that was painfully brought back to light during a sketch for the 2021 Emmy ceremony where Deschanel is just one of many actors part of a "No Emmy" support group. 
In 2014, "New Girl" was the lead-out program following Super Bowl XLVIII, joining an elite club that includes the hit series "The Office," "Friends," and "Glee." It seemed like Deschanel's star could never fall, especially seeing how her co-stars, like Jake Johnson and Lamorne Morris, went on to star in the likes of "Jurassic World" and "Bloodshot," respectively. Once a hot prospect in Hollywood, Deschanel's career has since stalled.
It's not for lack of trying on her end. She's starred in a slew of films alongside some of the biggest names in the industry, including Jennifer Aniston ("The Good Girl"), Kate Hudson ("Almost Famous"), Will Ferrell ("Elf"), Jim Carrey ("Yes Man"), and Mark Wahlberg ("The Happening"). One of her standout performances was playing a lead role in 2009's "500 Days of Summer." So what happened?
In 2011, as she transitioned from the big screen to a small screen star, Deschanel appeared in the film that seems to have effectively put an end to her movie career.
Zooey Deschanel's role in Her Highness marked a turning point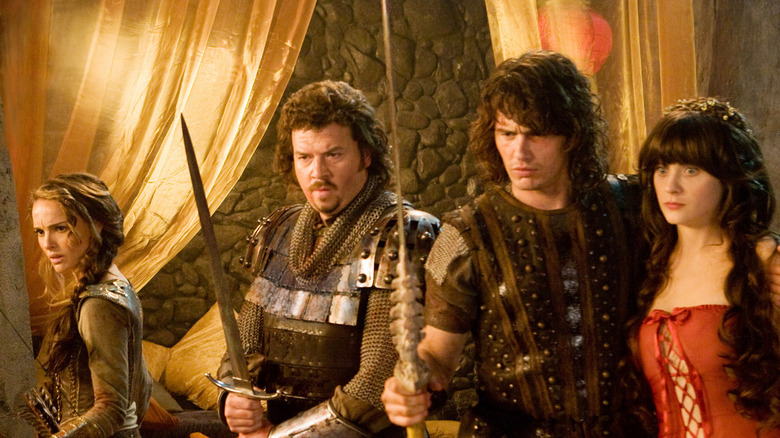 Universal Pictures
In 2011, Zooey Deschanel played Belladonna in the stoner comedy, "Your Highness." The movie was directed by David Gordon Green and featured an all-star cast including Natalie Portman, James Franco, Justin Theroux, and Danny McBride (who co-wrote the script). Green told Den of Geek that while growing up, he was an avid fan of fantasy films such as "Conan the Destroyer," "The Sword and the Sorcerer," and "Beastmaster." Green stated he and McBride's intention was "to make one of those movies, put our stamp on it, and bring our sensibility to it, but work within the genre." The result was a royal mess, according to critics. "Your Highness" holds a 27% approval rating on Rotten Tomatoes. The movie's box office tally was equally abysmal, garnering $28 million worldwide against a $50 million budget.
Famed critic Roger Ebert had this to say about Deschanel's performance, "She's brought onstage, quickly kidnapped by an evil sorcerer, spends a good deal of time as a captive in his lair, is rescued and lives happily ever after. She might as well be a mannequin, for all she's given to say and do. This intelligent, nuanced actress, standing there baffled. Used as a placeholder."
That's something you sadly could say about a lot of female roles over the years, and many actresses don't face similar scrutiny for playing an underdeveloped heroine. The problem appears to relate to what came after "Your Highness" for Zooey Deschanel.
Zooey Deschanel hasn't appeared on the big screen in years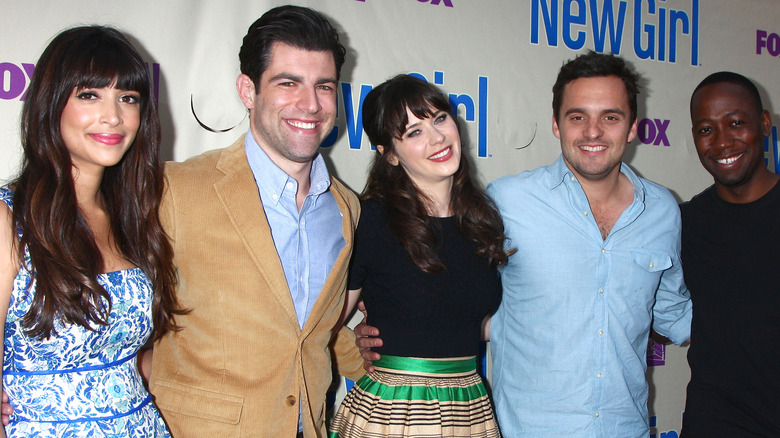 Kathy Hutchins/Shutterstock
To be fair, Ebert's issues had more to do with the script than Zooey Deschanel's acting abilities, but a high-profile bomb can turn an actress into box office poison. While Deschanel's co-stars managed to rebound from the fantasy debacle, the actress hasn't found a project to rejuvenate her film career. She appeared in two more critical and box office disappointments, "The Driftless Area" and "Rock the Kasbah" (2015), further reinforcing her declining film career. The actress voiced the character of Bridget in "Trolls" and "Trolls World Tour," but she hasn't been seen in a live-action role on the big screen in six years.
However, Deschanel's priorities might have changed in the time since she's starred in a film. In a 2018 interview with InStyle magazine, Deschanel said, " "I have two kids, and they're very important to me. I'm really focused on them, so I want to make sure that whatever I do next is really good. It has to be really good for me to leave them [and go to work]."
Still, don't feel too bad for the actress just yet. She's still working and could most recently be seen as co-host of "The Celebrity Dating Game" alongside Michael Bolton. The series puts a fun twist on the classic "Dating Game" format but with single celebrities looking for love. She's still raking in plenty of TV time; it's just her film resume that's hit a snag. Zooey Deschanel's career, which started white-hot, has cooled down, and while some may argue "Your Highness" isn't solely to blame, it marked the beginning of the end of her box office appeal.