Independence Day Actors You May Not Know Passed Away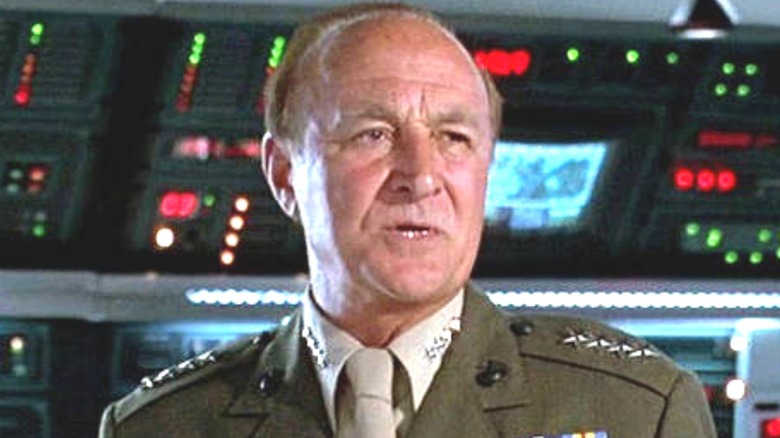 20th Century Studios
Roland Emmerich's thrilling sci-fi action movie "Independence Day" was a monumental success when it was first released in 1996. Sure, it may have only received moderately positive reviews (via Rotten Tomatoes), but audiences flocked to see the film in theaters, where it grossed an impressive $306 million domestically and became the highest-grossing film of that year (per Box Office Mojo). Beyond that, it also helped Will Smith, who played hotshot pilot Steven Hiller, become a legitimate Hollywood star, which led to other breakout hits over the years like the "Men in Black" movies and the "Bad Boys" franchise.
While Smith was the breakout star of the film, there were plenty of other memorable characters in "Independence Day" played by well-known character actors. From Jeff Goldblum to Bill Pullman, the science fiction epic stacked its cast with talent. Unfortunately, because it has been over 25 years since the release of "Independence Day," some of the most memorable supporting characters in the film are portrayed by performers who are no longer with us.
Here are the "Independence Day" actors you may not know have passed away since the movie's 1996 release.
Robert Loggia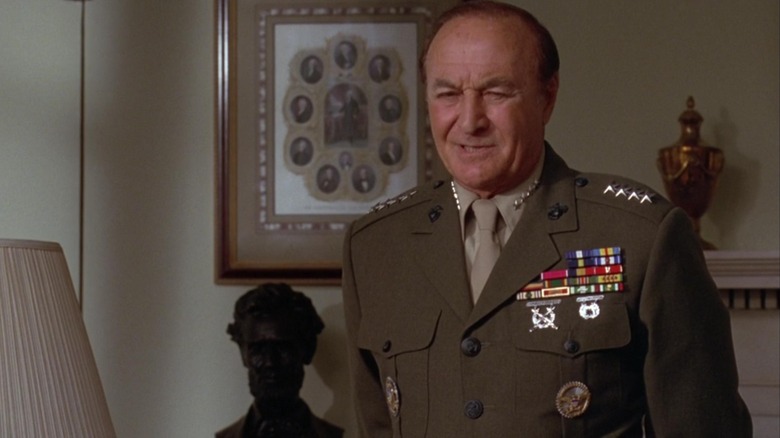 20th Century Studios
Robert Loggia portrayed General William Grey in "Independence Day" and was perhaps one of the most notable side characters in the movie. He helped President Thomas J. Whitmore (Bill Pullman) make some of the most pivotal decisions when the time came to save the world from an alien invasion. It may not have been a starring role, but Loggia's presence added a lot of complexity and gravitas to "Independence Day."
While "Independence Day" was surely one of his most well-known later films, the actor also had memorable appearances in films and on TV, including "Scarface" and HBO's "The Sopranos," where he often played mobsters (via IMDb). With that in mind, his part in "Independence Day" was unlike any character he played before and after the 1996 movie because it allowed Loggia to play against type. Still, stepping into the role of a military general seemed to suit Loggia's on-screen personality as a stern patriarchal type. In the end, he's just another example of the incredible talent involved with "Independence Day."
Unfortunately, Loggia passed away at the age of 85 in 2015. According to the Los Angeles Times, the veteran actor died from Alzheimer's disease at his home in Los Angeles, California. He had previously been diagnosed with the disease in 2011.
James Rebhorn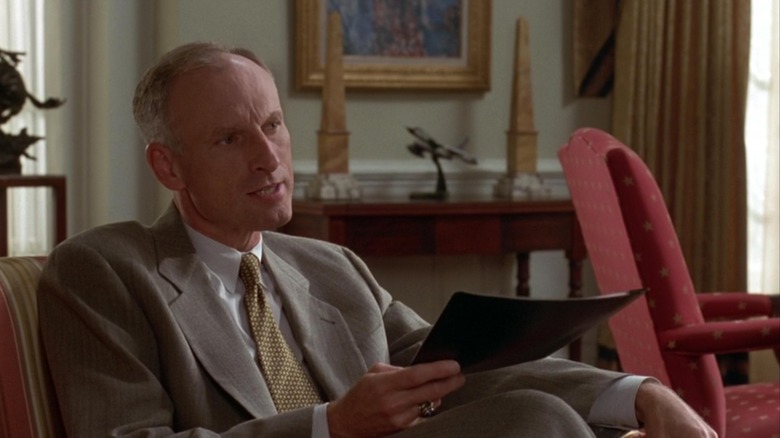 20th Century Studios
James Rebhorn's role in "Independence Day" is perhaps just as memorable as Loggia's, though for entirely different reasons. He portrayed Albert Nimziki, President Whitmore's secretary of defense and a former CIA director. The character undermines President Whitmore at every turn, and it's revealed at one point that he's known about the existence of extraterrestrials all along. This twist leads to a big plot point in the second half of the movie involving Area 51. Nimziki is a character that serves as the closest thing to a genuine human antagonist in "Independence Day," and it's a performance that Rebhorn nails.
Much like Loggia, while "Independence Day" may have been one of Rebhorn's more high-profile films, the actor had quite a few memorable parts in various television shows. These ranged from sitcoms like "Seinfeld" to crime shows like "White Collar" and "Law & Order" (via IMDb). A character actor through and through, Rebhorn made the most of his role, ensuring it was one that fans would remember Nimziki despisingly after the aliens were defeated and the credits rolled.
Per The Hollywood Reporter, Rebhorn passed away in 2014 from skin cancer at the age of 65. The actor was first diagnosed with the disease back in 1992.