The Entire Bosch Timeline Explained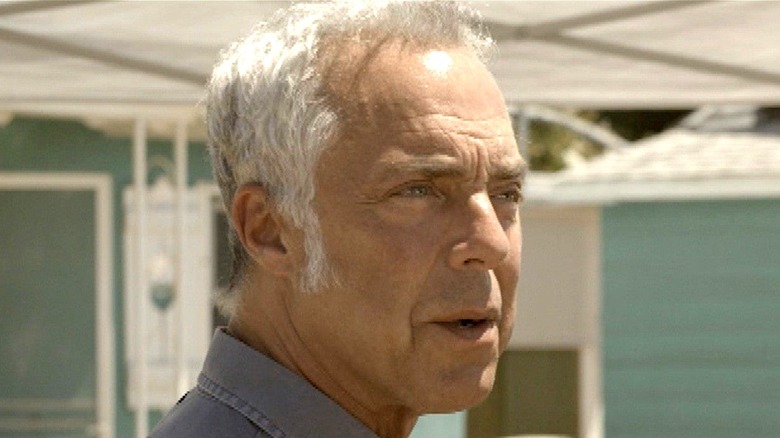 Amazon Studios
Every murder is the tale of a city. That's the premise of "Bosch," and also something Hieronymous "Harry" Bosch says in the show's very first episode. "Bosch" ran for seven seasons on Amazon Prime Video, becoming the streaming services' longest-running series. Titus Welliver played the titular cop, a Los Angeles native who is tied to the city by its food and the people he's lost. Each season is based on one or more books in the Harry Bosch series by former Los Angeles Times crime reporter Michael Connelly.
"Bosch" co-stars Jamie Hector as Bosch's partner Jerry Edgar, Lance Reddick as Irvin "Irv" Irving, and dynamic duo Gregory Scott Cummins and Troy Evans playing detective Crate and Barrel. Names on "Bosch" are crazy. Bosch's family consists of his ex-wife Eleanor ("Twilight" mom Sarah Clarke) and daughter Maddie (Madison Lintz). The Hollywood police station is home to Lt. Billets (Amy Aquino) and Sergeant Mank (Scott Klace). Because "Bosch" stays concerned with the Hollywood Homicide department, we get many recurring characters and even see some beat cops get promoted to detective. We also lose many cast members — through transfers, arrests, and even death. Here is the complete timeline of "Bosch."
Bosch's backstory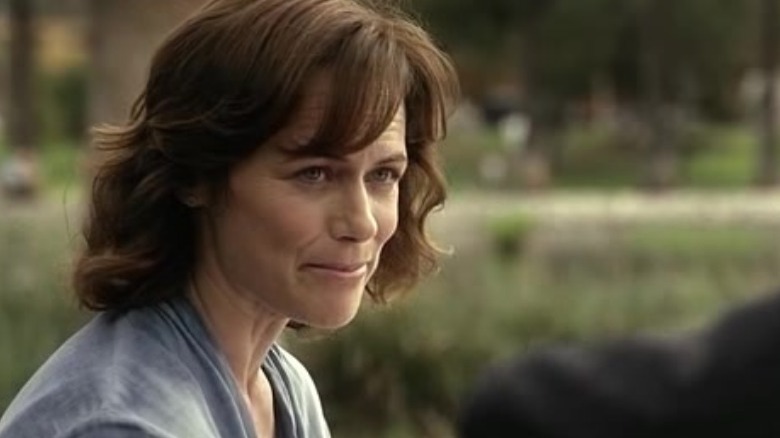 Amazon Studios
Before the series even begins, Bosch is touched by crime. His mother, a sex worker, was murdered when he was just 11 years old. Bosch spent the rest of his childhood cycling between child welfare, foster homes, and the street. The one constant in "Bosch" is a love of classic L.A. restaurants. One of the few flashbacks we get to Bosch's early life was of him dining and dashing at Musso & Frank after his mother's murder.
Bosch joined the Army, Special Forces, and served in the Gulf War. He met and married Eleanor Wish, and they had a child named Maddie. Bosch re-enlisted after 9/11, which added to the strain on his and Eleanor's marriage. They eventually divorced, and Eleanor was kicked out of the FBI. Before the series starts, she's become a professional poker player and has remarried. Also before the start of the series, Bosch sold his life rights to a studio, which made a movie about one of his cases. The movie, although critically reviled, paid for Bosch's insanely fancy house in the Hollywood Hills.
Working a cold case and chasing a serial killer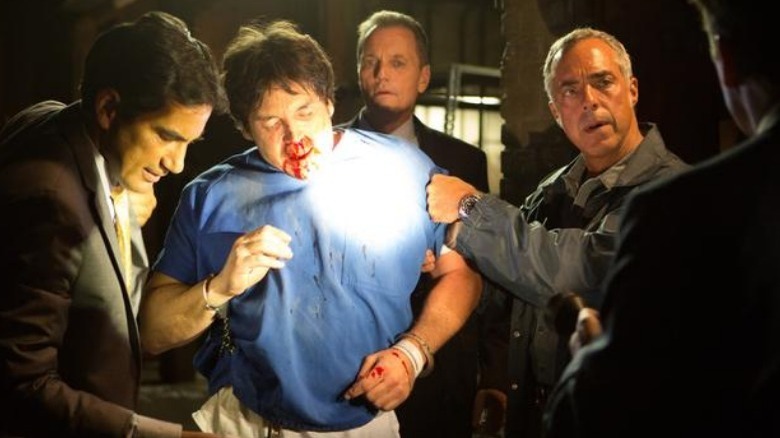 Amazon Studios
Season 1 of "Bosch" is adapted from the books "City of Bones" and "Echo Park," with a little "The Concrete Blonde" thrown in for good measure. The series starts with Bosch being sued by the widow of someone Bosch killed in the line of duty. Sick of being benched during his trial, Bosch takes a weekend shift from Crate and Barrel. He catches a cold case; a child's bone is found in the Hollywood Hills. Bosch and Edgar identify the victim as a 12-year-old skater with a history of abuse. Bosch over-identifies with the victim, as he incurred many of the same injuries while being abused in foster care and at orphanages.
At the same time, patrol cops stop a white van that happens to contain serial killer Raynard Waits (Jason Gedrick) and his latest kill. Waits claims to have hidden more bodies in a remote factory. Despite objections from Bosch, the district attorney forces the LAPD to let Waits guide them through his alleged dumping site. Waits gets his cuffs loosened, and is able to escape custody. He shoots the ADA (fatally) and Crate (non-fatally) in the process. The DA's office and the police bicker over whose fault Waits' escape is, with Bosch caught in the middle.
Bosch eventually kills Waits in a final confrontation. He is unable to charge the child's killer. Frustrated with how his cases have turned out, Bosch throws the Hollywood police captain through a plate glass window and is put on suspension.
Bosch and Irv's families are threatened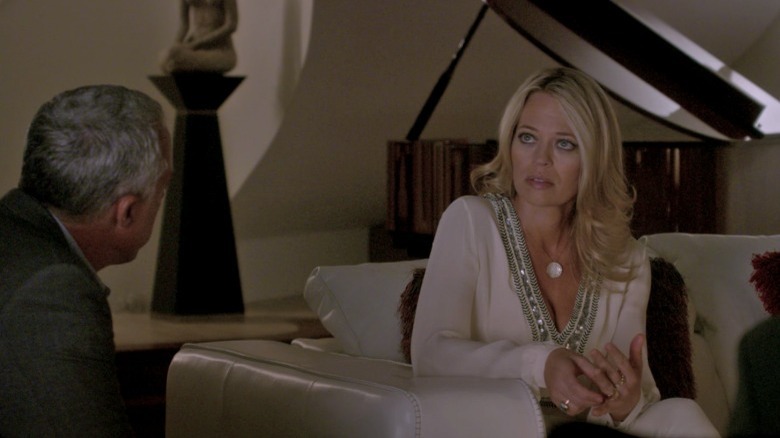 Amazon Studios
Season 2 is adapted from "The Last Coyote" and "Trunk Music." Bosch is back from suspension, and the captain he bodychecked has moved to a different department. Bosch catches a murder with connections to the Armenian mob. An adult film producer was murdered — his brother, wife, and girlfriend are all suspects. The case leads Bosch to Las Vegas — where catches up with his ex-wife Eleanor, their daughter Maddie, and Eleanor's new husband Reggie. At one point, the mob kidnaps Eleanor and Maddie in an attempt to intimidate Bosch. Big mistake. Bosch rescues them in a covert mission.
At the same time, Irving's son George is working undercover for Internal Affairs. He is trying to infiltrate a gang of corrupt vice cops. They make him, and he is killed in a staged convenience store robbery. George's death destroys Irv's marriage.
These two cases intersect, as it turns out a retired cop-turned-gated community security officer named Carl Nash (Brent Sexton) is both the head of the dirty cop gang and the orchestrator of the adult film producer's murder. Nash was in cahoots with the producer's widow (Jeri Ryan), who was chasing the money her husband was skimming from the Armenian mob. A giant shootout at the producer's bank takes many players off the board, and Nash dies in a shootout with Bosch and Edgar. The producer's wife kills a priest in an attempt to get the money, and she hires the lawyer that sued Bosch in the previous season as her defense counsel.
Bosch is framed for murder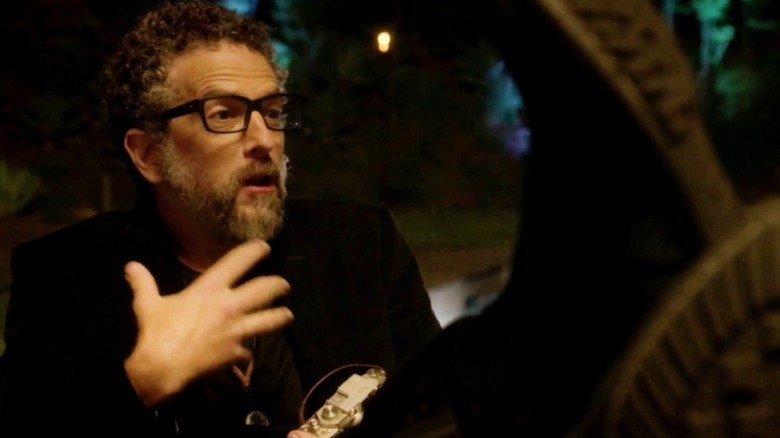 Amazon Studios
Season 3 adapts "The Black Echo," "A Darkness More Than Night," and aspects of "The Drop." Once again, two cases are actually linked at their source. Detectives Santiago "Jimmy" Robertson (Paul Calderon) and Rondell Pierce (DaJuan Johnson) are investigating the murder of Ed Gunn, a man Bosch suspected of murder. Bosch was actually illegally surveilling Gunn when his house was broken into and he was killed. At the same time, the DA's office is prepping to try writer-director Andrew Holland (John Ales), who killed a woman during sex.
These two cases are actually linked, as Holland's fixer Rudy Tafero killed Gunn to frame and discredit Bosch. The murder was orchestrated by Holland, who actually storyboarded how it was supposed to go down. Ed's murder was staged like a Hieronymous Bosch painting. Tafero's crew plants a glass with Bosch's DNA (from classic L.A. restaurant chain El Compadre) at the scene, along with an owl statue that is modified to look like one from a Bosch painting.
Bosch and Edgar also investigate the murder of a homeless veteran. That crime leads Bosch to war profiteers who killed the vet to tie up loose ends. But killing people just makes more loose ends. They kill a street kid witness, Edgar kills one of the profiteers, the ringleader kills his underling, and Bosch finally captures the last man.
Justice for Bosch's mother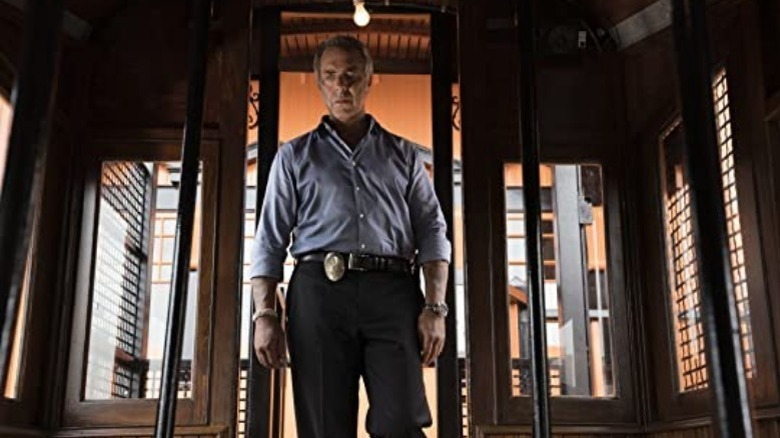 Amazon Studios
Season 4 is adapted from "Angels Flight," and the season's main crime takes place at that location. Angels Flight is a tiny funicular railway in downtown Los Angeles that takes people from Hill Street (near Grand Central Market) to Olive Street Defense Attorney Howard Elias is murdered on the train, and activists assume an LAPD cop did it. Elias was representing a man who had been tortured by the LAPD, and the attorney may have had video evidence of the crime. Therefore, people assume one of those cops murdered Elias.
At the same time, Bosch's ex-wife Eleanor has begun feeding information to the FBI. She takes a video of a potential Triad boss and is murdered in a drive-by right after having lunch with Bosch at Du-Par's.
Bosch solves the Angels Flight murder, while also finding the time to implicate Eleanor's FBI handler in her death. What's more, the Angels Flight killer also turns out to have been the murderer of Bosch's mother. Head of the police commission Bradley Walker (John Getz) is used to getting what he wants. And when he doesn't get it — like when a civil rights attorney refuses to settle, or when a sex worker talks back — he gets nasty. Bosch gets Walker to confess to both Elias and his mother's murders, with Edgar acting as a witness.
Undercover Bosch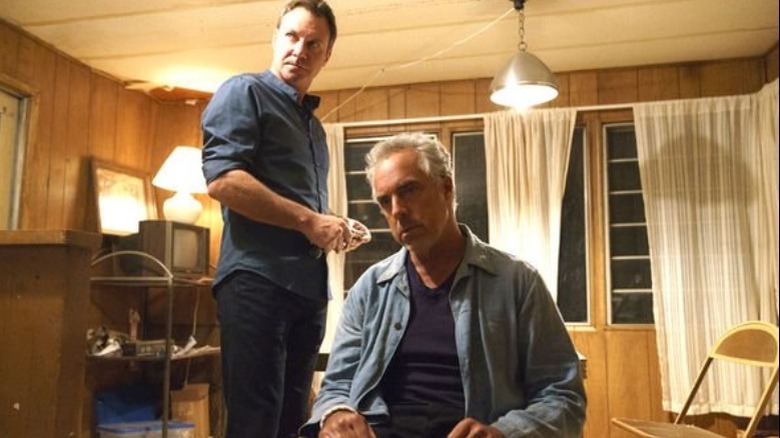 Amazon Studios
Season 5 is adapted from "Two Kinds of Truth." Bosch and Edgar investigate the murder of a pharmacist, who appears to have been connected with opiate traffickers. Bosch goes undercover at the VA clinic and befriends a woman whose addiction covers up her grief over her daughter's murder. The drug runners killed a man for his car during their getaway, and Detective Robertson catches that case.
Meanwhile, a killer Bosch put away is appealing his conviction. He accuses Bosch of planting evidence, and claims that new DNA evidence and a deathbed confession by another convict exonerates him. An ex-girlfriend of Bosch investigates these claims, believing that Bosch badmouthed her after they broke up and tanked her career. Bosch hires Honey Chandler (Mimi Rogers), the attorney that previously sued him, as his defense. While working at the DA's office, Maddie feeds information to Chandler about her father's case.
A front-page story about Bosch's alleged evidence tampering reveals his identity to the drug smugglers, who try to kill Bosch in a private airplane. Bosch escapes and rescues a dog that was found at the smugglers' hideout. Jazz freak Bosch names the dog Coltrane.
It is discovered that the new DNA evidence in the claim against Bosch was planted by the real killer's attorney. Chandler exposes the whole plot in open court. However, we learn that key evidence was planted in the suspect's apartment — just not by Bosch. Chief Irving planted the evidence back when he was just a Lieutenant.
Domestic terrorism?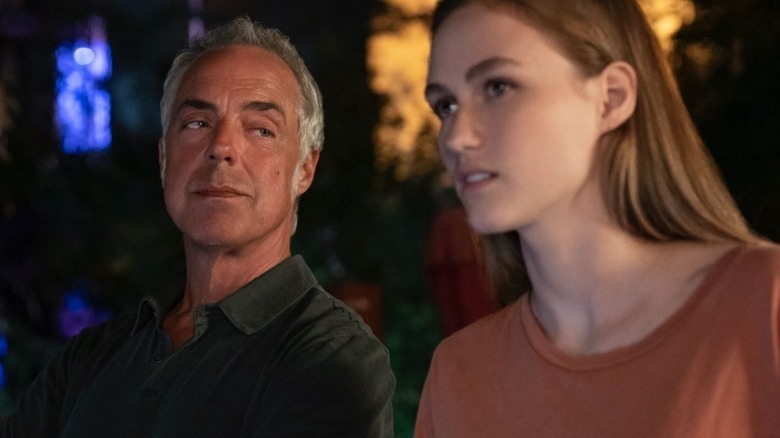 Amazon Studios
Season 6 is adapted from "The Overlook" and "Dark Sacred Night." When cesium rods go missing at a hospital and the man who took them is found murdered, the FBI initially suspects a cell of Sovereign Citizens. Bosch and Edgar are instructed to solve their murder but stay out of the search for the cesium. Bosch naturally doesn't trust the FBI, since he still holds them responsible for Eleanor's death. He's right not to trust them, as it turns out the Sovereign Citizens had nothing to do with the murder. An FBI agent was having an affair with the murdered man's wife, and they conspired to frame the Sovereigns for his death.
Meanwhile, Edgar pursues the crooked cops and former Haitian death squad leader that got his confidential informant killed. Edgar runs afoul of Jacques Avril (Treva Etienne), the man who killed his uncle back in Haiti. Avril is untouchable because he is a State Department asset. Edgar winds up killing Avril without cause, which weighs on him greatly in the final season.
The last straw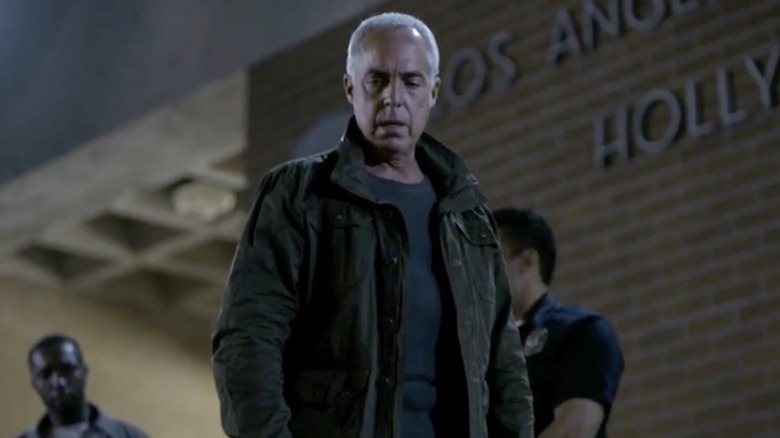 Amazon Studios
Season 7 of "Bosch" is adapted from "The Burning Room." It takes place in the early pre-COVID part of 2021. During New Year's celebrations, a molotov cocktail is thrown into the apartment of a gentrifying superintendent. The fire gets out of hand, and multiple people die — including 10-year-old Sonia Hernandez. Sonia couldn't escape the fire because the property management company locked the door to the roof. The arson was carried out on the orders of Miguel "Mickey" Peña (Gino Vento), a gangbanger who is also an informant for the FBI. Because Peña is an informant, he is moved by the FBI before he can be arrested for the murder of Sonia Hernandez.
Maddie, who has been working for Honey Chandler since last season, is put in danger when Chandler takes a white-collar criminal who could implicate a Russian mobster in a major insider trading scheme. The mobster's lawyer, who also represented the Armenian gangsters in Season 2, has both Chandler and her client shot. The client dies, while Chandler barely survives. Maddie, who took the client's testimony tape, is threatened as well. Edgar winds up protecting Maddie from the hitman, which helps him begin to recover from the guilt of shooting Avril. During the plot to kill Maddie, Bosch's girlfriend is killed as well. 
Bosch essentially kidnaps Peña at El Cholo and arrests him for the New Year's arson. When he is let go by Chief Irving, Sonia's father shoots him dead outside the station. Disgusted with how the case has turned out, Bosch quits the force to become a private investigator. This sets up the "Bosch" spin-off that is already in production.