Adam Warlock Will Appear In Guardians Of The Galaxy Vol. 3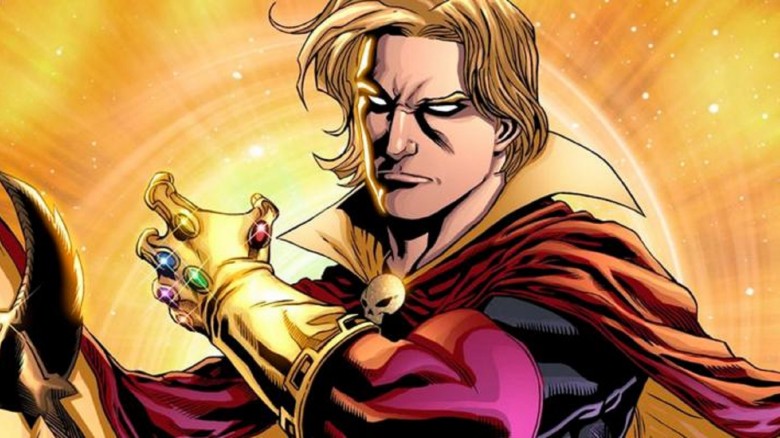 While he's a key player in the Infinity Gauntlet and Infinity War storylines, Adam Warlock has been strangely absent from the Marvel Cinematic Universe. But according to director James Gunn, that's not for a lack of trying. In a recent interview with Slashfilm's Peter Sciretta, the Guardians of the Galaxy director revealed that he intended for Warlock to appear in the upcoming Guardians sequel, and he also admitted the cosmic character will appear in the Marvel universe a little later down the line.
"I love Adam Warlock," Gunn told Sciretta, "He's one of my favorite characters. In all truth, I wrote an early treatment [of Guardians of the Galaxy Vol. 2] where I had Adam Warlock as a part." The director then went on to confess, "He was a big part of the screenplay, and I realized it was one character too many." Even though he "adored the character," Gunn felt the script was just too crowded, and at the end, it came down to cutting Warlock or cutting Mantis (played by Pom Klementieff). And since Gunn believed that Mantis worked better with the story, it was Warlock who had to go.
However, Gunn still has big plans for Him, telling Sciretta that Warlock "will be a part of the future Marvel cosmic universe and a pretty important part of that." While the director made it clear that Warlock won't appear in the upcoming Infinity War movie, producer Kevin Feige was a little less vague about the studio's plans for the character's future. Talking to io9's Germain Lussier, Feige said that, "[Adam Warlock's arrival] will not be until Guardians 3." In other words, it looks like Warlock will eventually join up with Star-Lord and Drax the Destroyer. But while we're waiting to see Warlock's eventual appearance, be sure to check out how all the characters from the first Guardians of the Galaxy movie should really look.