Who Actually Voiced Roger Rabbit?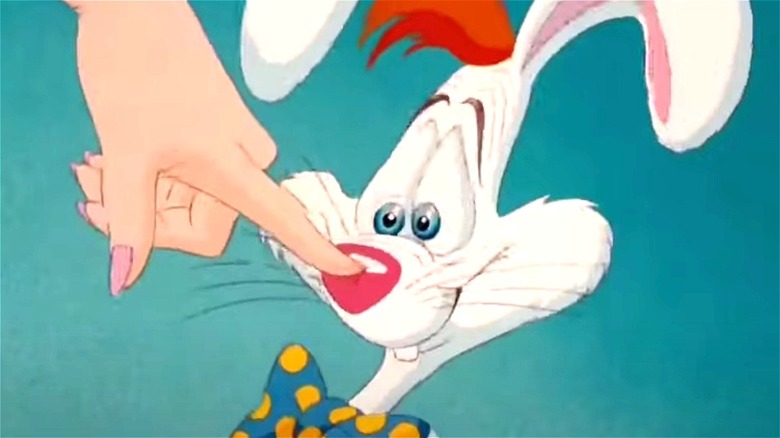 Disney
There is an extremely short list of iconic cartoon rabbits out there. But, barring the bodacious Bugs, Roger Rabbit might just stand as the top contender for the world's most famous illustrated bunny. The handsome hare first appeared in the Gary K. Wolf novel "Who Censored Roger Rabbit?" before gaining worldwide renown for the book's loose 1988 film adaptation, "Who Framed Roger Rabbit." The film, executive produced by Stephen Spielberg and directed by Robert Zemeckis, skyrocketed the titular character to the heights of fame. Before long, Roger became a beloved staple in Disney's catalogue of side characters.
Nevertheless, Roger's original animated appearance in 1988 remains his most well known, and while a lot can be said about that movie's impeccable direction, animation, and live-action elements, it's fair to say that Roger wouldn't be where he is today if it weren't for his iconic voice. It may not be as recognizable as Bug's nasally drawl, but in terms of sounding exactly the way a zany, out-of-sorts cartoon rabbit should, Roger's voice actor hits all the right marks. Without that voice, the character, and by extension the entire movie, would have suffered greatly for it.
And that begs the question: Who voiced Roger Rabbit?
Roger's most iconic voice actor is Charles Fleischer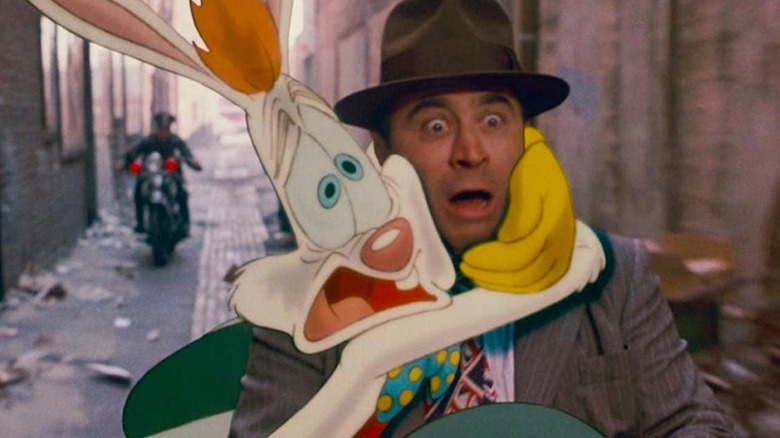 Disney
It's no major secret that the Roger fans know and love is voiced by actor and comedian Charles Fleischer. Prior to working on "Roger Rabbit," Fleischer was a frequent face as Chuck on the sitcom "Laverne & Shirley," and had a role in the very first "Nightmare on Elm Street" (via IMDb). However, these were live-action appearances, very different from the mixture of cartoon voice acting and live-action cinematography that occurred in "Roger Rabbit."
In fact, the filming process of "Roger Rabbit" was so unique that Fleischer and co-star Bob Hoskins developed a new kind of acting just to make it work. In an interview with Jay Leno, filmed shortly before the release of "Roger Rabbit," Fleischer explained this new acting method in detail. Oddly enough, it involved him wearing a bunny suit on set.
"[Hoskins said] 'What are you doing!? You're off camera! What are you wearing a rabbit suit for?'" Fleischer explained in his best Hoskins impersonation. "But two weeks later, he thanked me. Because we had to do a new style of acting. He had to act with empty space, where Roger would be drawn. I stood off camera wearing Roger's suit ... and watched whatever Bob did. So, if he lifted Roger by his ears, I'd have to react to that."
However, Fleischer isn't the only Roger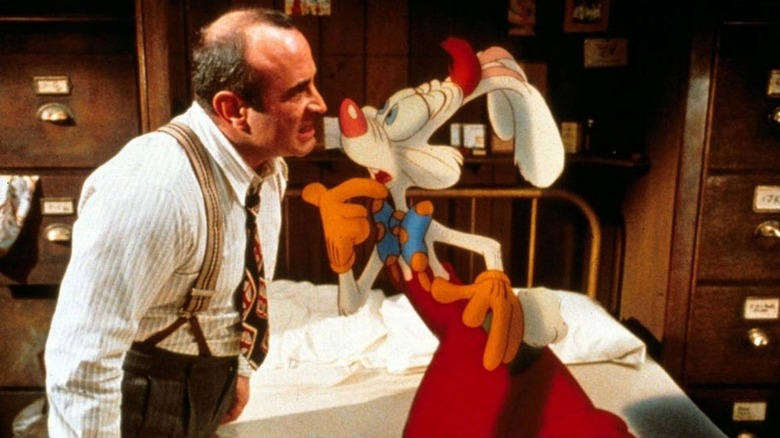 Disney
There's no doubt Fleischer is probably the first and only Roger Rabbit to many people. However, there has actually been more than one Roger Rabbit over the years. In fact, Fleischer wasn't even the first one. Test footage from the early days of the film's production feature Paul Reubens (A.K.A. Pee-Wee Herman) voicing the character. When "Who Framed Roger Rabbit?" was released, Fleischer would take over as the character's primary voice in most appearances.
Since the 1990s, however, Roger has mainly been voiced by voice actor Jess Harnell. According to Behind the Voice Actors, Harnell has handled Roger Rabbit's voice in most of the character's spin-off appearances. This includes the 1991 video game "Hare-raising Havoc," as well as various theme parks attractions such as "Roger Rabbit's Car Toon Spin." With all of his credits combined, Harnell has actually voiced Roger more times than Fleischer ever did.
Even so, it's hard to say that fans know Harnell's take better. Charles Fleischer is the one who developed the voice's eccentricities, right down to Roger's unique speech impediments. In fact, Fleischer once told Jay Leno that Roger was the closest character to his personality that he had ever played, which is one of the many reasons why it is a shame that "Who Framed Roger Rabbit?" never received a sequel.