Elijah Wood Reveals The Real Reason He Joined The Ted Bundy Film No Man Of God - Exclusive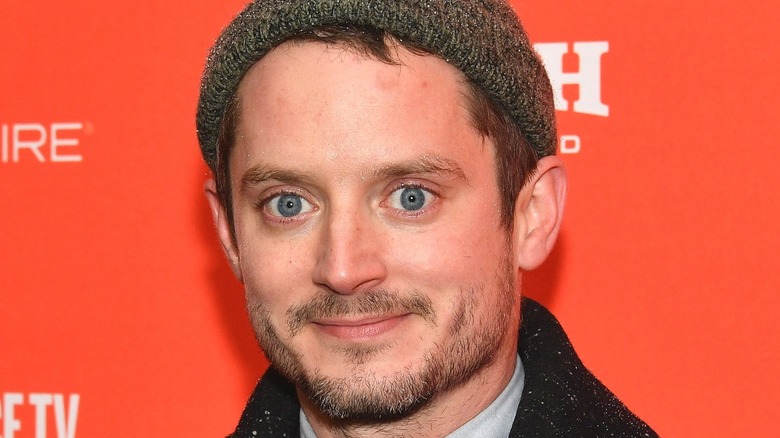 Dia Dipasupil/Getty Images
Elijah Wood has never shied away from making risky career moves. Even at a young age, the Iowa-born actor played challenging roles such as the doomed Mikey Carver in "The Ice Storm" or the son of a tormented Vietnam veteran in "The War." And of course, he spent four years of his life performing in and promoting Peter Jackson's historic adaptation of "The Lord of the Rings," in which the then barely-out-of-his-teens Wood carried the role of the epic's central protagonist, Frodo Baggins.
Even with the incredible mainstream success of the "Rings" trilogy, Wood has remained eclectic in his acting choices and other pursuits, the latter of which includes co-founding a genre film production company. That company, SpectreVision, is behind the movie in which Wood makes his latest — and in some ways most controversial — acting appearance: "No Man of God." In this latest film, Wood plays Bill Hagmaier, the real-life FBI profiler to whom serial killer Ted Bundy opened up about his crimes — the rape and murder of at least 30 women — during his final days on death row (via The Hollywood Reporter).
The list of films and books about Bundy and his notorious killing spree is disturbingly long, but Wood tells Looper that he wanted to tackle "No Man of God" because "it was a totally different approach" that seemed "vital and interesting and unique."
No Man of God does not focus on Bundy's crimes as he was committing them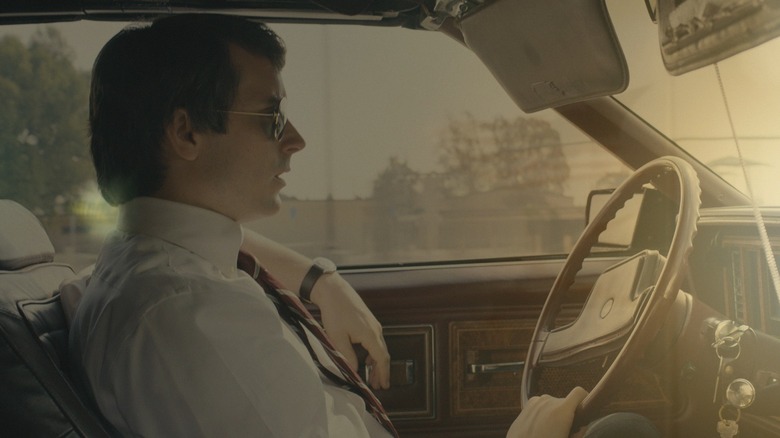 RLJE Films
"No Man of God," directed by Amber Sealey ("How to Cheat"), is set at Raiford Prison in Bradford County, Florida, where the imprisoned Bundy (Luke Kirby), awaiting execution, begins a series of conversations with Hagmaier that last for years. Over the span of their talks — many of which were recorded — Hagmaier eventually coaxes the defiant Bundy to confess to many of his alleged crimes, something the sociopathic killer had long resisted doing.
"It was a part of the Ted Bundy story that I just had not heard about," Wood said about his decision to both star in and produce the film. "I knew a fair amount about his incarcerated life on death row. Certainly, the [James] Dobson interview I'd seen many times before, but this relationship with FBI profiler Bill Hagmaier was not something I was familiar with. The script was predominantly based on transcripts and recollections of Bill's, so this degree of accuracy framed around these series of conversations was just really fascinating."
Wood is quick to note that he doesn't feel the film exploits or sensationalizes the sickening nature of Bundy's crimes in any way, primarily because it takes place long after they happened.
"It wasn't a Ted Bundy film in that it was depicting his exploits or sort of showcasing him in the height of his murderous rampage or the sort of person that was his own lawyer at his trial," he explains. "It was a totally different approach and a different story in the Ted Bundy experience that just seemed really interesting and fascinating and exciting. And also just that there was this relationship between these two people that was significant enough for Ted to have considered Bill his best friend at the end of his life, so much so that he willed his earthly possessions to him. It's just really interesting."
Why it was important to have a woman direct No Man of God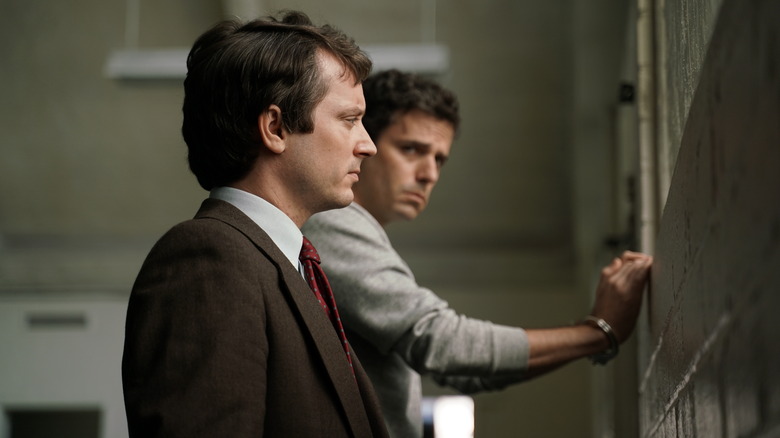 RLJE Films
As noted earlier, "No Man of God" is directed by Amber Sealey, whose 2017 film "No Light and No Land Anywhere" met with acclaim at both the Los Angeles and Cleveland International Film Festivals. Wood says that a woman's point of view behind the camera — combined with Sealey's unusual decision to show images throughout the film of women who seem to observe the events from afar — was key to setting this film apart from others about Bundy.
"It felt vital that a female direct this movie," Wood says. "This is obviously a very toxic male individual who wreaked havoc on many women's and families' lives ... We couldn't organically work in the voice of the victims specifically, but [Sealey] found really creative ways to include women in the context of the film that felt like it expressed an element of that, from the montages to these women that you sort of see on the periphery throughout the film that are kind of observing Ted and these men as they talk with a degree of judgment, which is really kind of interesting."
Ultimately, adds Wood, doing the film for him came down to the fact that it chronicles the twisted career of one of the most hideous killers in American history from an angle previously unexplored.
"I found the script so kind of eerie and terrifying actually," he notes. "Because in some ways, since it's devoid of any murder or any gore or physicality. It's really kind of down to its bare essence. Just the discussion around that sort of topic is incredibly eerie and disturbing. So it was all of those kinds of elements that make it seem sort of vital and interesting and unique."
"No Man of God" is now in theaters and on demand and digital.