Where Is Andy Dick Now?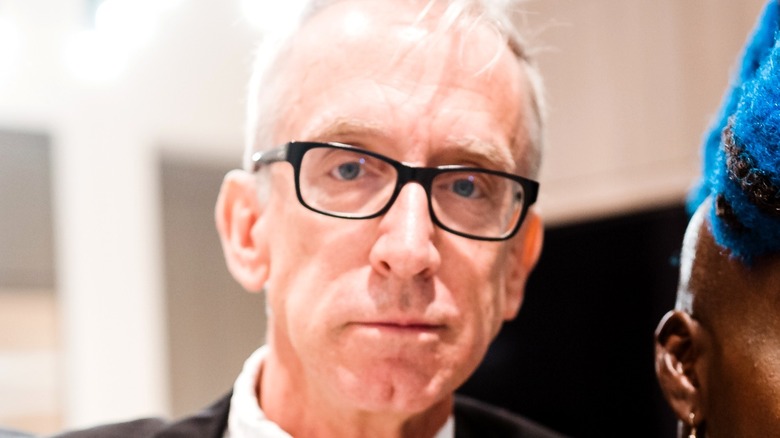 Greg Doherty/Getty Images for Jade Recovery
There was a time when Andy Dick was a regular mainstream presence. In fact, if you watch any slack comedy movie from the early-mid 2000s, there's a very good chance you'll find him cropping up in it somewhere. Known for his outlandish comedy style and distinctive characteristics, he managed to carve a niche for himself playing eccentric characters, mostly in supporting roles or cameo appearances. Regardless of his role, however, you could always rely on the comedian standing out in some way.
After some attention-grabbing performances in 1990s sketch comedy shows and sitcoms such as "The Ben Stiller Show," "NewsRadio," and "Less Than Perfect," he went on to appear in films like "Road Trip," "Zoolander," "Dr. Doolittle 2" and "Old School." Unfortunately, the actor's on-screen performances have mostly been overshadowed by his troubled personal life and infamous comedy roasts, which have seemingly derailed his acting career.
Whether it's his well-publicized brushes with the law, misconduct allegations, or controversial comments, Andy Dick is known for making headlines before disappearing from Hollywood. Unfortunately, his troubled personal life hasn't calmed down in recent times, either.
Andy Dick got into more trouble with the law recently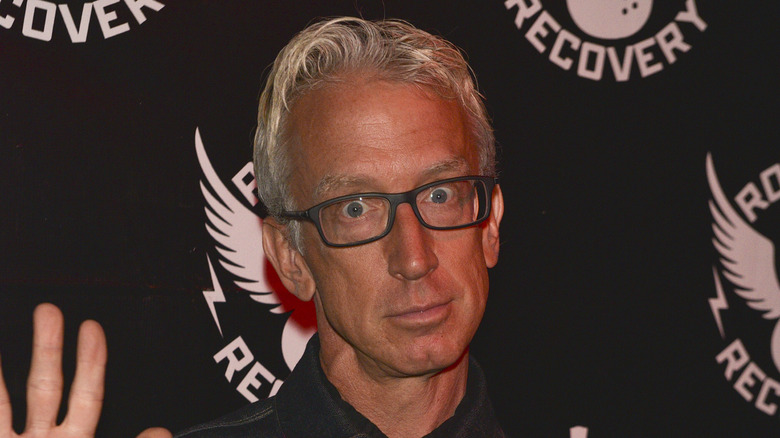 Michael Bezjian/Getty Images
According to Page Six and various other outlets, Andy Dick was arrested by the Los Angeles Police Department back in June after allegedly assaulting a man with a deadly weapon. He was released on bail a couple of days later after posting the $50,000 bail. 
Some further details about the incident have emerged since then. American radio personality (and Dick's ex-fiance) Elisa Jordana subsequently shared what she knew about the situation on her "Kermit and Friends" Youtube show, claiming that Dick assaulted the man with a chair and almost "killed" him. "I saw pictures, I saw video; it's not good," she said.
Jordana went on to say that Dick's behavior had been "getting worse and worse" in the lead-up to the incident, noting that he was prone to getting drunk and acting aggressively. According to Jordana, it was only a matter of time until he wound up in hot water again. "Every day there was some kind of problem. There were signs something was going to happen." It remains to be seen how Dick's latest legal woes will affect his career, but viewers can find him in some upcoming roles, should they decide to seek them out.
Andy Dick has some film and television projects in the works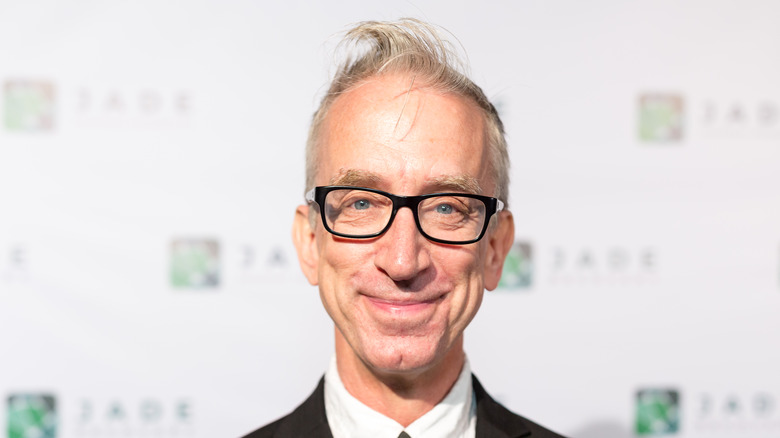 Greg Doherty/Getty Images
A scroll through IMDB reveals several projects on the horizon for Andy Dick, three of which are expected to be released in 2021. These included "Fun Howse," a sketch comedy series from rapper Flesh-and-Bone of Bone Thugs-and-Harmony fame. The actor will also star in "The Game Shoppe," which chronicles documentary filmmakers as they attempt to figure out why people no longer play video games with each other in person. On the movie front, he's set to appear in the comedy "The Wet Ones" as a character named The Bunny King.
Dick is also scheduled to dabble in some horror fare as he'll co-star alongside Eric Roberts and Mike Ferguson in "Alien Vampire Busters." This one is a small town-based story in which alien vampires, shady politicians and the locals will come to blows and determine the fate of the world. After that, Dick will swap vampires for lycanthropes, as he's set to appear in "Hollywood Werewolf," which tells the story of a teacher with a tendency to howl at the moon.
While there are other Dick projects in various stages of development, "Tiger Dick" arguably stands out as the most interesting. The series' synopsis describes it as a Joe Exotic (from "Tiger King") biopic that turns into a behind-the-scenes tale of Andy Dick trying to win his first Emmy. It seems that the comedian will be out to poke fun at himself with this project.