In Vin Diesel's Action Career, One Movie Stands Above The Rest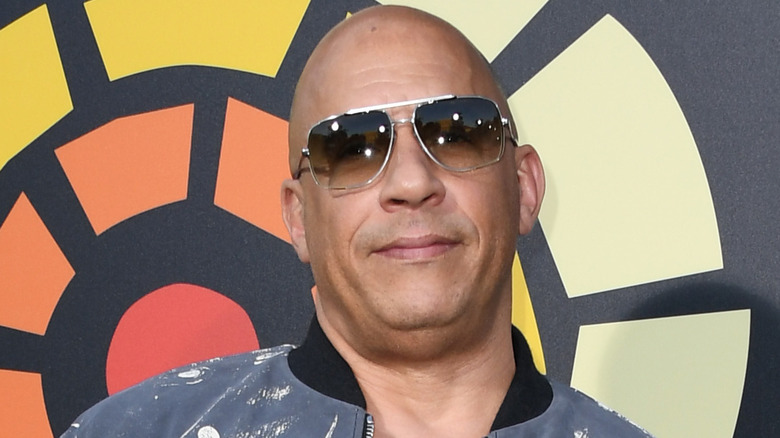 Jon Kopaloff/Getty Images
It's fair to say that in many ways, people don't give Vin Diesel enough credit. The California-born, New York City-raised actor is primarily known for his work in action films like the "Fast & Furious" franchise and the "Riddick" series (via Encyclopedia Britannica). However, Diesel is more than just an action figure in human form — he's got a serious artistic side that is directly responsible for his entry into the Hollywood sphere. He got his big break in Stephen Spielberg's "Saving Private Ryan" after Spielberg saw "Multi-Facial," a short film written, directed, produced, and starring Diesel about the struggles of being ambiguously ethnic while trying to make it as an actor. 
That being said, it's hard to ignore that Vin Diesel has found his comfort zone as an action star. He is living proof that even a tough guy can be sensitive, but that doesn't mean he has to play that role. His list of credits alone is evidence that Diesel doesn't mind being an action star. On top of that, it is something that he does very well. According to Yahoo, Diesel is the 13th highest-grossing actor in the world. This begs the question, over the 30+ flicks of Vin Diesel's action career, which movie stands above the rest?
In the end, you have to give it to Fast 5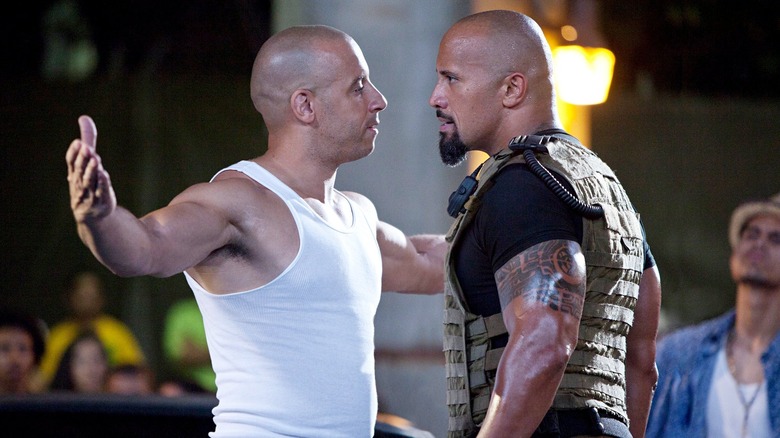 Universal Pictures
If the answer weren't one of the entries in the "Fast & Furious" franchise, it would be a travesty. While Diesel has had his hand in many excellent action series, there's no denying that the "Fast & Furious" series is his most notable. However, among the numerous entries in the franchise, "Fast Five" might just be the most important one. Not only does it stand as the second-highest rated film in the franchise on Rotten Tomatoes with an impressive 77% rating, it's also the one that truly marks the series' transition from a street-racing series to a non-stop action extravaganza. At its debut, ComingSoon.net even called the film the "best of the series." The result is a high-octane thrill ride worthy of any action fan's attention.
As the first film to fully break away from the series' racing roots, "Fast Five" exhibits some of the best of both old and new. Not only is Vin Diesel's Dominic Toretto right at home with mainstay series icons like Paul Walker and Jordana Brewster, but he rolls out the red carpet for Dwayne Johnson's Luke Hobbs with their intense rivalry. Simply for its cast, "Fast Five" stands as one of the best choices for fans who want to see a mix between classic "Fast & Furious" and the newer films.
It marks big changes for Diesel's character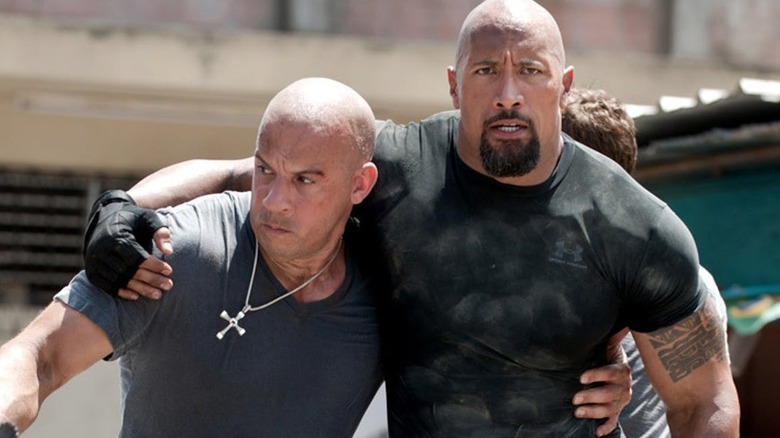 Universal Pictures
Part of why "Fast Five" stands as Vin Diesel's best action film is how the switch from racing to pure action as a focus changes his most iconic character. At the time of the film's release in 2011, Dominic Toretto was one of the two major faces of the franchise. He had built a reputation as a street racer extraordinaire. He was a criminal who only really took part in heists. They were huge, overdramatic heists, of course, but still only heists. And while heists still play a significant role in "Fast Five," this is the film where Dom indeed grows beyond being a burglar.
As a result of his dealings with Hobbs, Dom becomes the go-to guy called on by a senior operative of the Diplomatic Security Services. The U.S. government may not officially employ him, but he practically becomes an agent in other entries through Hobbs. "Fast Five" is where viewers see that transition truly take place.
On top of it all, the action is at Fast & Furious' peak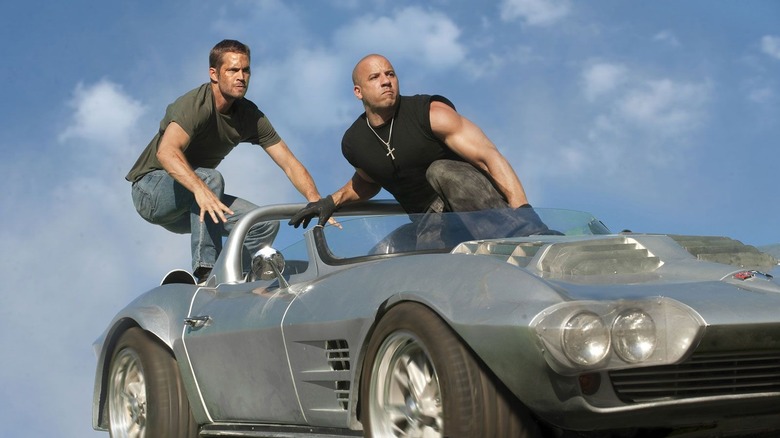 Universal Pictures
Of course, it would be a bad "Fast & Furious" film if the only thing that mattered was the characters and story. Indeed, the action sequences themselves are as intense as they'll ever be, perhaps the most riveting of the series. Some of the franchise's most iconic set pieces, such as Dom's team dragging a detached bank vault through a populated city on steel wires, occur in this entry. That particular incident, along with the film's opening train sequence, were both good enough to land among the series' most memorable car chases.
As the protagonist of this entry, Dom takes his rightful place in the spotlight of the action. If you're in the mood to watch Vin Diesel pull some of his most breathtakingly outrageous stunts — and to watch the franchise take things to the next level — you could do no better than "Fast Five."