The Science Fantasy Anime That Netflix Subscribers Can't Stop Binging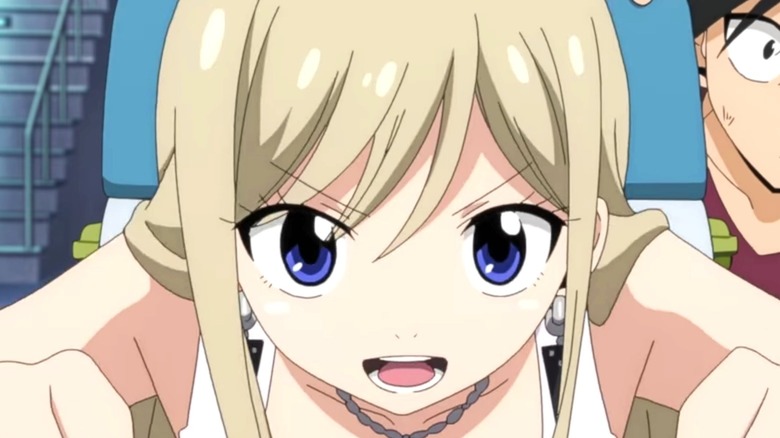 Netflix
It's an unfortunate stereotype that intense anime fans don't have many friends, but it's true that many people, far from all, who escape into their hobbies do so because of limited access to social interactions. It's a sad part of reality for many people, but it's also beautiful that the Internet has given us the ability to make friends all across the world who share the same special interests.
This appears to be a theme that "Edens Zero" touches on, a popular manga series by writer and illustrator Hiro Mashima ("A Couple of Cuckoos," "Fairy Tail") that recently made its debut on Netflix, which has exclusive streaming rights in the United States and many other countries outside Japan. The series follows protagonist Shiki Granbell (voiced by Takuma Terashima and Sean Chiplock) in his quest to make a hundred friends across the universe, including the "B-Cuber" (think YouTuber) Rebecca Bluegarden (voiced by Mikako Komatsu and Kira Buckland) and an adorable cat named Happy (voiced by Rie Kugimiya and Tia Ballard).
Edens Zero follows a lonely boy on his wholesome journey to make friends among machines
Following the at least surface-level happy-go-lucky attitude of some of Mashima's previous work, the series is full of hilarious events and cute, relatable characters. It begins with Rebecca and Happy visiting the Granbell Kingdom, an abandoned theme park where only robots live (no relation to the robot-operated theme park of "NieR: Automata"). There, they find Shiki, where after a series of wacky-yet-heartbreaking events, the robots rebel, forcing him and his first new friends to destroy them and set out across the galaxy in search of new friends.
The series appears to be full of characters who might play on common anime tropes, but often reveal something more profound from within, while also having tons of pun-based names. This includes the robot-killing robot (aka "anti-bot") E.M. Pino (voiced by Shiori Izawa and Sarah Anne Williams) and wise dual-aged man Weisz Steiner (voiced by Hiromichi Tezuka and Ray Chase in younger form and Brook Chalmers in his older form), who seems to exist simultaneously as his younger and older selves due to some time-travel shenanigans.
It's a rich cast of characters that fans of the manga have come to love, and with the anime now easily accessible for many audiences outside Japan with a Netflix subscription, it may reach a new level of popularity soon. If Shiki actually manages to make 100 friends, however, it'll be a lot of characters to keep track of!
The anime series' first 12 episodes came to Netflix on Thursday, August 26, with no official word on when future episodes will come to the platform.