Why Nancy From Vacation Friends Looks So Familiar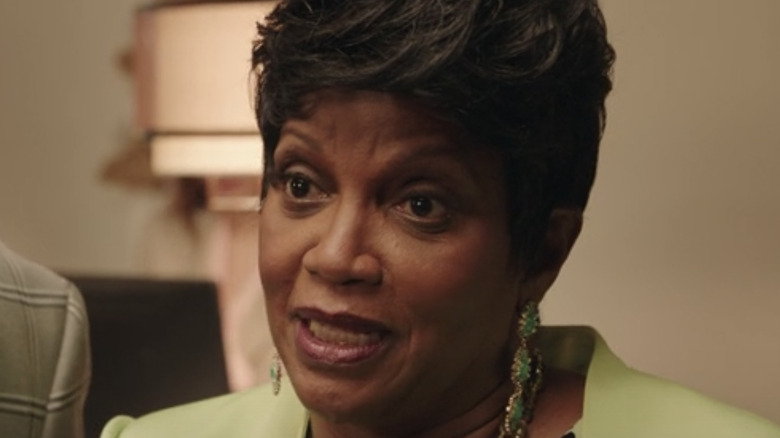 Hulu
Hulu's slate of original films is growing as the streamer continues to put out new original content. One of their latest projects is "Vacation Friends" — a buddy comedy starring John Cena, Lil Rel Howery, Yvonne Orji, and Meredith Hagner. The film follows Marcus (Howery) and Emily (Orji) — a longtime couple who travel to Mexico for a getaway. They meet Ron (Cena) and Kyla (Hagner) — a couple quite the opposite of themselves — but the group becomes unlikely friends and gets into some real shenanigans south of the border.
There are plenty of recognizable faces in the film, and you probably spotted some supporting characters from television series and movies you've seen before. You might even have taken a second glance at Nancy — Marcus's laidback mother, played by Anna Maria Horsford. If you're a fan of film or television, you probably have watched something in it with Horsford before. She started her career in 1977 and went from TV movies and sitcom one-offs to starring alongside some of the biggest names in the business. We've assembled Horsford's biggest credits to date, so you can pinpoint exactly where you know her from.
Anna Maria Horsford's late 80s and Early 90s roles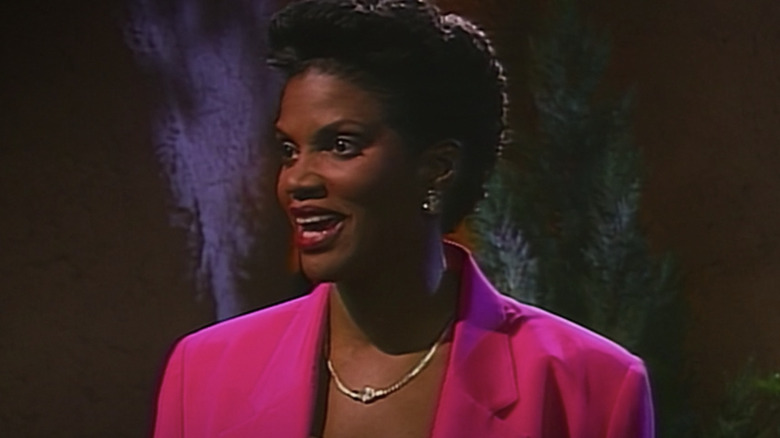 NBC
After appearing in minor roles in films like "The Fan," "St. Elmo's Fire," and "Crackers," Horsford got her big break in the sitcom "Amen." She played Thelma Frye, the daughter of Deacon Ernest Frye (Sherman Hemsley), for 110 episodes from 1986 to 1991. Thelma ends up marrying the church's young pastor, with whom her father doesn't always see eye to eye, and the pair welcomes a child in the series finale.
"The Fresh Prince of Bel-Air" fans might have recognized Horsford for her appearance in Season 2 Episode 16 ("Geoffrey Cleans Up") of the sitcom, where she played a wealthy toilet paper heiress — Karen Caruthers — who falls for Geoffrey. The actress went on to play Lainie Harris in the television series "Tall Hopes" and followed it up with a role on "Rythym & Blues," where she played Veronica Washington for 13 episodes. Horsford would go on to land a role in the made-for-TV movie "Baby Brokers," but she had no idea she was about to star in a cult-classic film that would catapult her career.
Anna Maria Horsford made it big in 1995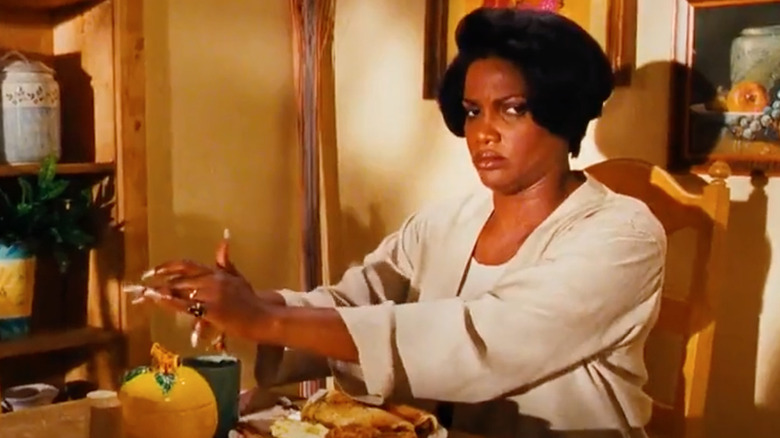 New Line Cinema
Many actors have a breakthrough year, and for Horsford, it was 1995. She nabbed the part of Mrs. Jones in "Friday" — portraying the mother of Chris Jones, played by Ice Cube. Thanks to the onscreen chemistry between Ice Cube and Chris Tucker, the film amassed quite the cult following. Horsford nailed her part as the hardworking mother and delivered one of the film's most iconic scenes when she shades her scantily clad neighbor, Ms. Parker. She would reprise the role of Mrs. Jones in the film's sequel, "Friday After Next" in 2002.
In 1995, Horsford also landed a role on "The Wayans Bros." where she played Dee Baxter for 80 episodes. Dee was a no-nonsense security guard who was close pals with Shawn and Marlon Wayans and their father, who was lovingly known as Pops. Behind "Amen," "The Wayans Bros." marks the second-longest run on a television series for Horsford, but it definitely wouldn't be her last on the small screen.
The early 2000s weren't too shabby for Anna Maria Horsford
Horsford found herself in some pretty notable projects spread throughout the 2000s. The first was "Nutty Professor II: The Klumps," where she played Denise's mother. She later starred in "Along Came a Spider" and "Jacked." One of her most notable credits from the 90s came in "How High," where she portrayed Mama King, the mother of Redman's Jamal King. Horsford also had a small role in the 2002 Tom Cruise hit, "Minority Report," which was followed up with a one-off on "The Bernie Mac Show" and a three-episode stint on "The District."
In 2004, Horsford met up with Method Man and Redman again for their short-lived FOX series, "Method & Red," where she played Dorthea. The actress also had a two-episode part on HBO hit "Entourage," playing Saigon's mother. Later in the decade, Horsford landed an eight-episode part on "The Shield," where she played ADA Beth Encardi from Season 4 to 7.
Anna Maria Horsford's work in the 2010's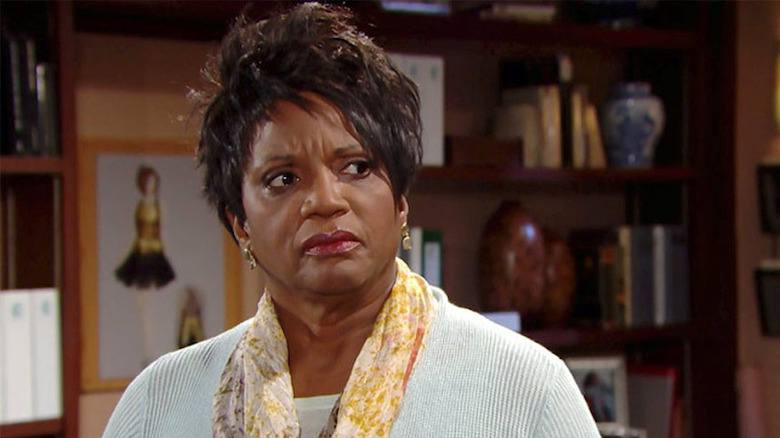 CBS
In 2013, Horsford played Eileen in Tyler Perry's "A Madea Christmas," marking the first time she worked with the mega-producer. She went on to have one-offs in some of the biggest television series at the time, including "The League, "It's Always Sunny in Philadelphia," and "New Girl."
Perhaps one of Horsford's biggest roles in the 2010s was Vivienne Avant on the daytime drama series "The Bold and the Beautiful." For 77 episodes, the actress played the mother of Maya and Nicole Avant and the wife of Julius Avant. She left the series in 2018 and has not been back to reprise her role since. After her time on the soap, Horsford stuck to more minor guest roles on popular series including "The Last O.G.," "Hacks," "The Conners," and "Pose." "Vacation Friends" marks the first movie role for the actress since "Single AF" in 2018, and it's certainly great to see her back in more significant projects where she gets to shine.