Fans Of Kevin Can F**k Himself Just Got The News They've Been Waiting For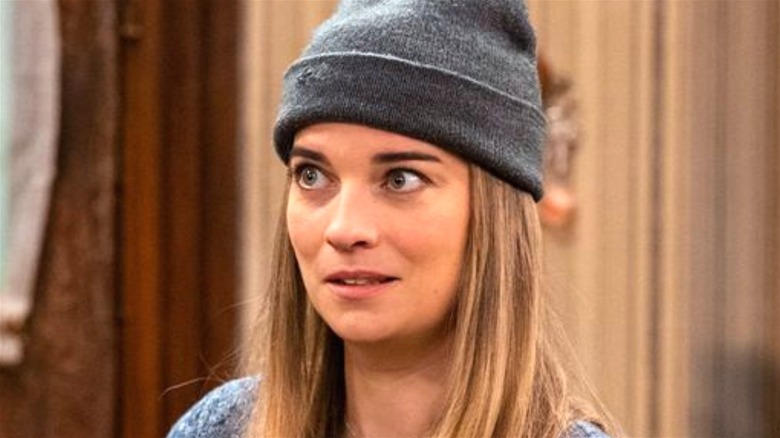 AMC
"The King of Queens." "The Honeymooners." "Family Guy."
What do these shows have in common other than being sitcoms? They all follow the adventures of a schlubby man who's inexplicably married to a gorgeous wife. And instead of worshipping the ground she walks on, the guys all see it fit to make her the butt of jokes. It's a typical sitcom trope, albeit one that's rooted in misogyny, and that's what made it so satisfying when AMC's "Kevin Can F**k Himself" came along. 
The title's a play on "Kevin Can Wait," which utilized a similar familial structure as the shows listed above. Portions of the show consist of your standard sitcom set-up where Allison McRoberts (Annie Murphy) finds herself constantly a source of scorn from her husband, Kevin (Eric Petersen). However, while those scenes have canned laughter and marketable jokes, the other half deals with Allison gradually losing touch with her sanity as she attempts to break out of the cycle of abuse she's found herself in. 
It's an ambitious dark comedy and precisely what the sitcom world needed in 2021. Fortunately, fans won't have to say goodbye to Kevin (or Allison) any time soon now that the network has renewed "Kevin Can F**k Himself" for a second season (via Deadline).
Season 2 of Kevin Can F**k Himself follows an incredibly strong first outing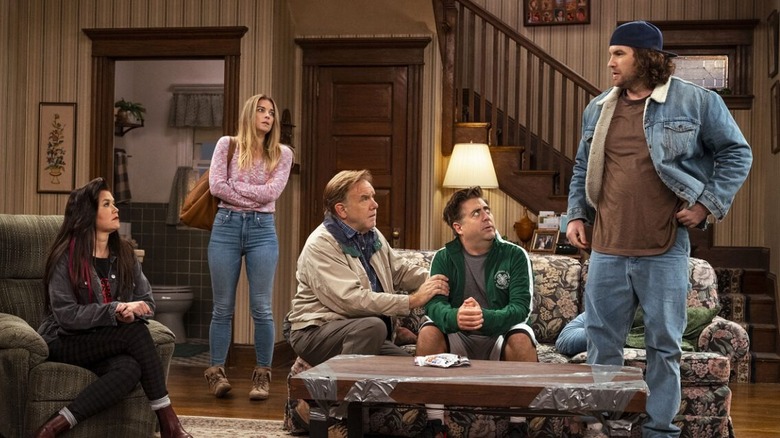 AMC
The Season 2 renewal for "Kevin Can F**k Himself" shouldn't come as a surprise to anyone who's seen it. Despite its blending of genres and unorthodox setup, the show was a massive hit with critics and audiences alike. The first season's currently Certified Fresh on Rotten Tomatoes, with much of the praise from critics directed toward Annie Murphy's stellar performance as a sitcom wife who's had enough.
In addition to strong reviews, "Kevin Can F**k Himself" was also one of the strongest performers on AMC and its new streaming platform — AMC+. Deadline reports that it was a "top acquisition driver" for the service, and it drew significant buzz across social media. When you bring all of those factors together, the only thing you can do is to renew.
AMC president of original programming, Dan McDermott, said of the renewal, "We are excited to see this talented team move from the finale's cliffhanger and continue Allison's journey, pushing the bounds of conventional storytelling every step of the way." That creative team behind the scenes includes directors Oz Rodriguez and Anna Dokoza and executive producers Rashida Jones, Will McCormack, Valerie Armstrong, and Craig DiGregorio.
No matter what's in store for Allison next, it's a safe bet things will only get even weirder from here on out.