Who Is Eleanor Kerrigan?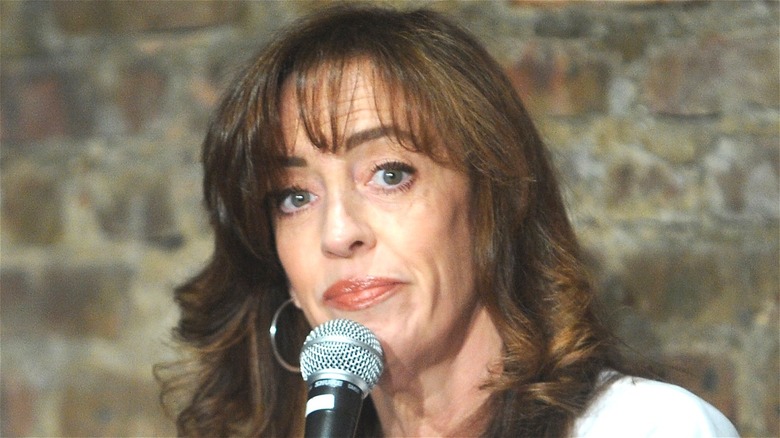 Bobby Bank/Getty Images
Anyone who tuned into the August 24, 2021 episode of "The Joe Rogan Experience" was in for a real treat. Rogan always manages to get an eclectic mix of guests onto his show, from philosophers to musicians, but on this particular episode, he got one of the funniest comedians working right now. Eleanor Kerrigan, who co-hosted "The Comedy Store" podcast until March 2020, stopped by for a nearly four-hour discussion where they covered everything from Stephen King novels to their favorite drinks. And you can bet your sweet bippy there were great jokes along the way.
Kerrigan's appearance was to promote her newest stand-up special — "Lady Like" — which came out on August 20. Much of her stand-up deals with her street-smart take on everyday life from the mundane to the political. She's not afraid to tell it like it is, and while many people may have been introduced to her on Rogan's podcast, she's been in the game for a while now. Here's everything to know about Eleanor Kerrigan.
She's acted for over two decades
Eleanor Kerrigan's career dates back over 20 years ago. She acted in various projects while working as a waitress at The Comedy Store. Surprisingly enough, she didn't grab a mic and get up on stage for quite a while despite being constantly surrounded by some of the best comics in the country. Instead, she bided her time and honed her talents on shows like "Women of Wrestling," where she played EZ Rider. Her resume also includes "The Brothers Garcia," "Entourage," and "Dice."
Eventually, she got into stand-up, and it's all thanks to one of her biggest fans — Andrew Dice Clay (via The Laugh Button). The comedian's often known for going too far, but that's precisely why his fans love him. He encouraged her to take the stage, and after several years of him pushing, she finally relented and started letting her opinion known to crowds of people. In addition to releasing a comedy album, she also recently starred in Comedy Central's "Bill Burr Presents: The Ringers." Her career was only made possible by Andrew Dice Clay, and their relationship went well beyond their work ...
She was briefly engaged to Andrew Dice Clay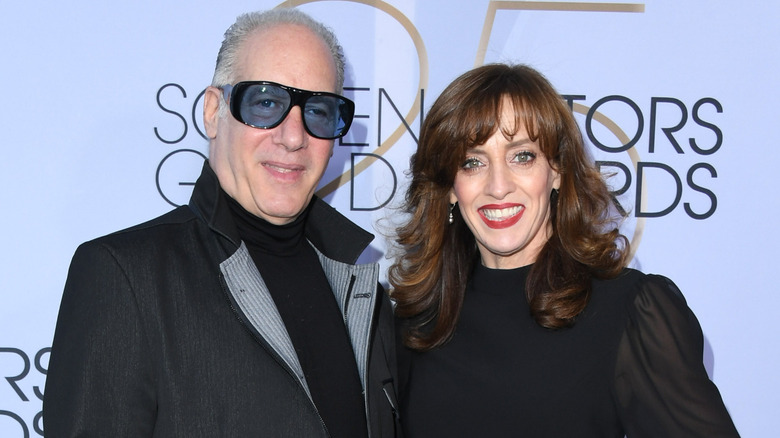 Jon Kopaloff/Getty Images
Eleanor Kerrigan and Andrew Dice Clay go way back. In addition to both being Comedy Store mainstays, they were also reportedly in a relationship together for eight years. Clay let the cat out of the bag in an interview with Rolling Stone in 2016 where he said, "And my ex-fiancée, Eleanor Kerrigan, who is in my opinion the strongest female stand-up comic in the country, we're friends. We went out for about eight years. We're friends for over 20 years. That girl would not stay with a sexist. She's from f***in' South Philly with 10 brothers and sisters. She don't take s***." It sounds as though even though the romance didn't work out, the two remained on good terms, and Kerrigan even starred in a 2017 episode of "Dice."
Kerrigan's been hustling throughout the 21st century, and she's just getting started. You can listen to her new comedy album, "Lady Like," on most audio streaming platforms. You can also go back and listen to her hang out and shoot the breeze with various comedians on "The Comedy Store" podcast. There's never been a better time to get familiar with such an immense talent.