Love Live! Nijigasaki High School Idol Club Season 2 - What We Know So Far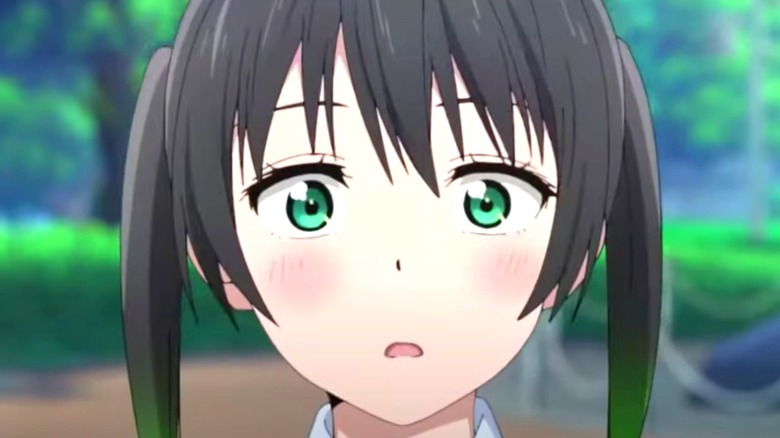 Kadokawa Corporation/Bandai Namco Arts
Few things in the anime world are as big as "Love Live!" Created in 2010 as a massive multimedia collaboration between animation studio Sunrise (working under the collective pseudonym Hajime Yatate), novelist Sakurako Kimino, music label Lantis, and ASCII Media works, "Love Live!" is a giant of a franchise. While also massively successful as a collection of real-world music groups (based on the ones from the anime), a series of rhythm games, and pretty much every other form of media out there, "Love Live!" is still primarily known for its anime.
Last year, the franchise wrapped up the first season of its third series, "Nijigasaki High School Idol Club." Starring 13 of Nijigasaki High's most talented school idols, the group's first season aired in fall 2020 and aired for 13 episodes. Now, a second season is well on the way (as if the recent release of a fourth anime series wasn't enough), and fans are clamoring for details regarding its release date, cast, and plot. With that in mind, here is what we know so far about "Love Live! Nijigasaki High School Idol Club" Season 2.
When will Season 2 of Nijigasaki High School Idol Club be released?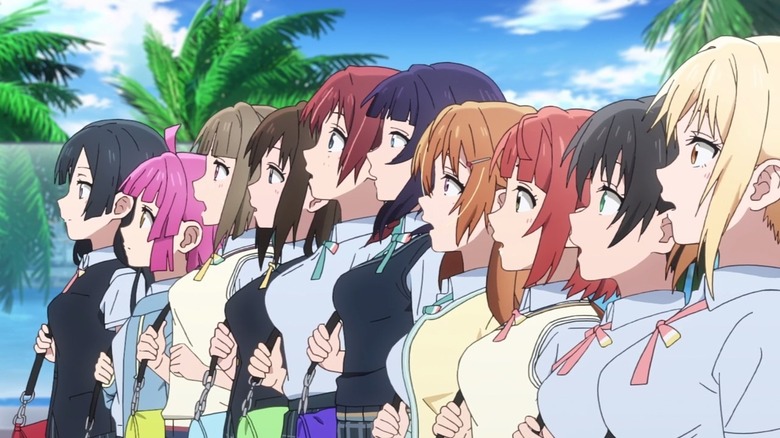 Kadokawa Corporation/Bandai Namco Arts
According to Anime News Network, the massive franchise announced the second season of "Nijigasaki High School Idol Club" on the second day of the anime's third live concert festival. The announcement gave an official release window sometime in 2022. Like the first season, it is expected to premiere on Japanese television and various streaming services, including YouTube.
Unfortunately, it's not clear if this release is exclusive to Japan. Funimation currently has the show's first season available with subtitles, but the creators behind "Love Live!" haven't given any specific indication as to whether international fans will have immediate access to Season 2. Given the series' popularity, it's almost certain to break through eventually. When that might happen, however, is being kept a mystery.
It's also difficult to determine exactly when in 2022 "Nijigasaki High School Idol Club" will be released. The debut of the first season came less than a month after its initial announcement (via Anime News Network). As a result, it's simply not a good comparison when narrowing down a more specific release date. For now, it seems that fans will have to plan for the worst and prepare for a release closer to the end of 2022 than the beginning.
Who are the characters in Nijigasaki High School Idol Club?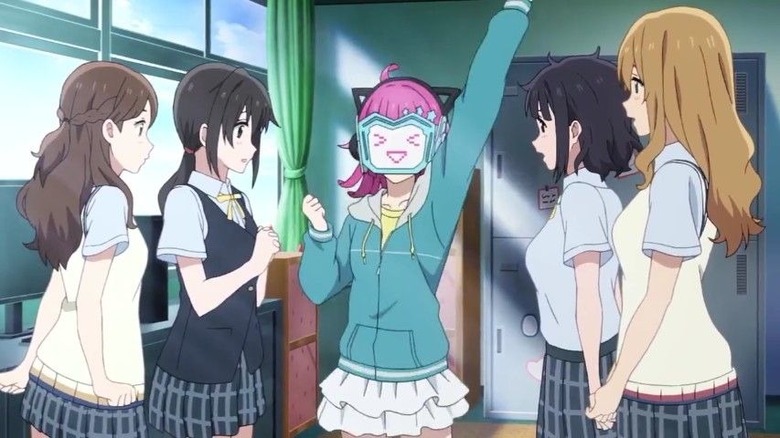 Kadokawa Corporation/Bandai Namco Arts
Like any "Love Live!" series, there's no shortage of main characters to choose. The whole franchise is devoted to creating a different fictional idol super-team for each series. Of the three groups that have existed, Nijigasaki High School's Idol Club is the most recent and has its fair share of unique characters apart from the rest of the franchise. Each character is designed with her own unique personality in mind and has a real world counterpart in her respective voice actress.
At the center of this anime is protagonist and group manager Yu Takasaki (Hinaki Yano), the manager and composer for the Nijigasaki Idol Club (via Love Live! Wiki). Of course, her efforts would mean nothing without the performances of the idol group itself. The original five members — developed for the mobile game, "Love Live! School Idol Festival ALL STARS" — are Setsuna Yuki (Tomori Kusunoki), Kasumi Nakasu (Mayu Sagara), Shizuku Osaka (Kaori Maeda), Kanata Konoe (Akari Kitou), and Emma Verde (Maria Sashide).
The remaining eight characters, including Yu, joined the group after it reformed for the anime. They are Ayumu Uehara (Aguri Oonishi), Karin Asaka (Miyu Kubota), Ai Miyashita (Natsumi Murakami), Rina Tennoji (Chiemi Tanaka), Shiroiko Mifune (Moeka Koizumi), Lanzhu Zhong (Akina Homoto), and Mia Taylor (Shu Uchida).
What is the story of Nijigasaki High School Idol Club?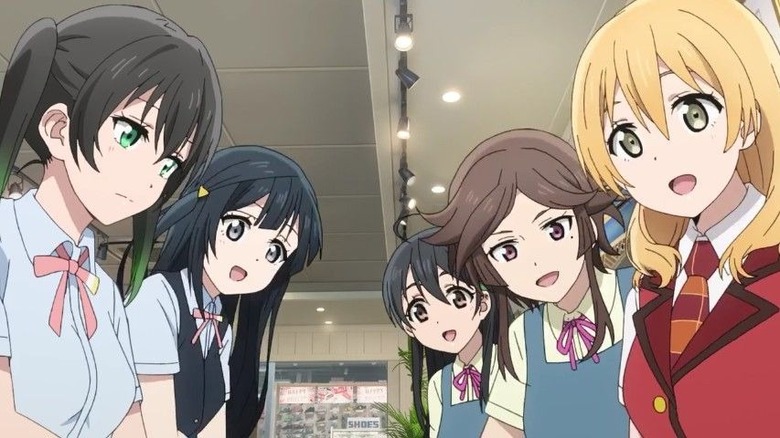 Kadokawa Corporation/Bandai Namco Arts
The last season of this entry in the "Love Live!" franchise ended with an appropriate bang. After the arduous process of restarting their high school idol group from the ground up, the girls finally get to put on one final, over-the-top concert featuring all of their talents and ending with an ode to their beloved manager, Yu. With nowhere to go but up, the future looks bright for the rising stars of the Nijigasaki Idol Club.
Furthermore, fans might already know where the group's idol career is going. After all, the first season of "Nijigasaki High School Idol Club" never really lived up to the namesake of the franchise. The "Love Live!" school idol tournament is a foundational part of the series' franchise. Both of the groups that preceded Nijigasaki's idol club, the μ's and Aquors, have won "Love Live!" in the past. Only this series' protagonists have abstained from participating.
However, that could change once Season 2 comes around. The "Love Live!" tournament is, in the simplest terms, big deal, and seeing the Nijigasaki girls do their thing for a shot at being considered one of history's best idol groups is an event many fans would relish. Of course, the "Love Live!" creators could always try and break the mold by keeping the Nijigasaki Idol Club apart from "Love Live!" Considering the franchise's history, however, that seems relatively unlikely.