Why Older Anthony From The Last Letter From Your Lover Looks So Familiar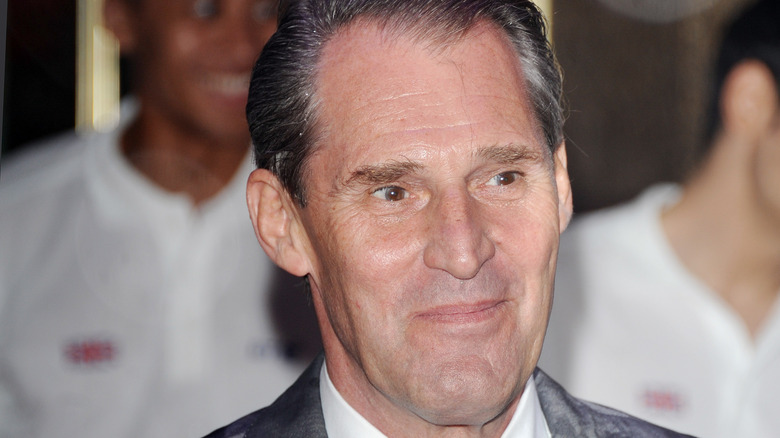 Stuart C. Wilson/Getty Images
It's always tricky when your film or television show requires you to portray the same person decades apart.
Not everybody has the kind of budget Martin Scorsese did for "The Irishman." Most productions have to do it the old-fashioned way: casting a couple of people who look kind of alike and hoping nobody has too much cause to complain about the likeness you've found for them.
In this sense, one imagines there's little room for complaints from the men of the new Netflix romance "The Last Letter From Your Lover." Callum Turner, who plays journalist Anthony O'Hare for the portion of the film that's set in the 1960s, and Ben Cross, who plays him as an older man in the present, are undoubtedly a good likeness for one another, sharing a certain narrowness of the eyes, and a similar prominence of the chin. While Turner is best known for playing Theseus Scamander in "Fantastic Beasts: The Crimes of Grindelwald" and Frank Churchill in "Emma," Cross' career stretches back decades, showcasing work both in Oscar-winning classics and big-budget blockbusters. 
Unfortunately, "The Last Letter From Your Lover" will prove to be one of Cross' final performances. He died in August of 2020, according to The Hollywood Reporter.
Ben Cross raced for gold in Chariots of Fire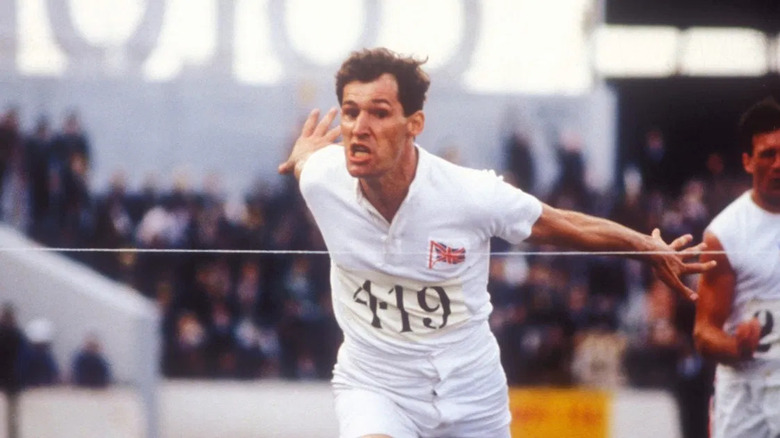 20th Century Fox
Like many British actors, Cross honed his craft on the stage, eventually joining the Royal Shakespeare Company. His first film role was a small part in the massive ensemble of the World War II epic "A Bridge Too Far," but he earned fame and accolades for his second part when he played Jewish sprinter Harold Abrahams in 1981's Best Picture-winning inspirational classic "Chariots of Fire."
Contrary to popular belief, "Chariots of Fire" is not just 124 minutes of dudes running on the beach while the film's composer Vangelis goes to town. It has a plot and everything, to which Cross' Abrahams is central. At the film's outset, he's a student at the University of Cambridge, where he develops a reputation as a promising runner, but is treated poorly by the anti-Semitic staff. After losing a race to the devout Scottish runner Eric Liddell (Ian Charleson), Abrahams takes up with the coach Sam Mussabini (Ian Holm) to improve his form, which is looked down upon as an affront to the gentlemanly spirit of amateur athletics. 
Abrahams and Liddell are eventually selected for the 1924 Olympics in Paris. Abrahams fails to medal in his favored 200 meters, but wins the 100 meters after Liddell refuses to participate, since some of the heats for the race are being held on Sunday when his faith forbids him from running. Instead, Liddell would go on to upset the favored American runners in the 400 meters.
"Chariots of Fire" is based on the true story of Abrahams and Liddell, who did actually win those events at the 1924 Olympics. Later in the decade, Cross would appear in an American Express commercial with one of the actual American runners his character is shown beating in the film.
He starred in a short-lived reboot of Dark Shadows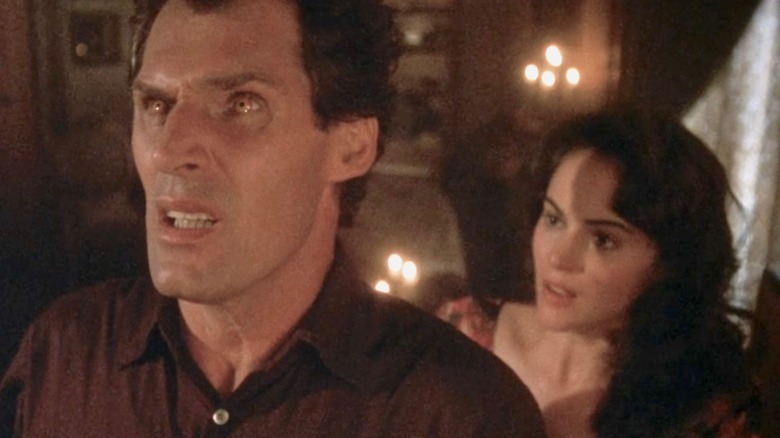 NBC
More than 20 years before Tim Burton and Johnny Depp revived the property on the big screen, Cross starred in a 1991 adaptation of the 1960s gothic soap opera "Dark Shadows."
In the series, Cross played the reawakened vampire Barnabas Collins, who attempts to keep his condition a secret, and perhaps find a cure for it, as he courts the governess Victoria Winters (Joanna Going). Victoria is eventually transported back in time to 1790, the year Barnabas was cursed with his vampirism. She learns his secret and finds herself accused of witchcraft but is returned to the present just before her execution in the Season 1 finale, which ended up being its final episode.
Chances are, if you read about a reboot of a 60s television classic that only lasted one season, then you're going to assume that's because no one ever watched it, but the story of this iteration of "Dark Shadows" is more complicated than that. The show was actually a massive hit in its first few episodes, which aired on consecutive nights as a miniseries, according to the Saturday Evening Post. A fluke of timing saw it launched just days before the outset of the Gulf War, coverage of which preempted many of the remaining episodes and made for a frustrating, disjointed viewing experience, causing numbers to drop.
Cross rebelled against the throne in First Knight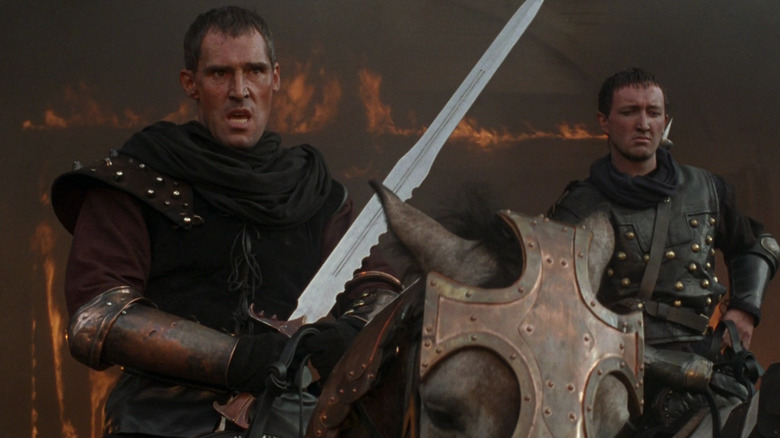 Sony Pictures Releasing
In 1995, Cross appeared in the medieval romance "First Knight" as the usurper Prince Malagant.
Maleagant, with the extra "e," is a traditional character from Arthurian legend, and you get no points for guessing that a character with a name like that is not one of the good guys. In "First Knight," Malagant is intent on overthrowing Arthur (Sean Connery) and claiming the throne as his own. Much of his plan in the early goings seems to revolve around kidnapping Arthur's betrothed, Guinevere (Julia Ormond), but he is thwarted more than once by the exploits of the wandering swordsman Lancelot (Richard Gere), whose heroics earn him Arthur's trust and a seat at the Round Table.
Chances are you know how this particular story proceeds from here, though "First Knight" takes pains to execute the love triangle as gently as possible. Guinevere rebuffs Lancelot's early advances, and as his loyalty for Arthur grows, so does his guilt over his love for her. He tells her he's leaving Camelot to get away from his feelings, and their parting kiss is discovered by Arthur. But here Malagant, of all people, saves the day, choosing the moment of the pair's trial for treason against the king to attack Camelot. Arthur is wounded in the battle, and so Lancelot duels Malagant and kills him, but not in time to save Arthur. As he dies, Arthur names Lancelot his heir, and gives he and Guinevere his blessing.
He played Spock's dad on Star Trek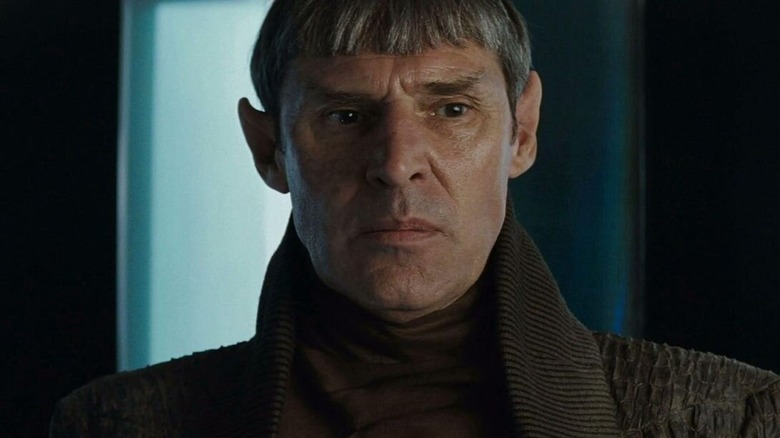 Paramount Pictures
In 2009, J.J. Abrams gave Cross a chance to show off his range, if not his emotions, when he cast him as the Vulcan Sarek, father of franchise cornerstone Spock (Zachary Quinto) for his 2009 timeline offshoot movie reboot of "Star Trek."
Sarek, not surprisingly, spends much of the film encouraging his half-human, half-Vulcan son to embrace the Vulcan side of his personality, encouraging him to walk the path of logic and rationality, preferring his son attend the Vulcan Science Academy rather than joining Starfleet. Sarek and Spock's human mother Amanda (Winona Ryder) are on Vulcan when the planet is attacked by the time-travelling Romulan villain Nero (Eric Bana). Spock and his crew's attempts to save them are only partially successful; Sarek escapes, but Amanda falls to her death as the planet is consumed by the artificial black hole Nero creates.
Sarek ultimately helps Spock come to terms with what Spock sees as the weakness of his emotions after Kirk provokes him into giving up command of the Enterprise. The elder Vulcan assures his son that all Vulcans feel such things at times, which allows the pair to bond over the love they each held for Amanda and their grief over the destruction of their planet.
Quinto shared his grief after Cross' death. CinemaBlend quotes the actor from a since-deleted Instagram post on the death of his one-time screen father: "He was always so incredibly thoughtful and generous and engaging. It being my first film I always felt considered and cared for by him in our scenes together. He was a real gentleman and a true talent."
Cross played Banshee's big bad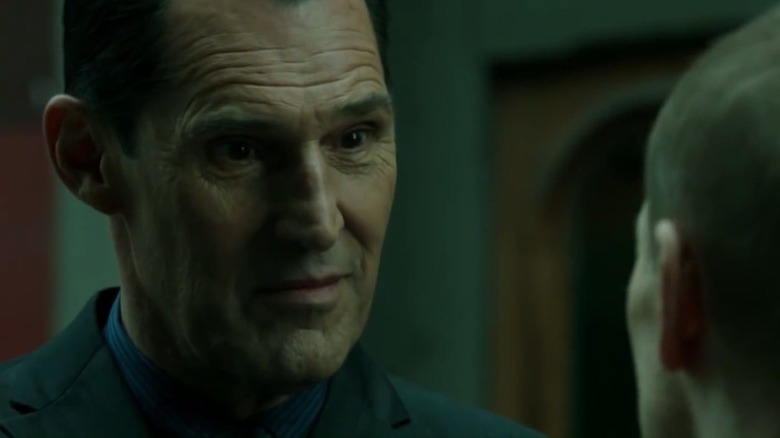 Cinemax
Cross got a chance to show his dark side again when landed the part of the Ukrainian gangster Rabbit in the Cinemax action crime series "Banshee."
It was while pulling a job for Rabbit that the show's protagonist, an unnamed criminal who adopts the identity of small-town sheriff Lucas Hood (Antony Starr), got arrested and locked away for 15 years. When he gets out, he goes searching for his accomplice, Ana (Ivana Milicevic), and the bag of diamonds she escaped with, locating them the small town of Banshee in Pennsylvania's Amish country.
Rabbit is looking for them too, partly because he wants his diamonds back and partly because Ana is his daughter. Even as Lucas and Ana find themselves more and more wrapped up in the local underworld in Banshee, the threat of Rabbit and his hired goons coming after them from New York remains present for much of the show's first two seasons, even after Ana shoots him in the Season 1 finale. He vanishes after the shooting, forcing the pair to spend much of the second season searching for him and fighting their way past the dangers he's concocted to hinder them.
Critics thought "Banshee" grew into itself as it went along, with the show receiving a mixed 66% on Rotten Tomatoes for its first season, but a much better 94% for the second, Cross' last on the show.