First Image Of Lady Gaga In Bradley Cooper's A Star Is Born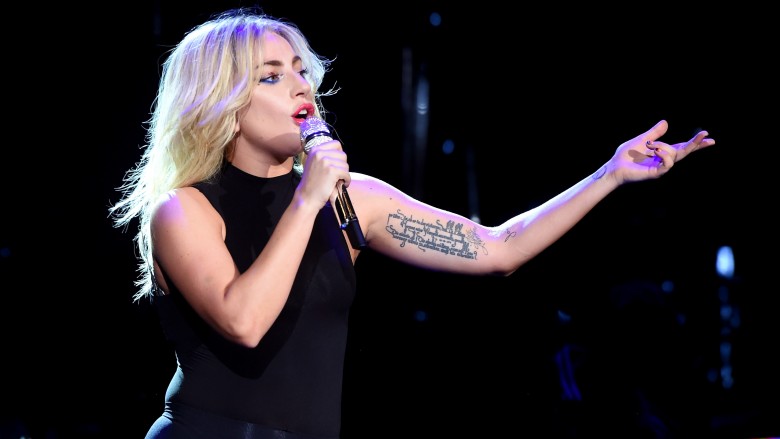 Getty Images
Since 1937, Hollywood has released three different versions of A Star Is Born, and now it looks like Warner Bros. is getting ready for a fourth remake.
The studio recently dropped an image (below) from their upcoming take on the story, showing Bradley Cooper and Lady Gaga (aka Stefani Germanotta) in action. It's a pretty intriguing glimpse at the new movie, especially since Gaga looks so different from the singer we're all familiar with.
Of course, her usual style probably wouldn't fly in this particular film, as A Star Is Born will focus on the mournful world of country music. According to the official synopsis (via Collider), Cooper will play a country musician named Jackson Maine "who is on the brink of decline when he discovers a talented unknown named Ally (Germanotta)." Naturally, the two fall in love, and Jackson eventually helps Ally achieve her musical dreams. However, as Ally becomes a superstar, "Jack finds it increasingly hard to handle his fading glory."
Gaga will write and perform her own songs, and Cooper will be pretty busy, too. Not only does he star in the film, but it will also mark his directorial debut. He also co-wrote the thing with Eric Roth and Will Fetters.
Sam Elliott and Andrew Dice Clay will also appear in the film, making this one of the weirdest casts in recent memory. Of course, that just makes us more excited to see Cooper's take on a classic story, one that's been told over the years with actors like Judy Garland, James Mason, Barbra Streisand, and Kris Kristofferson.
A Star Is Born is slated to hit theaters on September 28, 2018. While we're waiting for Cooper and Gaga to put on their Stetsons and cowboy boots, be sure to check out our list of movies you didn't know were remakes.