New Star Wars Comic Explains Captain Phasma's Force Awakens Escape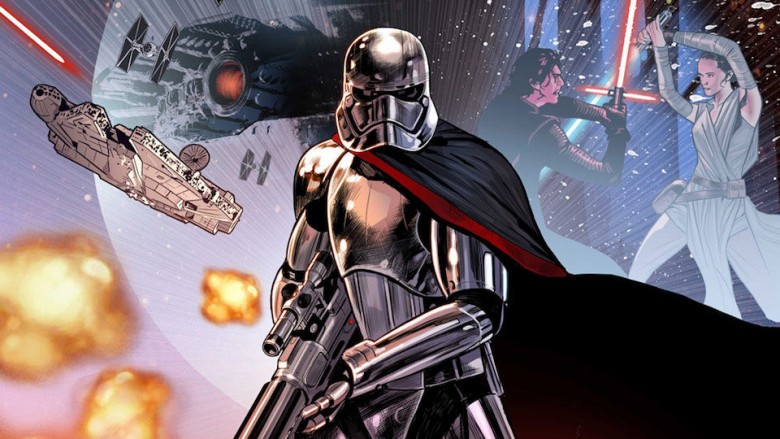 Marvel Entertainment/Paul Renaud
We'll finally find out what happened to the Imperial commander after The Force Awakens.
Marvel announced an upcoming comic centered around Captain Phasma, the menacing female Stormtrooper played by Gwendoline Christie in The Force Awakens. Though Phasma didn't actually do a whole lot in the movie, much to fans' disappointment, she'll kick things into high gear in her illustrated adaptation.
Simply entitled Captain Phasma, the miniseries bridges The Force Awakens with the upcoming The Last Jedi and explains how Phasma managed to wiggle her way out of the trash compactor and survive the Starkiller Base explosion.
The four-issue Captain Phasma series is slated for a September release. With a story from writer Kelly Thompson and artwork by Marco Checchetto, the comic series is a part of the Journey to Star Wars: The Last Jedi publishing program.
Speaking with StarWars.com, Thompson and Checchetto discussed their thoughts on revealing Phasma's fate and continuing her adventures. Thompson expressed her enthusiasm about working with comic co-creator Marco Checchetto, and admitted that she's a big fan of both Christie and Captain Phasma.
"It's exciting enough when someone lets you contribute to the Star Wars universe in any real way, but when they let you create the first ever Phasma story for comics? Well, that's about as good as it gets," Thompson said. "Like most, I'm a huge fan of both Gwendoline Christie and Phasma. Christie is magnetic, and Phasma has so much fascinating untapped potential... potential which I can't wait to help unlock for fans in our comic."
Checchetto echoed Thompson's statements, mentioning that he's "very excited to explore more of [Phasma]" and is eager to read the script and get started on the series. As a Force Awakens fan and someone who "obviously can't wait to see" The Last Jedi, Checchetto is "thrilled to be working on new characters" in the new era of Star Wars, especially Captain Phasma.
Captain Phasma is expected to hit shelves in September. In the meantime, read up on some of the best Star Wars comics ever written.