Mark Hamill And Harrison Ford Pose With Carrie Fisher's Daughter Billie Lourd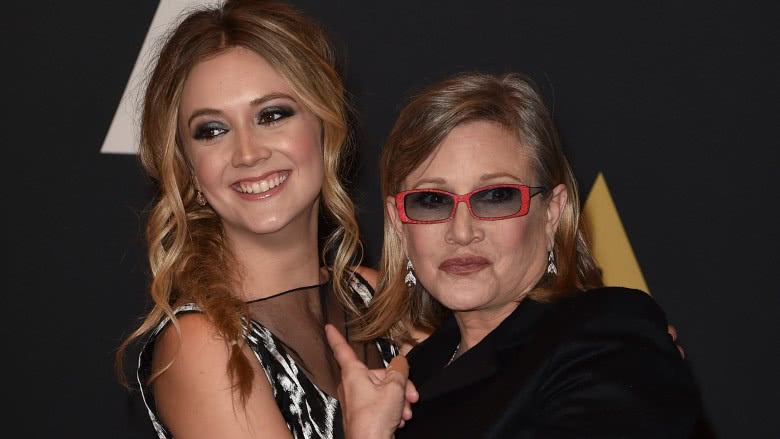 Getty Images
This year's annual Star Wars Celebration is a bittersweet one.
Lucasfilm will pay tribute to the late Carrie Fisher throughout the weekend, beginning with a poignant video montage that screened during the star-studded "40 Years of Star Wars" panel on Thursday. But there was also a surprise guest at the event: Fisher's daughter Billie Lourd.
George Lucas and Kathleen Kennedy welcomed Lourd to the stage during the live-streamed event, where the 24-year-old actress spoke about her mother.
"My mom used to say she never knew where Princess Leia ended and Carrie Fisher began. She went from being an unknown actress, the daughter of Debbie Reynolds and Eddie Fisher, to Princess Leia," Lourd told the crowd, who gave her a standing ovation. "My mom, like Leia, was never afraid to speak her mind... She loved you. She loved these movies. And she loved this force called Leia."
Lourd stood in for her mother in photos of the cast, and Fisher's longtime Star Wars co-stars Mark Hamill and Harrison Ford managed to meet up with her backstage. Hamill shared a photo with a heartfelt caption on Twitter.



So much like her mother in so many ways- it was almost as if we were cuddling our Princess again! #BillieLourd #DejaVuAllOverAgain #SWCO pic.twitter.com/Rhb1siaYbj


— Mark Hamill (@HamillHimself) April 14, 2017
Fisher passed away on Dec. 27, 2017 at the age of 60. She had been hospitalized after suffering a heart attack just a few days earlier.
George Lucas paid his respects during the tribute, struggling to hold back tears. "She was that character; very bold, very smart, very tough," he said. "She wore a dress through the whole thing, but she was the toughest one in the group. She'll always be the princess who took command and never backed down."
Watch the tribute video below, and follow the rest of the event with the official live stream.