Why Nicholas Brody From Homeland Looked So Familiar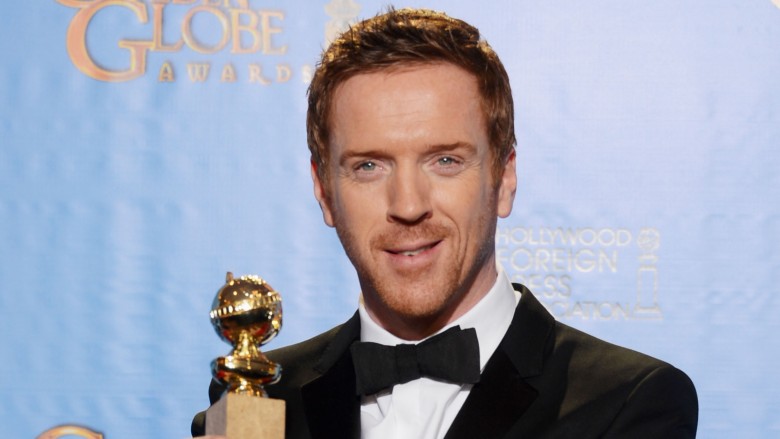 Getty Images
Playing the tortured soldier Nicholas Brody on Homeland launched Damian Lewis into a new level of fame in his career. But before the Showtime show came along, Lewis wasn't exactly a struggling actor. From regular roles on the BBC to starring in a Steven Spielberg-produced series, our favorite redheaded terrorist has been in the business a long time. Here's a glimpse at his fruitful career and you'll probably realize you saw him more than once long before his Homeland debut.
Rik Mayall Presents Micky Love (1993)
Damian Lewis' first role on television was similar to the first role of many young actors–it was small. Rik Mayall Presents was a series of three dramedy films for the BBC that all starred Rik Mayall of The Young Ones and Drop Dead Fred fame. This series let Mayall play a range of serious roles, a big departure from his typically crazed comedies. Lewis got his big BBC debut as Clive in the first episode, "Micky Love." As Clive, Lewis got to whisper a rumor, say about a line of dialogue, and pick up and hand off film canisters. Sure, it may not have showcased a great deal of the actor's range, but everybody's gotta start somewhere.
Agatha Christie's Poirot (1995)
For his second BBC appearance, Lewis had a bit of a meatier role on an episode of Agatha Christie's Poirot. In "Hickory Dickory Dock" Lewis got the chance to play a young medical student in the '30s, Leonard Bateson, in the adaptation of the famous mystery writer's work. Lewis is not the murder, nor does he get murdered. But he does get to be a little snippy to Poirot and give out necessary plot information. Plus, Lewis gets to sit through not one, but two long Poirot speeches about who committed the crimes. It's hard to even see a glimpse of Nicholas Brody in this early performance, which makes his eventual role all the more impressive.
Robinson Crusoe (1997)
Originally intended as a Hallmark film, this adaptation of the classic Daniel Defoe tale got an extra push when the lead, Pierce Brosnan, suddenly became James Bond. Though the movie was filmed in 1994, the studio behind it held out for a bigger release to capitalize on Brosnan's new superstar status. Sadly, the film never had a theatrical release in America, had a very small international opening, and wound up on TV in the U.S. in 2001.
Lewis plays Crusoe's former friend, Patrick Connor, who now plans to marry Crusoe's childhood love. Spoilers: Lewis dies right away this time. About two minutes into the movie, Crusoe and Connor begin their duel with Lewis feverishly fighting for his wife. Though Crusoe tries to walk away, Connor rushes him and runs right into Crusoe's sword. Here, Lewis gets a pretty good death scene full of shocked looks and full body tremors before succumbing to his fate. Also, if you really wanted to see Lewis with a messy ponytail, you're in luck because Lewis is almost all hair in this role.
Hearts and Bones (2000-2001)
After appearing in a few more BBC movies and television roles, Lewis landed his first series with Hearts and Bones. A drama about a group of friends moving to London, Lewis starred as Mark, the loyal fiance of Emma. Unfortunately, Emma's more interested in sleeping with Mark's brother than putting his ring on her finger. The series ran for two years and 14 episodes and garnered mixed to favorable reviews. Though Hearts and Bones isn't the most memorable British drama, it's now most notable for having the very first screen appearance of Michael Fassbender. It's a pretty good debut, since his first moments involve him sexily taking off a motorcycle helmet while all the women around him stare with mouths agape at his beauty.
Band of Brothers (2001)
The epic World War II series from HBO, Tom Hanks, and Steven Spielberg, Band of Brothers was universally loved and introduced America to Damian Lewis. Playing Major Dick Winters, Lewis was the clear lead and the force holding the soldiers and the series itself. On the Ross Owen Show, Lewis described the unusual audition process. Instead of reading for any one particular part as he'd usually do on a first audition, Band of Brothers casting just brought in tons of guys, had them all read anything from the script, then slowly started to put the brigade together. Lewis likened it to assembling a soccer team rather than a TV cast. Though this project was on a much bigger scale than anything Lewis had done, he nailed it immediately. In the interview, Lewis said that co-producer Tony To told him years later that, "On your very first reading, I knew you were the guy."
But Lewis didn't realize how important his character would be. He told Ross Owens that he went from a BBC series on a Friday to boot camp on Monday. Right away, he realized the actors weren't there to play around. People didn't want to break character and the work was much more intense than he imagined, but he dove in. "We oddly became these guys. If there had been a psychologist present ... I tell you, they'd have had us on their couch for the next two years trying to shake it out of us. It was very, very, very profound and extraordinarily bonding."
Confessions of a Diary Secretary (2007)
Back across the pond, Lewis appeared as Prime Minister Tony Blair in Confessions of a Diary Secretary. Not quite the finest of dramas, according to the The Guardian: "John Prescott demeaned himself and his career by conducting a two-year affair with Tracey Temple, the diary secretary in his Whitehall private office. Last night ITV went one better, and demeaned us all by transmitting 90 wearisome minutes of what the advance publicity optimistically described as a 'saucy' dramatisation of this momentous event." Though the review is far from glowing, it does give you a chance to see Lewis tackle the role of the young and hopeful prime minister. Perhaps Lewis and Michael Sheen will get to do a "Blair-off" on a late-night show in the near future.
Life (2007-2009)
Lewis returned to U.S. televisions with his starring role in the NBC crime drama Life. Playing a cop, Charlie Crews, who just got out of jail after be wrongfully accused, now he has a lot of lawsuit money and a desire to return to police work. The show show ran for two seasons and mostly dealt with Crews trying to solve the murder that imprisoned him and find out why he was framed. The reviews were favorable, and it got Lewis back on America's radar.
The show debuted with over 10 million people watching, though its audience shrank every week and leveled out at 5 million. NBC reduced the episode order, but did try out another season, mostly because the writers strike at the time left a lot of projects in limbo. Sadly, the second season didn't fare much better. Lewis wasn't ready to hit American TV gold.
Your Highness (2011)
Lewis wanted to try the waters of comedy again and appeared in the medieval stoner fantasy Your Highness. He plays Boremont, a knight who takes a villainous turn against James Franco's Fabious. In an interview, Lewis describes the film as a "very silly movie," and though he seemed to enjoy the cast, he seems slightly less enthusiastic about this role than some of his previous prestigious films. Since Lewis was much more excited to talk about soccer than the actual picture, it might not be one of his all time favorites, as also evidenced by his look of "everyone please quit laughing so we can all go home" in the movie's blooper reel.
After Homeland
Though Homeland is still on the air, we all know by now that Nicholas Brody is no longer with us. Since his Emmy- and Golden Globe-winning turn on the series, Lewis has gone on to star in even more prestigious works on television. Going back to his period piece roots, he played Henry VIII in Wolf Hall and received more award nominations for his performance. Now Lewis is back at Showtime leading Billions. Given that Lewis has had a varied and plentiful career before the awards of Homeland, it's safe to say he'll only go on to more fantastic work.