Small Details In Mad Men Only True Fans Understood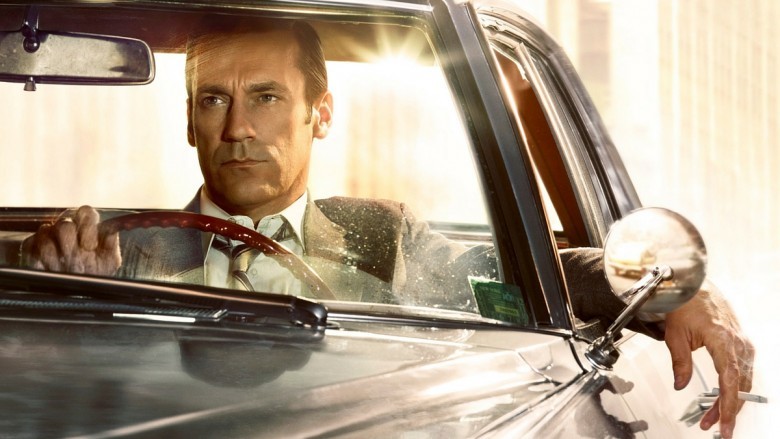 From costume and set design subtleties to ensuring that the china on a dining table is era-appropriate, AMC's acclaimed hit Mad Men had an incredible attention to detail—which also meant the series was full of nuances that only the most observant fans would pick up on. Here's a look back at some of the many little things you might not have noticed the first time around.
The movie callbacks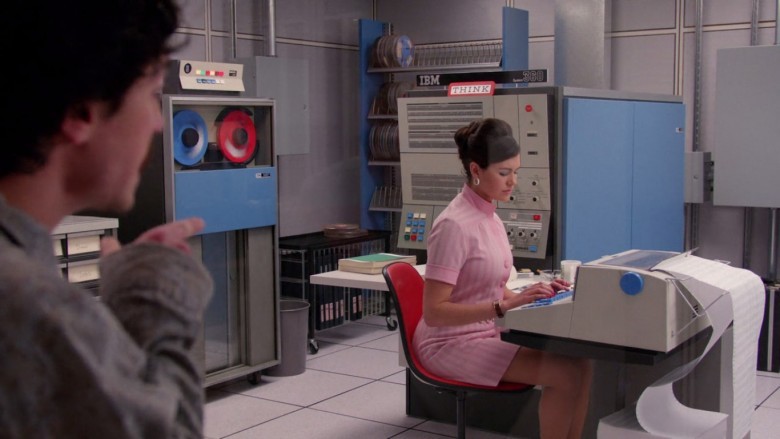 Throughout the show, there were a ton of allusions to famous films—even ones released after the show's '60s setting. The 1951 flick The Day the Earth Stood Still showed up in one blink-and-you'll-miss-it clip, and Rosemary's Baby was reenacted when Peggy (Elisabeth Moss), Joan (Christina Hendricks), and Ted (Kevin Rahm) pitched to St. Joseph's Hospital. Stanley Kubrick earned a double-dose nod: his adaptation of Stephen King's The Shining got a hat tip when Ellery (puffy hair, collared shirt, and stiff overalls looking eerily similar to Danny Torrance's) visited the offices, and 2001: A Space Odyssey had its moment in the sun after Sterling Cooper got a shiny new IBM 360 computer and the entire SC&P crew (save for Michael Ginsberg) all but pressed their faces to the glass and marveled at the beautiful, buzzing behemoth. And of course, there's Bye Bye Birdie, the song-and-dance basis for season 3's Patio Diet Cola ad campaign.
Films are a grand affair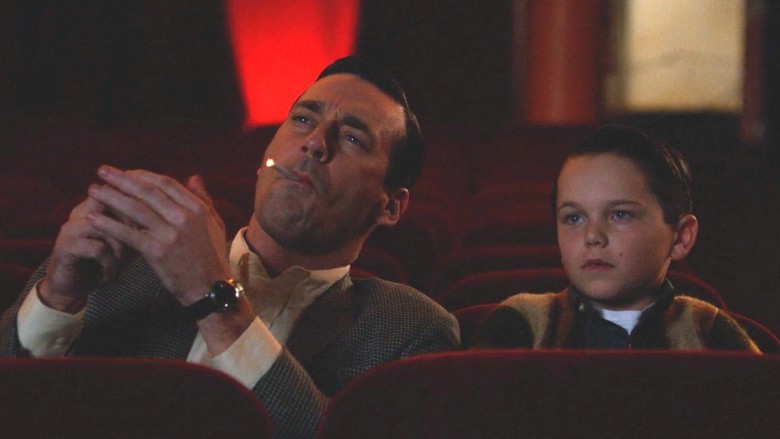 Don Draper (Jon Hamm) isn't just ad man with a plan, he's also an avid moviegoer, sneaking off to the cinema to escape the hustle and bustle that so often consumes the Sterling Cooper offices. In season four's "The Good News," Don and his confidant in crime Lane Pryce (Jared Harris) decide to play hooky for the work day, down a few drinks, and buy two tickets to The Umbrellas of Cherbourg, the 1964 Jacques Demy-directed musical. However, the slightly tipsy pair actually end up seeing the tokusatsu (the catchall Japanese term for "special effects") classic Gamera. On his own, Mr. Draper catches the Italian drama flick La Notte in season 2 and Model Shop, which is, ironically, the follow-up to The Umbrellas of Cherbourg, in season 7. Snuggled up at home, Don also reflects on his past while watching the drippy drama Lost Horizon.
Bobby Draper (Mason Vale Cotton) is also bitten by the film-loving bug, with his love for monster movies swelling after a father-son outing to see Planet of the Apes. The youngster is so shocked by the ending (only muttering a stunned "Jesus" as the credits roll), he sits for a second subsequent viewing. Later in the series, Bobby asks his mother Betty (January Jones) to accompany him on a school field trip. During their bus ride, in an effort to form a stronger bond with one another, the two (at least try to) dish on their favorite things. "There's basically Frankenstein, Dracula, Wolf Man, the Mummy and the Creature from the Black Lagoon," Bobby spills. "There's also King Kong, too, but he's not really a monster. I like all of them, but I guess Wolf Man's my favorite because he changes into it." The film-loving genes are strong with the Drapers.
Don's a superhero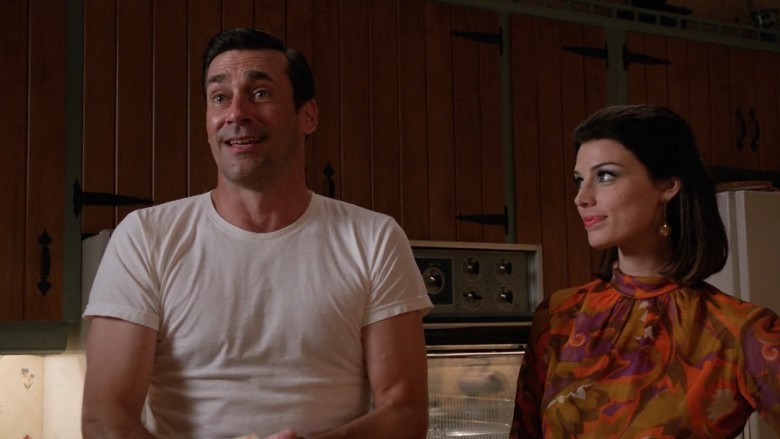 It's a bird, it's a plane, it's... Don Draper? Our dapper leading man is compared to Superman and his bespectacled alter ego quite often throughout the show's run. Crisp black slacks offset with a crinkled white undershirt screams "Don Draper is Clark Kent," and with the double life looming in his checkered past, there's another strong parallel to the Kryptonian Kal-El. Even Mark Waid, the author behind the refreshed Man of Steel backstory in 2003's Superman: Birthright comic, backed up the claims. "You want parallels? Both Superman and Don Draper crumble when the world no longer needs them," Waid tweeted in 2015. "They both hide behind secret identities... Both Superman and Don Draper have impossibly complex relationships with women. But most of all, neither of them is fully integrated into one identity, and thus they will never be whole and complete... Both Superman and Don are loved not for who they are but for what they can do. Tell me THAT won't leave a man cold."
And it's not for nothing; the references come to a glaring head in season 5, episode 4. The drinks aren't the only things on the rocks at the Campbells' dinner party in "Signal 30"—Pete and Trudy's marriage is starting to lose its moorings too. Add in a faulty faucet, and the evening appears to be crumbling before their eyes. But never fear, Don's here. Swooping in to wiggle himself under the sink cabinets, he patches up the pipe and emerges relatively unscathed. (A soaked shirt is negligible in this case.) Taken aback by Don's undeniable physical similarity to Metropolis's marvel and dazzled by his effortless heroism, Cynthia Cosgrove (Larisa Oleynik) squeals, "Look, it's Superman!" All Don's missing is the red cape.
What's in a name?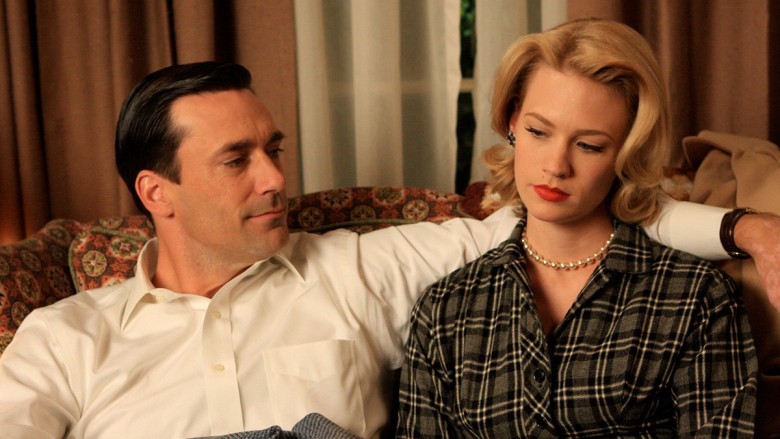 The icy blonde Betty racked up quite a few monikers in her day. Born Elizabeth Hofstadt, friends and family called her "Betty" or "Betts," and her first beau, Don, gave her the pet name "Birdie." Of course, she nabbed his surname in the marriage and officially became Elizabeth Hofstadt Draper in pre-Mad Men 1953. But the marital bliss soon faded, and then ultimately blew to bits in season four's 1964. Thankfully for the beautiful Birdie, she found a solid life partner in Henry Francis (Christopher Stanley). When she weds the gentle-natured political advisor, she becomes Betty Hofstadt Francis, a last name that sounds oddly familiar. Where have we heard Francis before? That's right, smack in the middle of Don's stolen title: Donald Francis Draper. You can never really shake your first love, can you?
The '60s are in full swing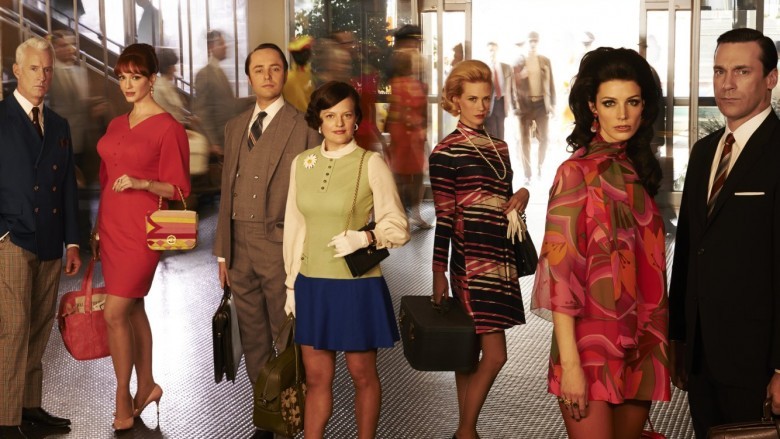 In fact, Betty's not the only one whose name bears a significance. A handful of the series' major players reference '60s icons, some more shocking than others. First there's the maddest man of all, Don Draper, a clear nod to Draper Daniels. Like Don himself, Daniels was a maverick of the advertising world, heading up the Leo Burnett agency in Chicago and taking on massive campaigns, the most notable of which included the Marlboro Man. And as mentioned in an essay written by the woman who married Daniels, Mad Men creator Matthew Weiner "based his protagonist Don Draper in part on Draper Daniels, whom he called 'one of the great copy guys.'"
Likewise, Paul Kinsey (Michael Gladis) shares a last name with well-known researcher and sexologist Alfred Kinsey, whose collective Kinsey Reports (the 1948 book Sexual Behavior in the Human Male and the 1953 book Sexual Behavior in the Human Female) are considered precursors to the sexual revolution that kickstarted in the '60s. Even Pete Campbell's surname brings iconic images to mind—particularly the 1962 Warhol art piece Campbell's Soup Cans.
Another Sterling Cooper?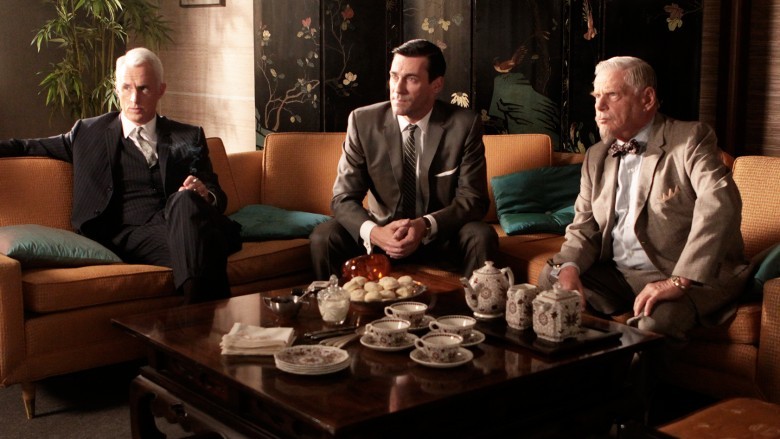 And then there's the eerie Sterling Cooper/Stirling Cooper connection. As first spotted by Reddit user eheaney, the fictional ad agency has a tie to real-life fashion brand that boomed in the '60s: the London-based shop Stirling Cooper. But there's more—Stirling Cooper designer Anthony Price, who went on to design threads for megastars like David Bowie, Duran Duran, and Bryan Ferry, almost shares a surname with central Mad Men character Lane Pryce, who's also a fellow Englishman. Spooky, huh?
Acrobatic artwork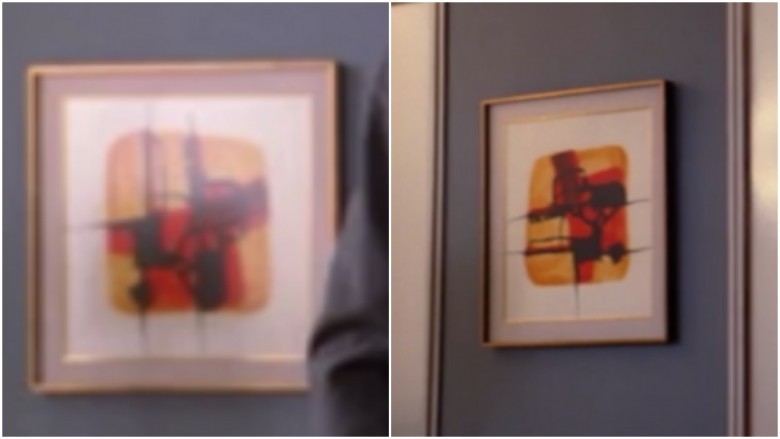 Only those who are truly mad about Mad Men will notice that a certain piece of art has a mind of its own. Inside Don's office is a painting not only abstract in its visuals, but also off-kilter in its placement. It doesn't bounces from wall to wall or shift to a new space in the building, but it's never hung the same way twice.
Mad Men fans who also catch Arrested Development and The Astronaut Wives Club may notice the same artwork pop up there, too. It can be seen in the hallway of the Ealing Club during Arrested Development season 4, and in season 1, episode 9 of The Astronaut Wives Club.
An unintentional book club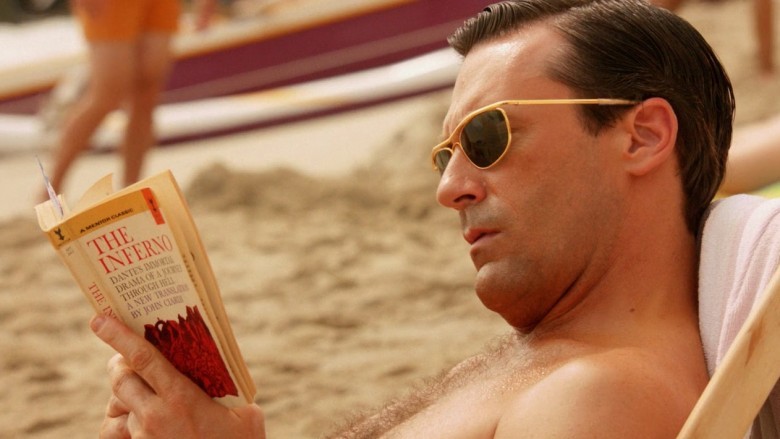 When the guys and gals of Mad Men aren't concocting the pitch-perfect Lucky Strike cigarettes ad or navigating the often rocky waters of their relationships, they're unwinding with a good book. Lots of good books, actually. Ayn Ran's Atlas Shrugged is a common literary denominator between Bert Cooper (Robert Morse) and Don, The Chrysanthemum and the Sword: Patterns of Japanese Culture by Ruth Benedict gets picked up by both Don and Pete, and D.H. Lawrence's Lady Chatterley's Lover is a favorite of the ladies at the former Sterling Cooper.
Don himself is perhaps the biggest bookworm, soaking in works that spookily reflect the stages of his ever-complex life: Meditations in an Emergency, The Inferno, Confessions of an Advertising Man, The Fixer, The Godfather, The Sound and the Fury. Even the troubled Sally gets lost in a novel, reading everything from William Pène du Bois' The Twenty-One Balloons to Edward Gibbons' The History of the Decline and Fall of the Roman Empire. Of course, the mysterious Bob Benson (James Wolk), ambitious Jim Cutler (Harry Hamlin), and the tragically empathetic Lane Pryce are all caught with their nose to the page, too.
But beyond the long list of thrillers and romances read throughout the series' run, there's another hidden link to literature, and it's sure to send a shiver down your spine. Pay close attention to the original Draper residence, and you'll see that Don and onetime wife Betty reside on Bullet Park Road—a reference to the 1969 novel Bullet Park by John Cheever. Ironically, Cheever, often referred to as "the Chekov of the suburbs," was famous for documenting the tragedies and unease of life in modern suburbia. Sound familiar?
Comic conundrum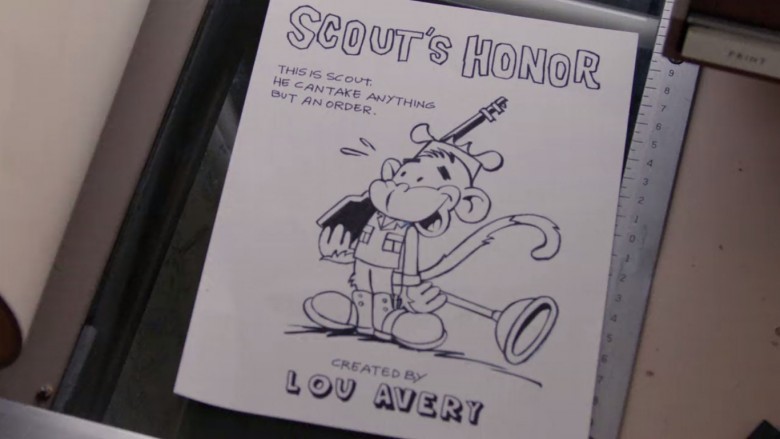 It's no secret that those inside Sterling Cooper tend to go a bit stir crazy after a while, and some set their sights on a world outside advertising. One of these fair few is Lou Avery (Allan Havey), whose hopes center around a military monkey.
Mad Men fans know Lou's pipe dream (or, rather, paper dream) of publishing his own comic strip, "Scout's Honor," was ridiculed. They may also remember Lou reaching his ultimate goal in the show's seventh season, when he flies off to Tokyo to start life anew, away from the packed sidewalks of Madison Avenue and the equally stuffy elevators of the Time-Life Building. But what true Mad Men addicts picked up on is that "Scout's Honor," which celebrates clean-cut virtues like loyalty and patriotism, is actually a nod to the old-school comic series Beetle Bailey. The comic's creator, Mort Walker, is even mentioned by Stan Rizzo (Jay R. Ferguson) in season 7 episode. (Though he does incorrectly refer to him as Mort Drucker, another illustrator known for his work as a MAD Magazine caricaturist.)
Let the music play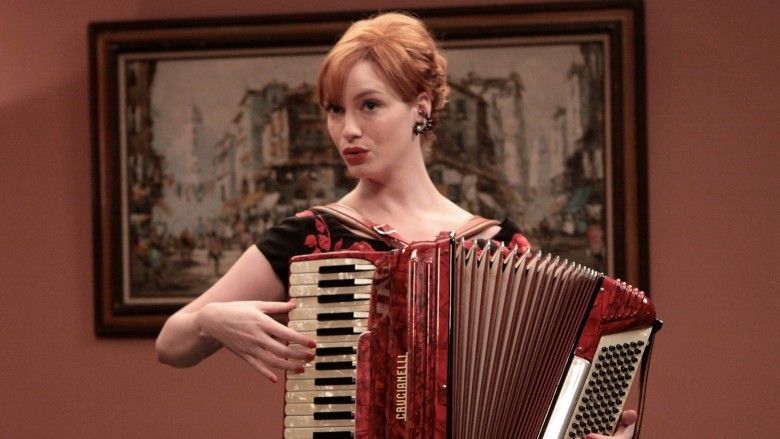 For those of you who always stick around after a movie's final moments in hopes of catching a post-credit scene or a special song only featured when the cast and crew names roll, this one will resonate. For Mad Men uber-fans, it's a no-brainer. Each episode ends with a '60s song beginning just at the last scene's final frame and unwinding as the credits roll. With the exception of a few anachronisms, the songs also correlate with each season's year. When it's 1965 in Mad Men, the episodes close with hits from '65. (Talk about attention to detail!)
Similarly, the show has a knack for using its soundtrack to pinprick the important moments in the timeline or in a character's life. Take, for instance, Don and Peggy's slow dance in the Sterling Cooper offices in season 7, episode 6, "The Strategy." It came shortly after a pivotal decision and a powerful conversation, and it set them on course toward a different path, one they'd have to lead for themselves.
Fittingly, Frank Sinatra's version of "My Way" spilled out, as if down from the sky or the building's speakers. The Rolling Stones' "Satisfaction" plays as Don wanders the streets. The Kinks' "You Really Got Me" is the soundtrack to Peggy's (initially heartbreaking but then totally cheeky) departure from Sterling Cooper. Joni Mitchell's "Both Sides Now" sets a dreary stage for a tour of Don's childhood. Janis Joplin's "Piece of My Heart" cries as Pete has a bit of a breakdown, snatching Stan's joint from between his fingers to toke up himself. The list goes on (and on... and on), but it's one only the ones truly mad about Mad Men will recognize.
The secret sci-fi geeks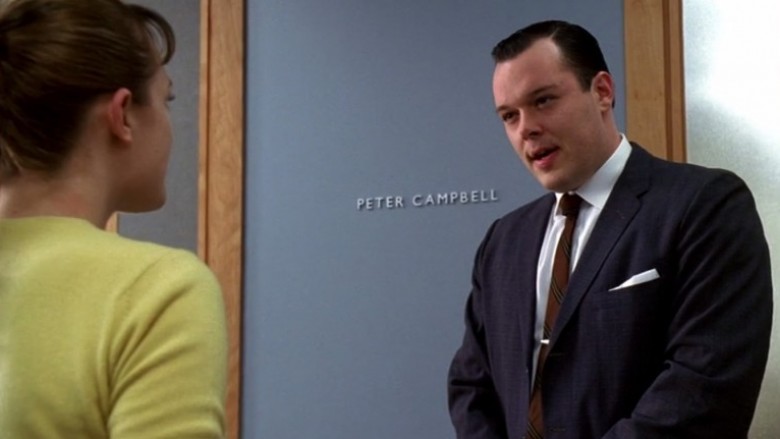 Surprising to the layfolk but a known fact amongst true fans, Mad Men also features a number of nods to classic sci-fi. Two of the most popular television programs in the genre, Star Trek and The Twilight Zone, pop up frequently. While giving Peggy a tour of Sterling Cooper in season one, Paul Kinsey gushes about the spooky anthology series. The pair stop outside Pete Campbell's door, and Paul clears his throat to show off his very best Rod Serling impression. "Submitted for your approval," Paul says, "One Peter Campbell, a man who recently discovered that the only place for his hand is in your pocket." Even Megan Draper (Jessica Pare) gives the sci-fi show a nod when she mentions that her acting agent is on a first-name basis with Serling himself.
The spacefaring franchise that's stolen the heart of millions comes up later on, when Paul teams up with Harry Crane (Rich Sommer) to discuss a script Paul had written. Having recently climbed the corporate ladder and landed a position in the television and media department at Sterling Cooper, Harry is Paul's only hope of ever getting his Star Trek spec script seen and approved. Paul, now a hairless Hare Krishna devotee, unfortunately missed the mark with his oddly titled script, "The Negron Complex." However, reports have stated that a Star Trek episode of the same premise—white people become slaves to dark-skinned masters—was, at one time, considered.
Even Ken Cosgrove (Aaron Staton) gets swept up with sci-fi. A secretly successful writer, Ken's writing is first acknowledged when he sells a short story entitled "Tapping a Maple on a Cold Vermont Morning" with The Atlantic Monthly. But once the buzz fades, Ken's real literary love is revealed. In season 5, episode 4, "Mystery Date," he spills that the revered publisher Farrar Straus has taken an interest in his latest intergalactic musing, "The Punishment of X-4." His story centers on a pair of ominous planets, a long and wide bridge that paves the way for space commuters, and a robot whose responsibilities may be too much for him to handle.
And don't think we'd forget Mad Men's main girls in the sci-fi sphere, either. Though Peggy remarks in an early episode that she doesn't enjoy the genre, she later brings up Galaxy Science Fiction magazine, which ran from 1950-1980, and just how much she enjoys getting lost in an issue. And as Megan approaches the cusp of an acting break, she auditions for the real-life sci-fi soap Dark Shadows. Groovy!
All in the family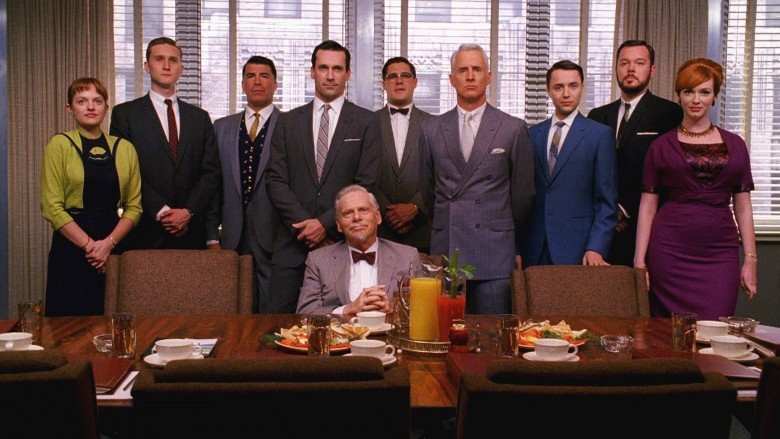 We all know Mad Men has been praised by the entertainment world for its on-camera stars, its stellar behind-the-scenes crew, and the glimmering writers' room, but a few of its fans have deeper motivations to adore the show. In Mad Men, familial ties run deep, with a ton of actors revealing connections to other celebs through marriage or by blood.
John Slattery and Talia Balsam, who portrayed the once-married Roger and Mona Sterling, are real-life husband and wife. Similarly, Vincent Kartheiser and Alexis Bledel are actually married offscreen. The two were lovers in the series' later seasons, during Pete and Trudy's contentious pre-divorce days. Lane Pryce is played by Jared Harris, son of the late Richard Harris, who played Dumbledore in Harry Potter and the Sorcerer's Stone and Harry Potter and the Chamber of Secrets. Joel Murray, brother of the Bill Murray, plays the sweet, bumbling Freddy Rumsen. Even series creator Matthew Weiner has a link: his son, Marten, plays Glen Bishop. Now that's one heck of a family tree.